Bullet Journal is a daily journal for those who prefer to write out tasks by hand. In addition to the glider, it includes performance trackers, a personal diary, and more, allowing you to track your personal performance, relieve stress, and more. It's like notes on the phone, a task manager and much more, but on paper, in one place and with a creative design.
Bullet Journal was first talked about in 2013, when the author of the idea, American designer Ryder Carroll, posted a video about it on YouTube. In 2015, he released an improved instructional video, which has already gained more than 13.5 million views. And if initially Carroll told how to create such diaries on your own, now they are sold in bookstores with ready-made design.
The idea of ​​a diary came to the designer at school, when he could not cope with tasks, often got lost and forgot important things. With BuJo, he was able to correctly fix them and not forget about anything.
What is Bullet Journal
With the help of a bullet journal, you can record tasks, long-term goals, track performance and keep a personal diary. It is suitable for those who prefer to keep all information in one place and write by hand.
In typography, "bullet" (sign "•") is used to highlight items in the list. This is the main feature of the bullet journal - instead of a "cell" and a "ruler", the sheets are decorated with dots, and each task uses its own graphic symbol that separates them by priority.
There are a number of signs for arranging tasks in the diary:
• — task not completed,
× — task completed,
>> — the task has been moved,
< — the task is planned in the annual plan,
° - a sign of a meeting,
— — for your thoughts and ideas.
Another feature of BuJo is creative design. Carroll approached the keeping of the diary like a real designer - he carefully painted each page. It has become a tradition for those who keep such a diary to supplement their notes with a variety of drawings and bright notes.
But, if this scares you away, I'll say right away that this is not at all necessary, one pen is enough for you. It is enough to follow the structure of the diary (to allocate a part to goals and plans, diaries and a tracker, but I will talk about this a little later).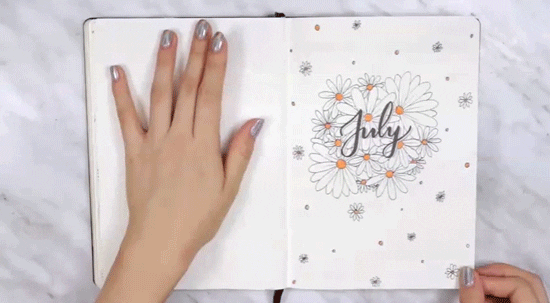 What you need to run BuJo
To get started, stock up on stationery:
diary with dots instead of lines;
one pen is enough, but you can choose as many as you like in any color;
markers to highlight important things or design pages;
colored pencils or felt-tip pens for drawings;
stickers to highlight important tasks and not forget about them;
another stationery that will decorate the diary (some even use colored tape).
Features of this diary
no electronic version - fix all tasks and thoughts only on paper;
easy to navigate thanks to the table of contents and numbered pages;
dotted pages instead of "cells" or "rulers";
painted pages (but, I repeat, this is not necessary);
One diary, multiple appointments. The Bullet Journal has room for a diary, trackers, gliders and more.
What is a Bullet Journal?
First of all, number all the pages and select a couple for the table of contents, which you need to quickly navigate BuJo. The remaining pages of the diary were divided into several parts:
Goals for the future. Select the most important goals for 3-5 years and write down the steps to achieve each. One page will suffice for this part.
Goals for the year. Steps to achieve long-term goals - your short-term goals that will help you get closer to your big goals. Give this part 3-4 pages, because short-term goals often change.
Goals for the month. One page is enough for each month's goal, so set aside 12 pages for this part of the Bullet Journal.
Weekly planning. By planning tasks weekly, you keep your schedule under control and focus on the tasks that are priority at the moment. Allocate about 20 sheets for this part of the diary and write down plans for each day: meetings, important tasks, deadlines.
Plan for the day. You don't have to make a whole schedule by planning every hour - do a mini-review of the day, what tasks need to be done, what meetings are coming up, and so on. Allocate about 50 sheets for daily planning.
Personal diary. After allocating a part to the glider, allocate a part to the diary. Write down your thoughts and emotions there, write down the most important things of the day. The diary helps to speak out and live through negative emotions without running away from them. You can also keep a gratitude journal (helps fight impostor syndrome) - write down your achievements for the day, even insignificant ones.
Performance trackers. For example, "30 days of healthy eating" - draw 30 squares on the page, after each day on healthy food, put a tick in the square. You can track any habit for any time.
Checklists. For example, a list of movies and series that you want to watch, a list of books that you want to read, etc.
Bullet Journal pros and cons
I'll start with the cons. Once I ran the Bullet Journal (however, I didn't know what it was called then), but I didn't last long - it takes time to maintain such a diary, but I didn't take this into account and lost motivation.
Especially BuJo was not suitable for working on projects. Keeping a lot of tasks in mind is difficult - there is a risk of forgetting something important. The task manager sends reminders so that I can focus on work and not worry. And for important thoughts I use notes and the Knowledge Base.
If the cons did not stop you, let's move on to the pros - there are a lot of them in the conduct of Bullet Journal.
Easier to focus
The computer makes your eyesight worse. When you write by hand, you focus on a specific action, because your eyes do not hurt or watery. This is useful when keeping a diary - writing down your thoughts and thinking about your emotions is more difficult when it is difficult to concentrate.
Convenient to navigate
BuJo consists of several parts that are easy to navigate thanks to the table of contents. As soon as a thought occurs to you, you open it and quickly choose where exactly to write it down, so as not to forget it.
Relieves stress
Drawing helps to relax, and keeping a diary helps to speak out and live through negative emotions.
Fixing the most important
The Bullet Journal writes out all thoughts and ideas, tasks and plans, long-term goals and much more. Everything is in one place, at your fingertips, so you can forget about the long search for important information.
Brain training
Handwriting activates the areas of the brain responsible for memory and the assimilation of new information, develops cognitive abilities and stimulates brain activity, which is necessary at any age.
Bullet Journal is a format for planning your tasks and fixing thoughts and ideas on paper. Ideal for those who are not used to task managers and like to write everything by hand, and also love creative design and are ready to spend a lot of free time on it.
If you are not ready to spend time on design, go to the nearest bookstore and buy a ready-made bullet journal and a variety of stationery for drawings and notes - it's more pleasant to keep a diary. But be patient - it really takes a lot of time, and at first you will forget to write out your tasks regularly. Try to set aside time for this every day so you don't score like me.
And most importantly - analyze the results of your planning - how many tasks per day were completed, how many were not, and so on. This will help you in the future to correctly allocate your resources.