When nothing distracts you from your work in the workplace, it's good, no matter how you look at it. Moreover, the cleanliness of the desktop and the absence of distracting elements are one of the most effective ways to combat procrastination.
While I was writing this article, I formulated 12 tips that, of course, will not turn your workplace into a rock garden, but will help you work more productively. You'll have to put your Desk, computer, and workflow in order.
Desktop
You spend at least five hours a day on it, and all your work tools are on it. This means that it should both please the eye and not interfere with work.
1. Get used to keeping it clean
It's not even about general cleaning and table sterility. It is enough to clean the table every day (in the morning before the start of the working day and in the evening after turning off the computer) to remove dust, crumbs, puddles and stains from spilled drinks (although it is better to wipe them immediately so as not to stain important papers). No, you can clean the table after every sneeze, if you want — the main thing about work is not to forget.
Another question is that there may be so much garbage on the table that there is nowhere to go with a rag. Therefore...
2. Get a trash can
It is clear that both at home and in the office, you can throw the same garbage in the general trash. But let's be honest — it's unlikely that you will go to the trash every time you need to throw away a piece of paper, a piece of tape, a paper clip, and so on. And if there is a small inconspicuous urn next to it, garbage will no longer accumulate on the table. Most importantly, do not forget to periodically (ideally — after the end of the working day) throw out its contents.
3. Remove all cables and unnecessary electronics
There should be no wires on the table at all — they both interfere and can be damaged due to careless movement.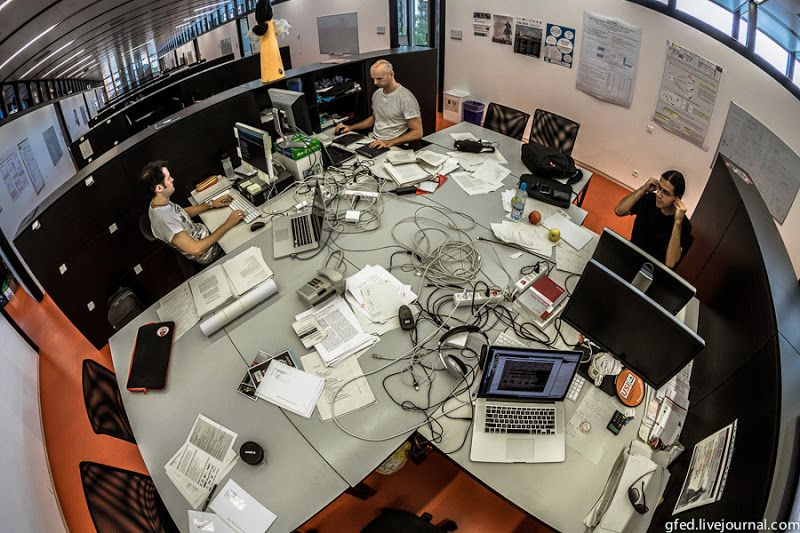 Plus, any technique that is not involved in the work process is distracting. Did you use headphones? Put it away. Took out your phone and answered it? Put it back in your pocket.
If you need a smartphone for work — or have a place to hide it next to the table — it's not a bad idea to organize a place to charge it. And for the rest of your devices, too, if necessary.
4. Hide and move all unnecessary office space
In extreme cases, you can throw it away altogether. If you don't use stickers and a Notepad, and the office distributes them to everyone once a quarter — don't store them at your place, but give them to those who need them more.
But if you use it, keep your office supplies in perfect order, so that you don't have to dig through mountains of paper, glue, and paper clips. If a notebook or diary helps you in your work, let them always be at hand.
5. Periodically restore order
Maybe a week ago you needed this folder of paper, but now you don't need it — let it go to its place. Or suddenly you will get an organizer for office supplies, so that they stand in one place. Follow two main principles:
the table must be clean,
work at the table should be convenient for you personally.
Computer
In fact, order in the computer is much more important than cleanliness on the table, because there — all your work (well, most likely).
6. Keep your desktop clean
You probably saw desktops littered with a bunch of files and shortcuts, "so that everything was at hand" (maybe you have the same one).
With a virtual desktop, the principle is the same as with a real one:
Remove all unnecessary items
At a minimum, you can sort everything by folder. But even these folders should be moved from the desktop to a more appropriate location.
On a Mac, you can enable the "Stack" feature, and the files themselves will be grouped so as not to take up space on the desktop.
7. Organize the storage of files
Someone distributes them by purpose (separate images, separate emails, separate scans of documents), someone by task and clients, someone-by working days. Choose a convenient sorting type and maintain order. This will make it much easier for you to navigate the information.
8. Use the task Manager
With it, you can get rid of endless notes, see a list of to-do and tasks, and adequately assess the time and deadlines. It's cool if your company has a habit of using such a service. But if you don't, what if everyone follows you?
Read about tools for remote work — there I collected all the main services and applications that not only help you work remotely, but also generally make your work more efficient.
Working process
It is important to organize a workplace. But it is equally important to organize the workflow so as not to get bogged down in chaos. You may already be doing some of these things, but you haven't thought about any of them at all.
9. Digitize everything that can be digitized
Paper is a very unreliable means of storing information. Papers can get lost, get mixed up with trash, get covered in coffee, eventually. The scanned documents will be safe and sound — the main thing is to send them to a specially designated place (for example, to the cloud), and not just leave them on the desktop.
10. Allocate tasks for today by priority
Even if it seems that they are all super-urgent, and the manager just throws up his hands — evaluate for yourself what is more difficult, what deadlines are burning, and what can wait until the end of the day.
11. First deal with employee turnover
But if you have a daily turnover of 5-10 minutes in addition to a large project, first complete it. This way you will reduce your to-do list for the day (and you will have fewer reasons to distract yourself) and quickly get into a working rhythm.
12. Don't try to do multiple tasks at the same time
Multitasking is a myth. It is impossible to do several things efficiently at the same time — something will definitely suffer. It will be much more productive to finish one task first, and then take on the second.
To quickly organize your workplace, start with the simplest — cleaning dust, restoring order on the desktop, and consistently completing tasks. Soon you will notice that you are less distracted and have time to do more tasks than before.