I've been working remotely for more than three years. At first, it was difficult: tasks were piled up in a pile, you could not communicate with colleagues normally, and so on. But I figured out how to work remotely and not go crazy, and now I can't imagine how I would work in a real office.
In this article, I will tell you what tools will help you stay productive and work effectively even when working remotely.
Structuring information
In the office, you can get together with colleagues in a meeting room, discuss plans, sketch ideas on a blackboard or flipchart, draw an intelligence map, and so on.
Brainstorming can be online. The best option (and somewhat unique) is...
Miro (ex. RealtimeBoard)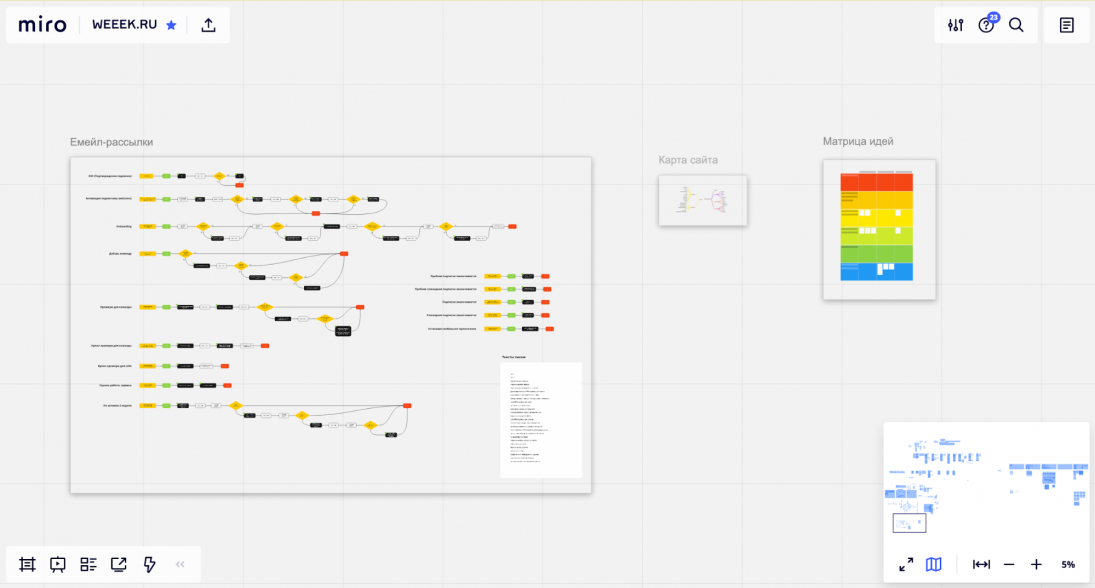 In Miro, you create an endless virtual whiteboard and attach all the important information to it: notes, documents, pictures, road maps, intelligence maps and much more. Several people can work with the board at the same time, so you can collectively plan tasks, draw diagrams, and do anything else.
There is a marketplace with many integrations.
Price: free of charge, but there is a restriction - you can only work in three projects at the same time. If you want more, pay 12$ for a user per month.
Platforms: web version, apps for Windows, macOS, iOS and Android.
Full-fledged alternatives to Miro are rarely found. There are a lot of applications for creating intelligence maps that also allow you to organize your thoughts: MindMeister, Coogle, XMind, and others. All of them are equally inconvenient (except maybe MindNode, but it only works on Apple devices), and they also require money.
In general, Miro is love ❤️
Time tracking
In order not to get bogged down in procrastination, while sitting at home, keep track of the time you spend on tasks. If it turns out that you spend little, it will be at least a shame.
There are a lot of apps for time tracking, especially if you look in the App Store or Google Play. The most comfortable is...

Toggl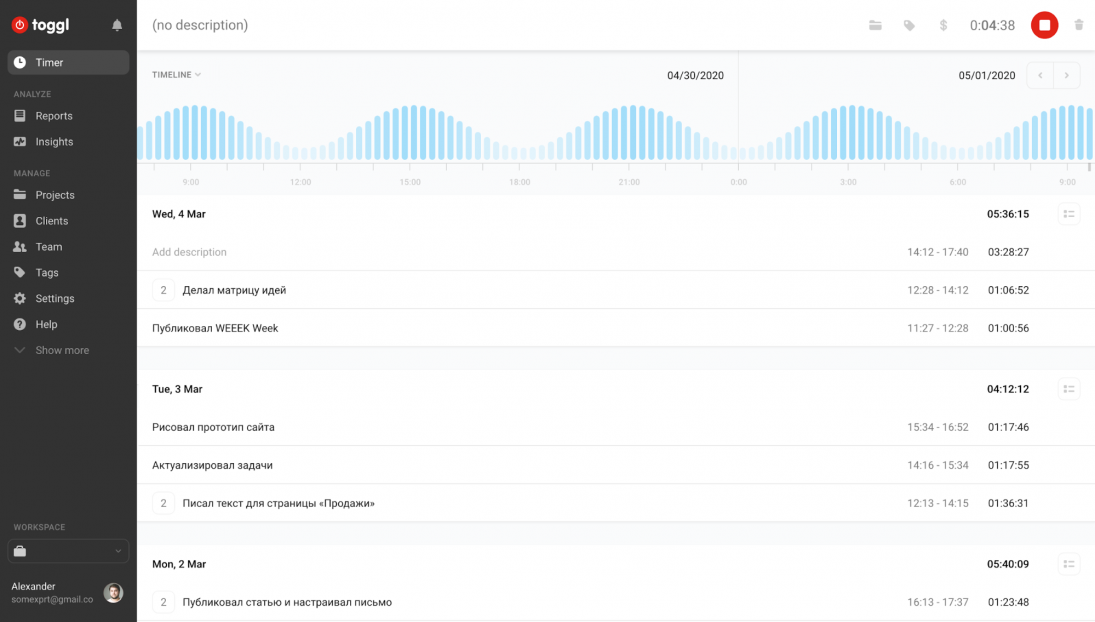 Toggl is an intuitive time tracker. You launch it, it counts the minutes and seconds. All of this syncs almost instantly with other versions of the app. In the course of work or when the timer stops, you specify the client, the project and describe the task you were working on. When it comes to justify your working time, you will have a clear and detailed report on what you did and when (Toggl records, among other things, what time periods you work) and how long this work took you to do.
There is a very convenient feature - idle detector. Detects when you are not doing anything on the computer for 5 minutes and offers to pause the running timer so that the data is true. Helps fight the laziness.
In Toggl, you can create workspaces, clients, projects, tags, and teams - everything you need for team time tracking.
There are integrations with 100+ applications and services, many of which allow you to automatically transfer data about the task and project to Toggl.
Price: free with small restrictions for one or for teams of up to 5 people, 10$ for a user per month to unlock all features (paid time, unlimited teams, and so on), 20$ for a user per month for the most complete access to the service (for large teams).
Platforms: web version, apps for Windows, macOS, Linux, iOS, Android, plug-in for Chrome and Firefox.
Toggl has a lot of analogs:
Tick, Timely, Hours, etc. I managed to use each and I can safely assure you that I have not found anything better than Toggl yet. Functionally, all trackers are quite same, but most of them have a bad interface in at least one of the versions of the app (and I need everything to be cool everywhere). Toggl is equally convenient to track time from both your phone and computer. So there are no options here.
Project management
If you work alone, the project is simple and there are few tasks, you can do with a notepad. But when you work in a team, there are a lot of tasks and projects, you can't do without a project management tool.
WEEEK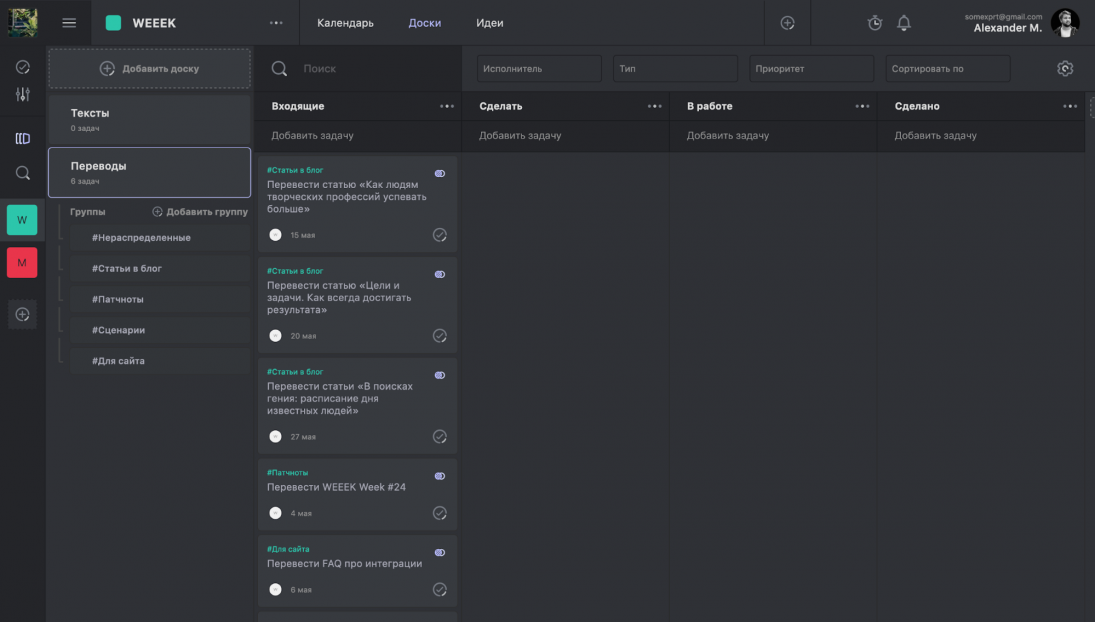 WEEEK is based on the Kanban methodology: you create task cards on a board with columns, describing the stages of work, and then, as you work, drag and drop them until you complete them. In general, WEEEK has a very flexible structure (workspaces → projects → boards), thanks to which you can build work on tasks in a company of any size.
The service has a built-in "Ideas" section, which is useful for brainstorming. You can leave comments and attach files in issues. There are integrations with important services, such as Google Docs or Miro.
WEEEK works "out of the box" without involving development, which is convenient, for example, for retail or marketing.
Price: you can use for free with restrictions on the number of projects and the size of the team; for 190₽ (2.9$) per month, you can unlock all the features for single use; for 390₽ (6.7$) for a user per month, you can unlock all the features for the team.
Platforms: web version, apps for Windows and macOS (under development), iOS and Android.
WEEEK is a young service in a market where major players rule. There are many alternatives. Nearest: Asana and Wrike. They exist for a long time, look good and work, but, like all large companies, they sin by slow development and extremely high price tag:
1.

Asana asks for 3 times more WEEEK for small teams - 13.5 euros; and for large teams - 6 times more - 30.5 euros.

2.

Wrike wants to get $ 9.8 for a user per month from small teams and $ 24.8 per user per month from large teams.
And now, in a crisis, the price tag is especially important.
Communicating with colleagues
You can't do without interaction. We have all been sitting in messengers for a long time and in the coming years we will only go deeper into them. So it is very important to find a good place to communicate with colleagues.
I choose Telegram and Discord.
Telegram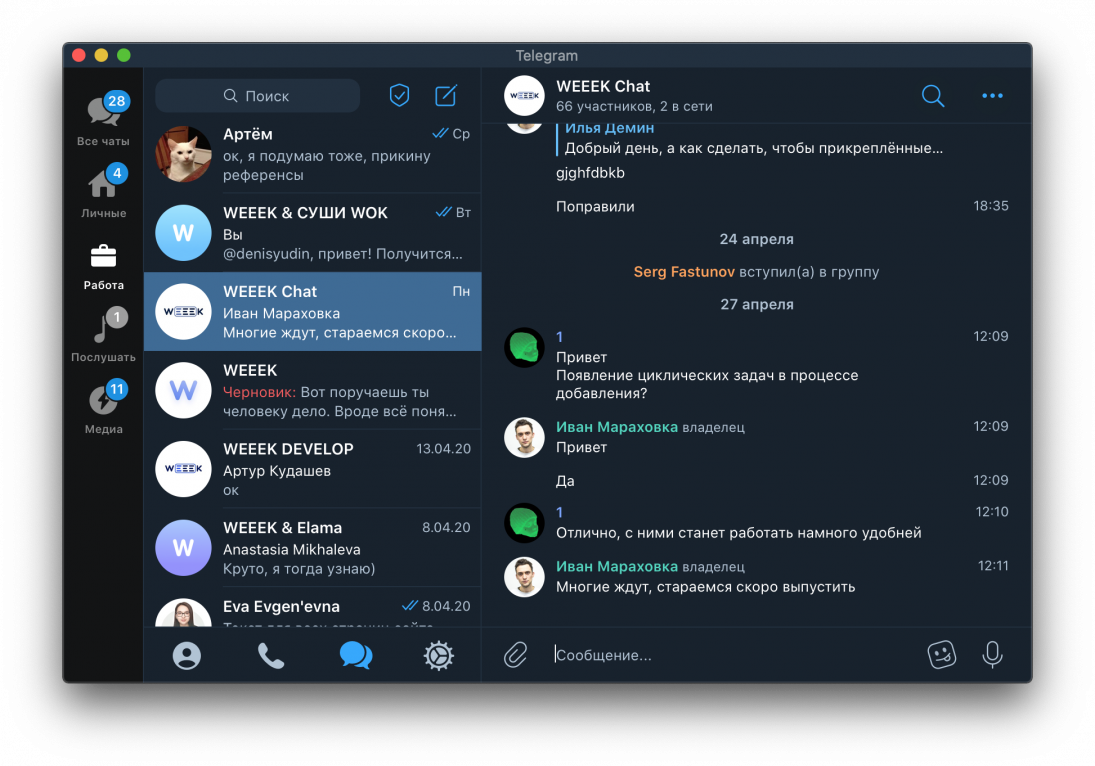 There is no need to introduce Telegram. This is one of the most popular messengers in the world and certainly the most convenient and reliable. No video calls or conference calls yet, but I guess it's just a matter of time.
In a recent update, it is now possible to organize chats into folders and now work chats are separate from personal chats.
We use Telegram for conversations and short one-on-one calls.
Price: free.
Platforms: web version, applications for Windows, macOS, Linux, iOS, Android.
There are many analogs. Skype? Crooked to the point of ugliness. Slack? Very expensive. RocketChat? Requires dancing with a tambourine and settings on your server. In short, for interaction, we choose Telegram, without options.
Discord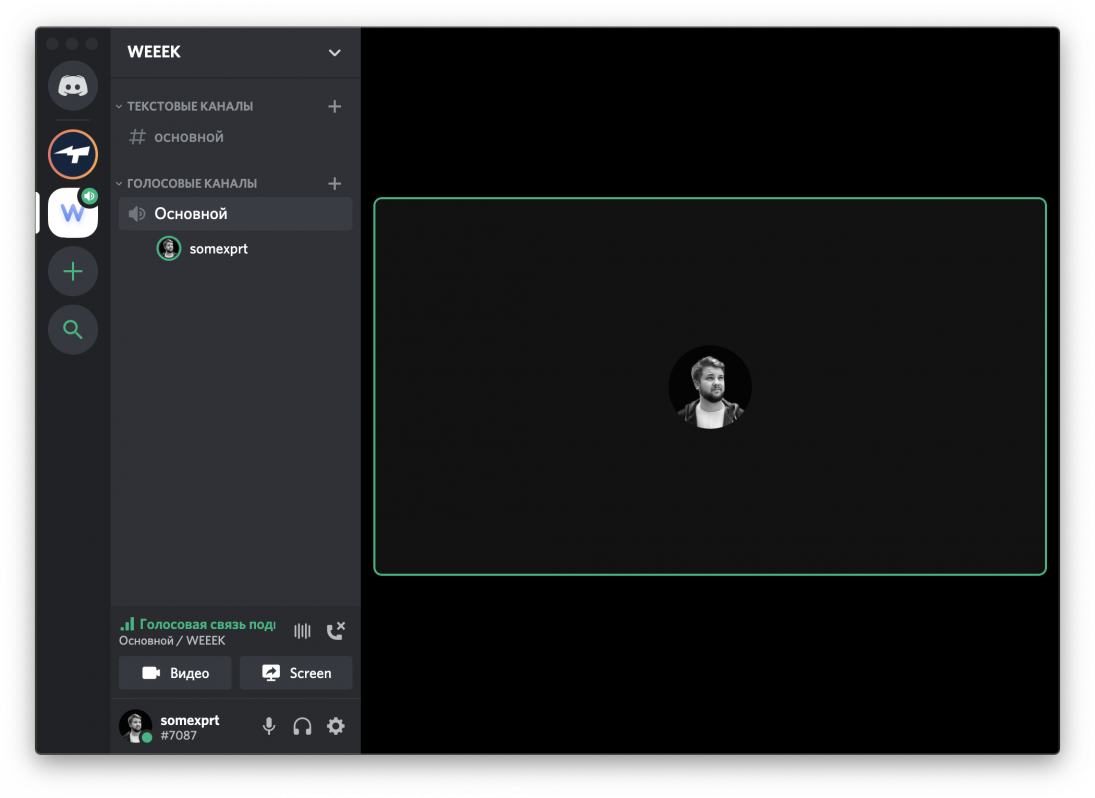 Discord is a messenger with VoIP and video conferencing support. It is aimed at gamers, but it is also suitable for working conversations and phone calls.
In Discord, you can chat with users if you add them to your friends, as well as conduct collective audio and video calls. You can also create your own server for free in a couple of clicks, invite colleagues there and communicate in the "rooms" format, similar to any voice chat. With the recent update in the "rooms", it is also possible to broadcast videos.
During a conversation, you can broadcast your screen, which is very useful.
Price: free; for $10, each user can upgrade their account, but the benefits are not worth it.
Platforms: Windows, macOS, Linux, iOS, Android.
With the coronavirus pandemic, the market for "callers" has taken over Zoom. Even Google, which has its own Hangouts, holds its own meetings there. But then it turned out that it is very vulnerable to hackers. This is very critical for corporate communication.
Microsoft may curse me, but I don't even want to consider Skype and Teams here (although, I admit, I tried to use them), because they, to put it mildly, leave much to be desired.
Working with documents together
I still find that some clients send information in Microsoft Office files. It is already the third decade of the XXI century, and people are still sending docx files. And this is when there are Google Documents...
Google Documents / Google Sheets / Google Presentations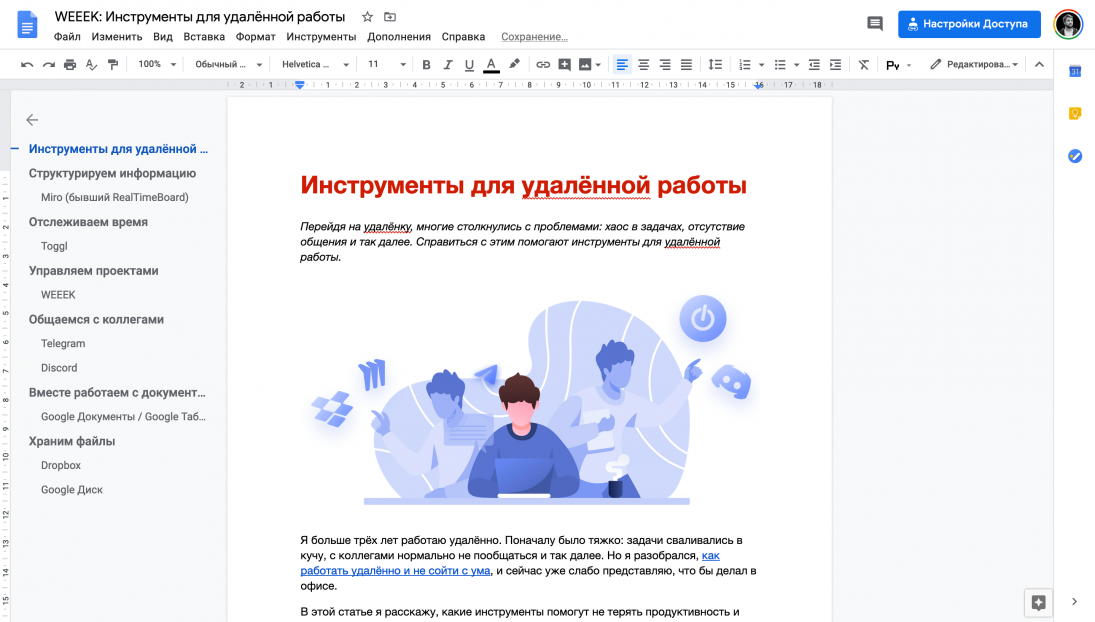 If there's one thing we should all be grateful for, other than the search engine, it's its cloud-based office pack. Google Docs, Google Spreadsheets, and Google Presentations have very important features that make them ideal tools for remote work:
files are automatically saved to Google Drive (literally after every action) and do not take up any space there;
several people can work on a file at the same time;
you can grant access to files in a couple of clicks, and there are three levels of access: viewing, commenting, and editing.
you can export the document, table, and presentation to other formats if a client or colleague asks you to.
Price: free.
Platforms: web version, iOS and Android apps.
Google's online office has good alternatives, but each case has its own "but":
Storing files
It is important to always have access to your work files when you are remote, no matter where and from what device you are working. Old believers-conspiracy theorists still store files on internal servers of the company, providing remote access via VPN. But we're not like that, are we? We have cloud services.
With them, everything is not as clear as with other services that I have analyzed. There are a lot of top market players, but I only keep two cloud services in my heart.
Dropbox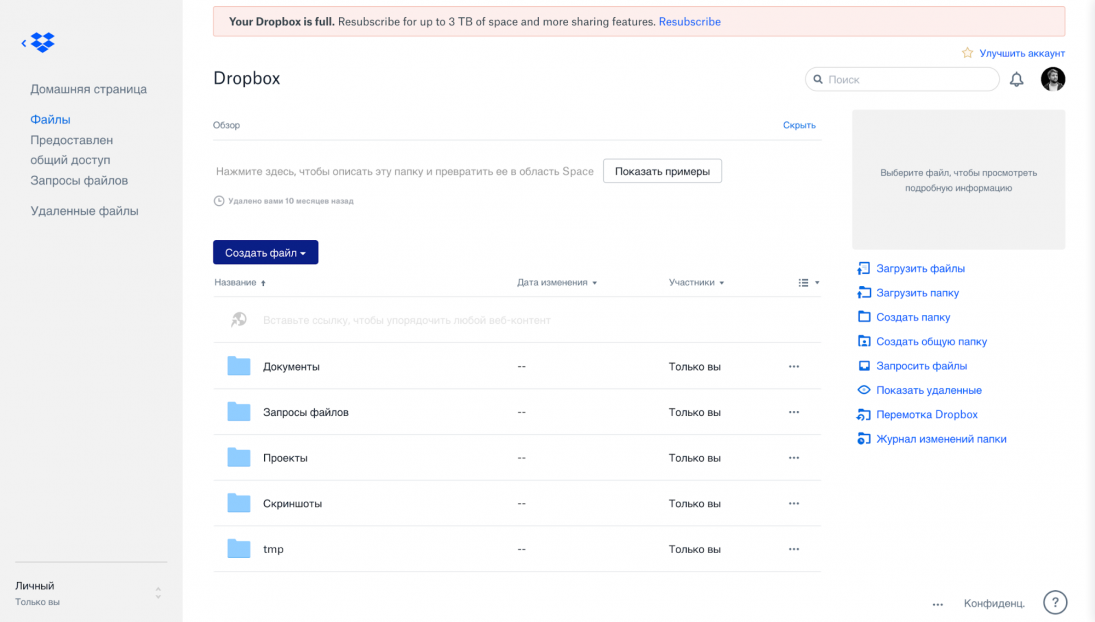 I love Dropbox. It now has the most pleasant interface, the fastest syncing, and the best mobile apps. It has integrations with everything it can. It treats iWork application files as files, not as folders (Hello, Google Drive). It is coolly integrated into the Files app on iOS, so you can very easily drop files from Dropbox directly to Telegram. It is even possible to create Google Doc, Google Spreadsheets and Google Presentations.
However, it is not very safe and immediately asks for a lot of money.
Price: free 2GB, but you can get 500MB for each invited user; the minimum paid rate is 12$ for 2TB.
Platforms: web version, applications for Windows, macOS, Linux, iOS and Android.
Google Drive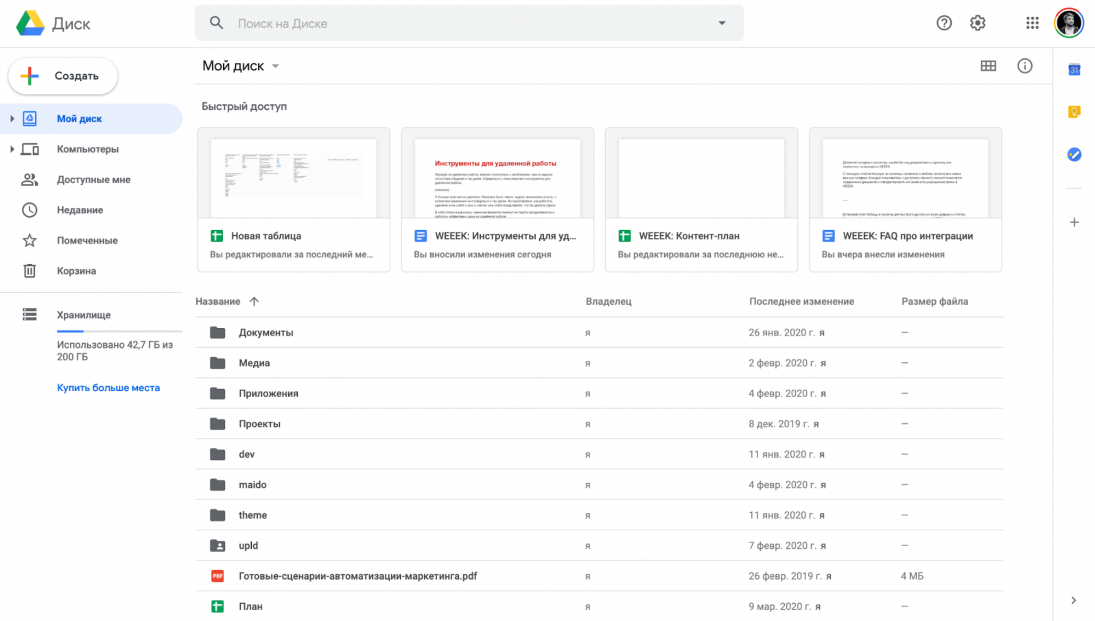 Google Drive is almost the perfect cloud, especially if you work with Google's online office. It also has a bunch of integrations and a convenient web interface. That's just with applications for PC and mobile devices, he was not lucky. On macOS, the Download and sync app takes a very long time to sync even small files and sometimes issues an error due to the presence of some "wrong" characters in the file names. On iOS, Google Drive is poorly integrated into the Files app, which reduces its usefulness.
Price: free 15 GB; the minimum paid rate is $2,99 per month for 200 GB. For 2TB, you will have to pay $9.99.
Platforms: web version, apps for Windows, macOS, iOS and Android.
There are many alternatives to Dropbox and Google Drive. Most famous:
1.

Cloud@Mail.ru. Nice web interface, but disgusting desktop and mobile apps when compared to Dropbox. When it first appeared, it gave a 1TB perpetual cloud — this is the only thing that could explain its use.

2.

Yandex.Disk. The cheapest cloud in Russia is 69₽ for 100GB and 210₽ for 1TB. Works very quickly. The mobile app will be enough for most users (to store photos there, and so on), but you can't see what files you opened access to there. And this is a huge minus.

3.

OneDrive. A cloud service from Microsoft that exists separately, but is most often used in the Office 365 package (now it is Microsoft 365). There you are immediately given a 1TB cloud. In general, it's a pretty good cloud service, especially if your company is sitting tight on Microsoft products.
Different tools for remote work are suitable for different tasks. Their integration into a common system has a positive effect on productivity, no matter how far away from the office you are.
I really want to believe that soon there will be some complex modular solutions that will be able to take into account all the disadvantages and advantages of competitors and completely close all issues related to removal. Let's wait and see.