Timing or time control is one of the main principles of time management. It is very important to keep track of the time you spend on tasks. Old believers use watches and notebooks for this purpose, but we live in an age when every small-scale business has its own application, and somehow it is not appropriate to ignore it.
There are a lot of digital tools for working time tracking. Some project and task management systems have their own time trackers embedded in them (for example, in WEEEK, you can track the time you spend on a particular task in one click). But this is rare, even if it is pleasant. There are many more separate services and applications for tracking time. Telling about each of them is a thankless task, so I selected the most popular ones, studied them, and am ready to tell you about each one.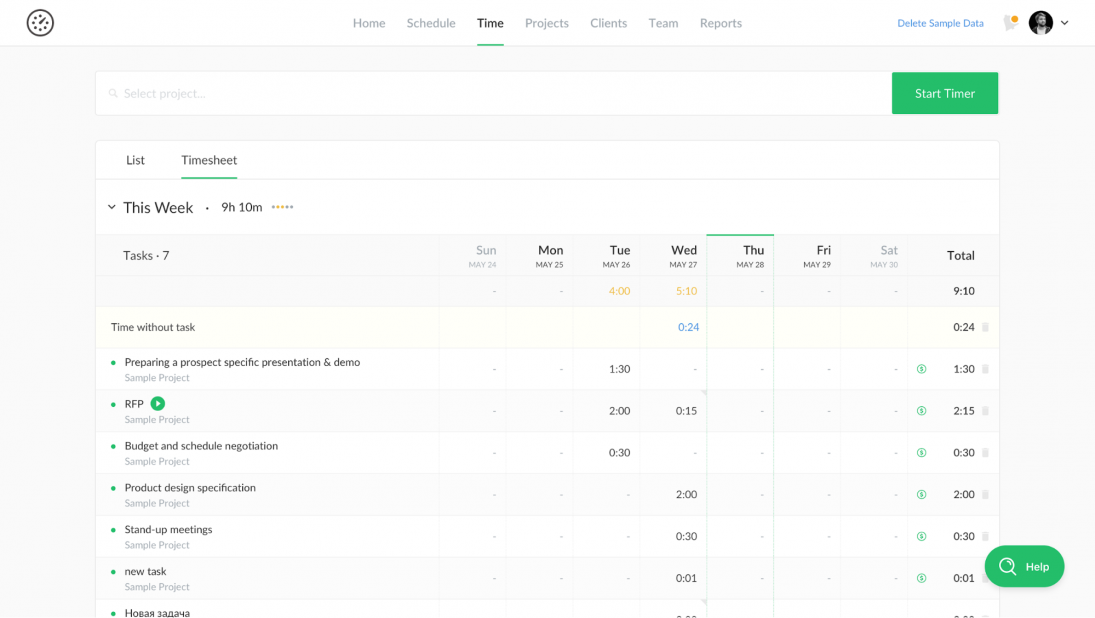 Not just a time tracker, but actually a project management system. You add clients, create projects (in the form of lists or boards). Then you can plan tasks for the future, using the timeline, place them on the board, or enter them in the course of work through the time tracker itself.
You can make projects payable and specify a budget. Any task in this project will also be paid by default. But this can be disabled.
There are built-in dashboards and a report Builder. If you link it to another task management system, all projects and tasks from there will end up in Everhour. A timer button will appear in the linked app, and you can easily and quickly start the timer from there.
The service only works online, which creates certain restrictions.
You can start a timer or add the time spent manually. There is a mobile app. Not the most convenient though.
You can assemble a team of up to 5 people on the free plan. All features will be available, except for integrations with other services. On a paid plan, you need to pay 7$ per user per month - there will be all the features, an infinite number of users, and priority support.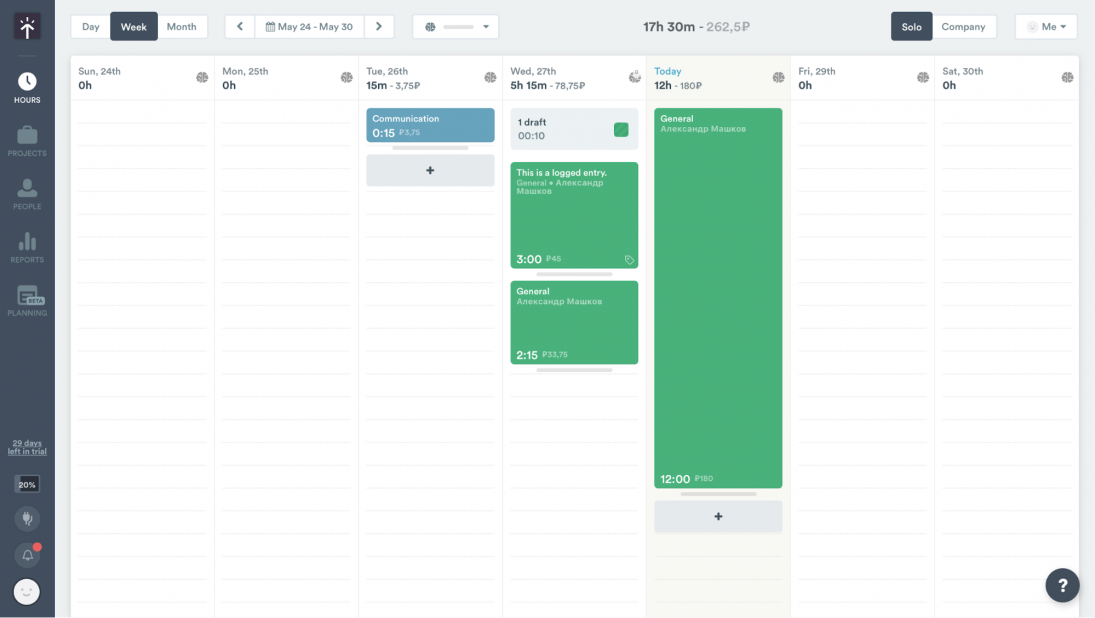 Hybrid of a time tracker and a calendar. You can connect a task manager or a calendar with your own schedule, and tasks will go to Timely from there. The principle of operation is as follows: you create an event, and then run a time tracker inside it. Frankly, it is not very convenient to do this.
The dashboard shows how much time you have worked in a day, how much money you have earned, and how much more you will earn if you work at the same pace. You can work as a team - everyone will track their tasks, and then they will get to the screen of the account administrator.
The key feature of the service is the Memory Tracker app, which monitors what programs you use and how much time you spend on it. Based on the app's data, you get a plausible picture of your working day. At the end of the day, you can select apps that were related to the task you were doing at that time, and get the exact time you were working.
Timely is only available for a paid subscription, starting at 7$ per month.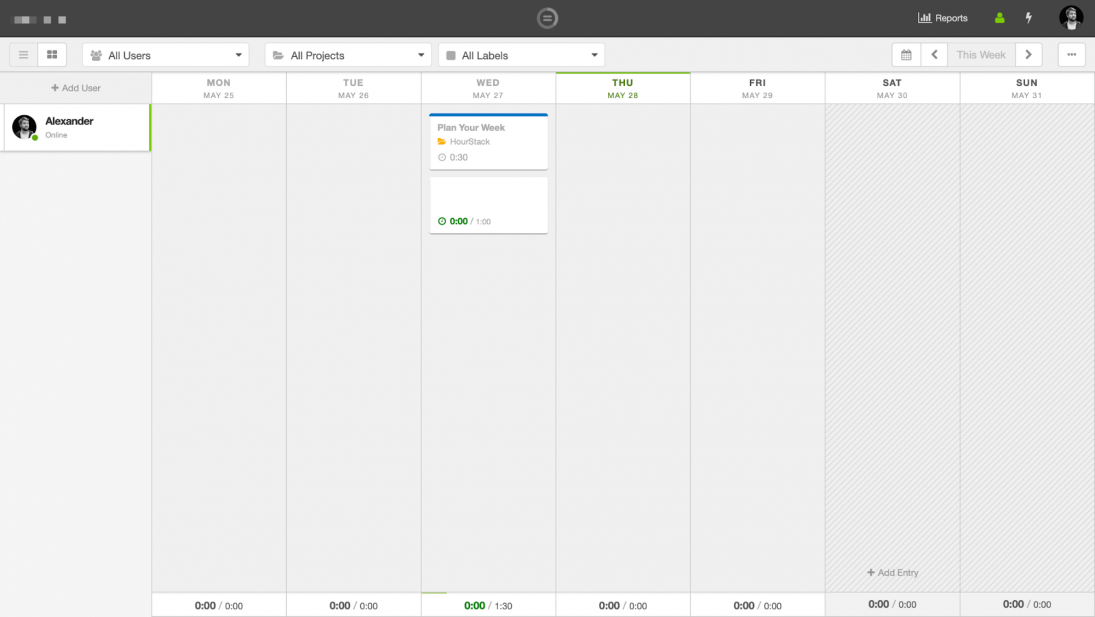 Another hybrid of a time tracker and a calendar. Designed for pre-planning of working hours. There is no analog of Memory here, so all events or tasks need to be entered manually, and then start a timer in them.
There are a bunch of integrations that allow you to sync tasks and projects between HourStack and other apps. However, you will not be able to run the timer from your project management system.
Well, the interface is so-so.
HourStack is only available for a paid subscription, starting at 7$ per month.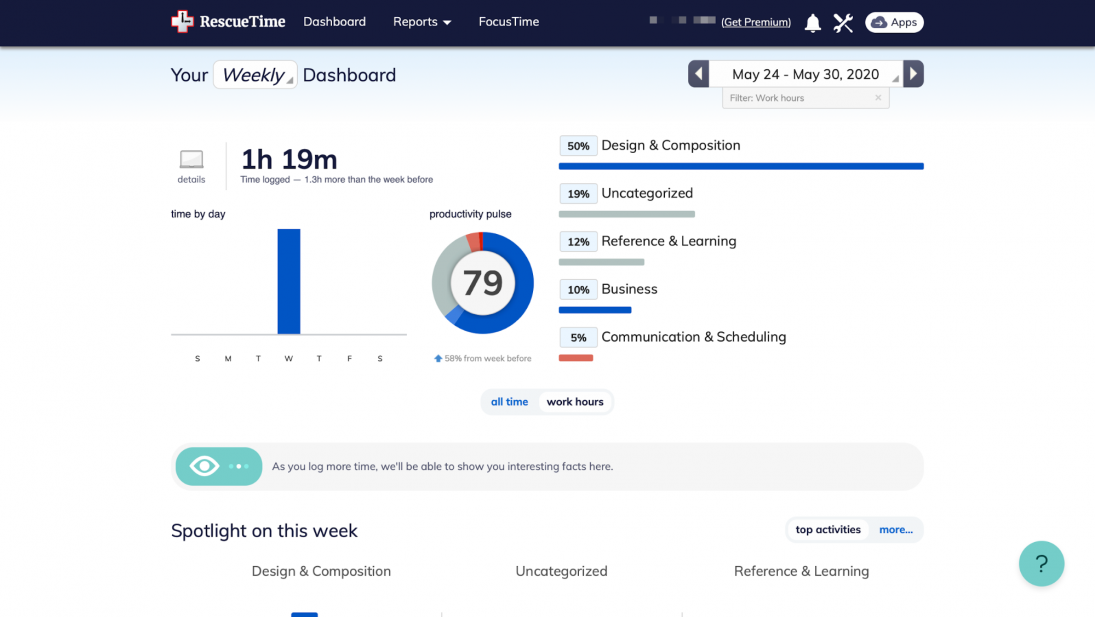 Service for automatic time tracking. You put the app on all the devices that you use for work, set up goals there: how much time you want to work per day in one mode or another. RescueTime monitors which apps you use and which sites you sit on during and after business hours, and it's pretty good at determining whether you've been working or procrastinating.
If you work a lot in social networks and are confident in yourself, you can tell RescueTime to mark the time spent on social networks as productive.
RescueTime has a free plan with a limit on the number of tracked sites and apps. The cheapest premium costs 7$ per month.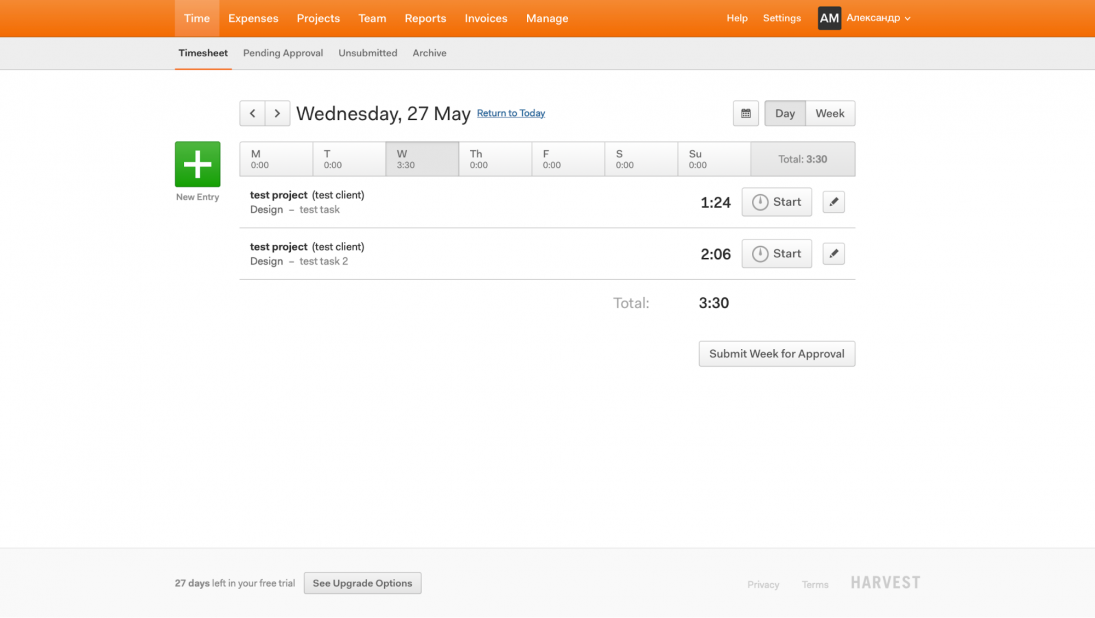 One of the first and most popular time trackers. Harvest can be installed on any device. The app can work offline and download data when connected.
Harvest is primarily focused on teamwork. Each team member keeps track of their working hours using a timer or manually entering time records. All information goes to the administrator account.
The service has integrations with an obscene number of tools. For example, if you connect Harvest to task management systems, you can track time directly in them.
There is a free version. The paid version will cost 12$ per user per month.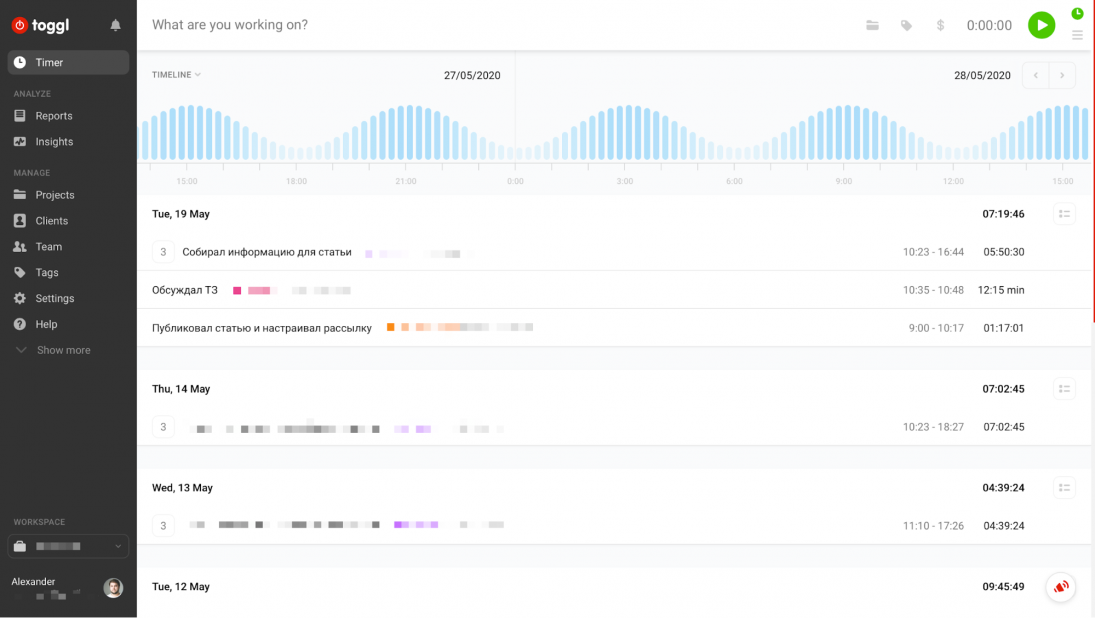 My favorite. Like Harvest, Toggl is just a time tracker. No additional problems with task management and other unnecessary functions.
Many time tracking applications require a lot of configuration before you start using them: create clients, projects, tags, and so on. In Toggl, everything can be done in the process or after the fact.
Toggl also has a huge number of integrations that allow you to connect it to almost any tool to conveniently start a timer in your workspace.
The service records the downtime and will notify you if the timer continues to run, but you have already stopped.
Toggl is almost perfect. The only thing missing is the ability to automatically track your actions on your computer or smartphone (like RescueTime or Timely).
On the free plan, you can work as a team of up to 5 people (plus some reports will be unavailable), but otherwise there are no restrictions. A paid subscription will cost 10$ per user per month.
I hope it will be easier for you to choose a time tracker now, if you haven't already. I repeat: to work effectively, it is important to track the time you spend on tasks. And it is better to choose the most convenient tool for this.