Our loved ones support us through hardships but cannot always help us with concrete problems. You can achieve better results and work more effectively with Mastermind sessions — and we'll tell you how.
Why are some issues difficult to discuss with friends or relatives, and easy with complete strangers? Why is Mastermind so popular nowadays? These questions take time to answer. Let's get started!
Sometimes you find yourself in a situation better discussed with someone not close to you, who can easily dive into the problem and help. These people may specialize in other spheres or have different hobbies than you. With them, you can organize an activity called Mastermind.
Mastermind is a method to combine the experience and competencies of different people to achieve their individual goals. These people join a Mastermind group of 5–8 people who regularly meet and help each other grow. As a rule, sessions run like this: each member explains their problem and then the whole group brainstorms about it.
Mastermind groups can be formed around professional or personal problems. For example, it could be a group of young entrepreneurs who experience their first hardships in business.
Here's what you can get out of Mastermind sessions:
Members of a Mastermind group are open to communication and ready to help. It's a safe space free from stereotypes and judgment where you can get honest advice.
Session members can help you see details you never noticed. Might give you food for thought.
Every member of the group has different expertise and skills in their sphere. You can find a lot of helpful advice and resources. Or share them with the group yourself!
You'll meet interesting people and make many contacts. Who knows — maybe with these connections you'll get a job offer or take your business to the next level.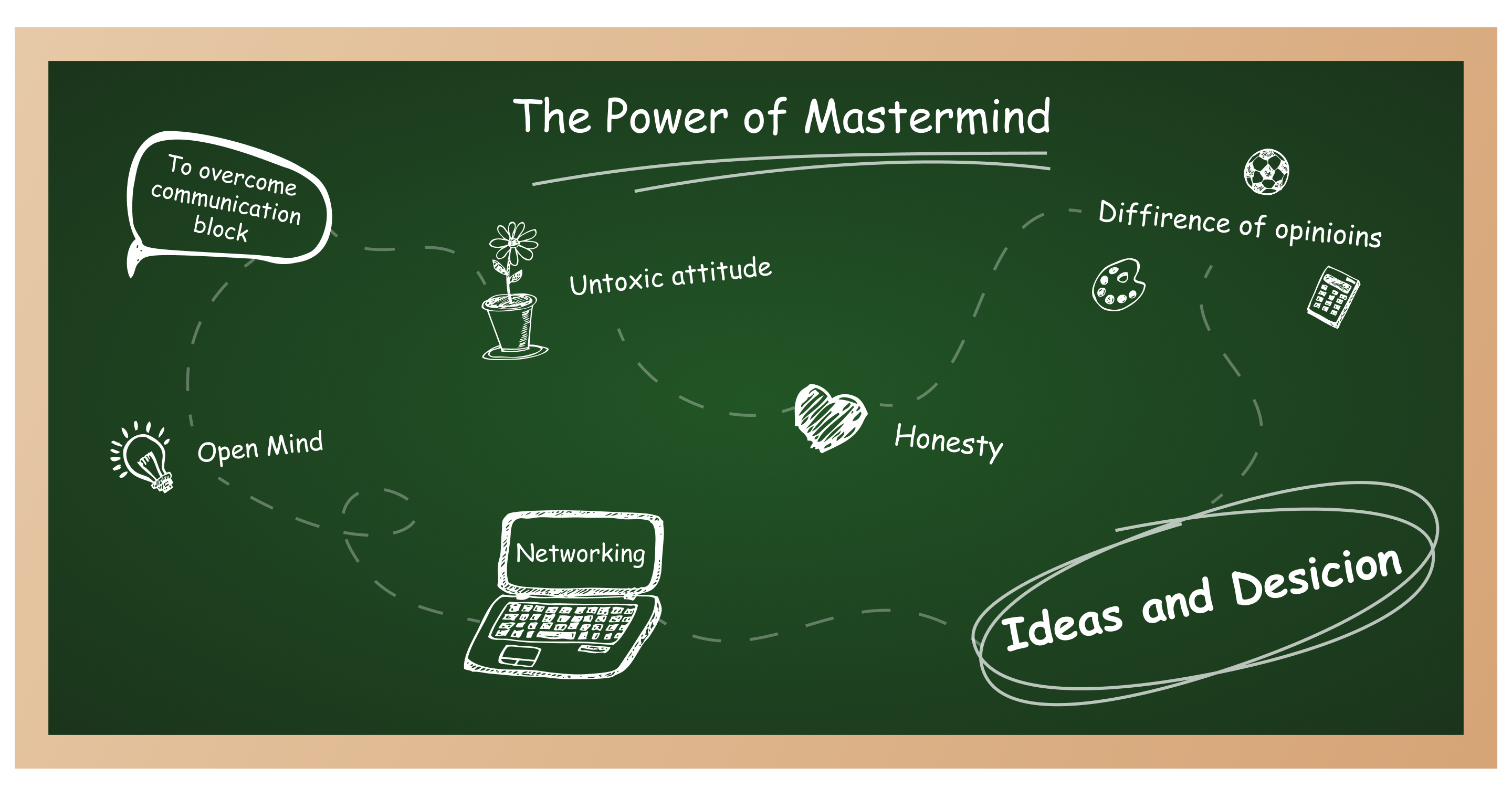 Who participates in a Mastermind session
Typically, a Mastermind group consists of 5–8 people and a moderator who keeps track of time and sets the tone for the discussion.
For everyone to be comfortable, members should have some similarities in age, income, education level and social status. However, it is imperative for members to differ too. A Mastermind group cannot consist of competing specialists in one sphere. It would not only cause problems but also break the main idea of Mastermind — synchronizing different experiences and ideas.
The other key point of forming a group is to concentrate on one set of issues. It would definitely make things awkward if one person talked about their illness, and the other — about business campaigns. Concrete problems might not be the same, but should somehow relate.
What can be discussed in a Mastermind session
This brings us to our next point — topics. During a Mastermind session, you can bring up topics like:
hardships in school or at work;
business strategies;
work efficiency;
finding your career path;
personal growth;
relationships;
household problems;
physical or mental health.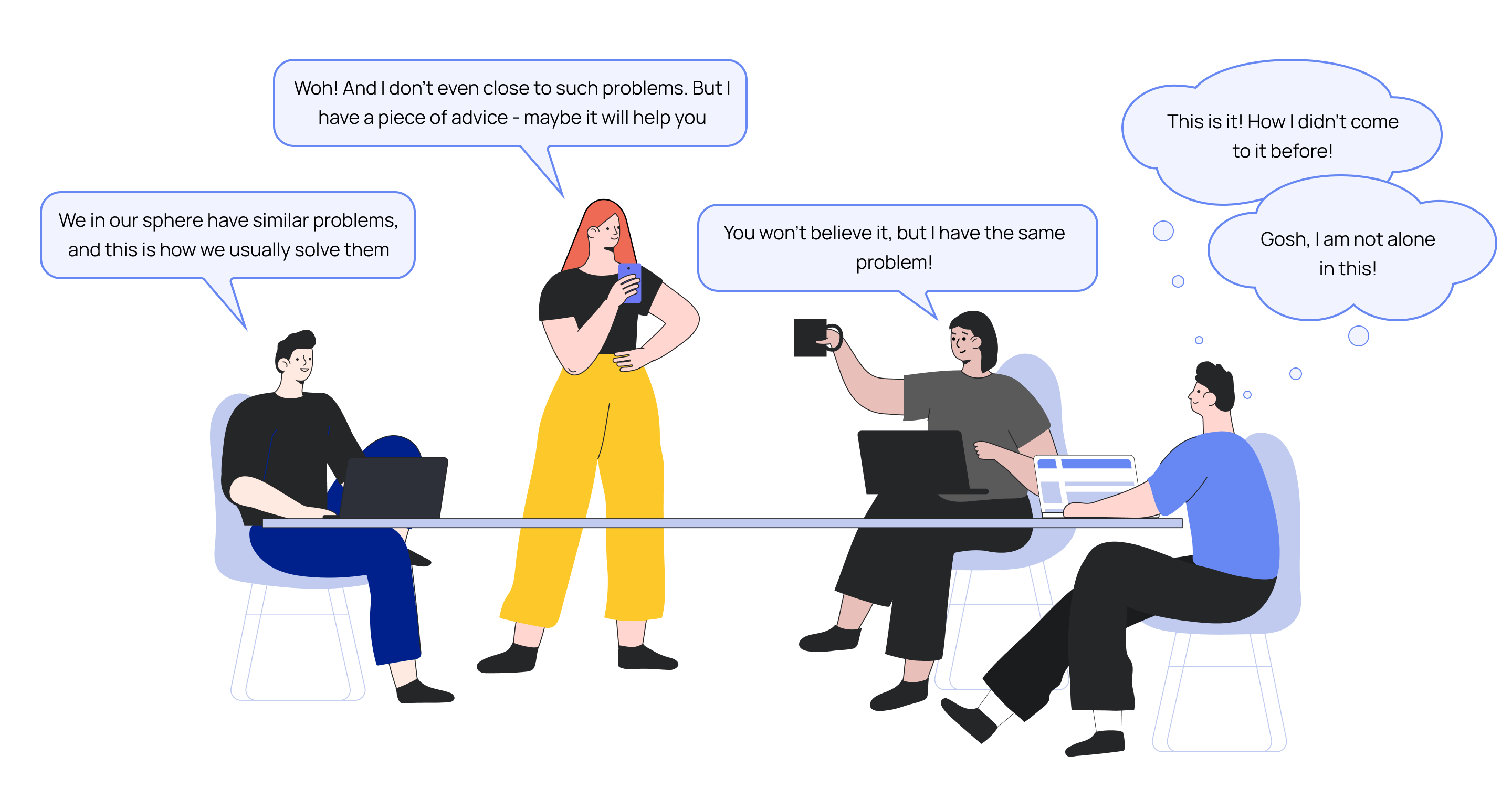 How does a Mastermind session go
One session might last 4 to 5 hours. The group members meet in a convenient and calm place where they can share thoughts unbothered. Offline sessions work better than online ones due to fewer distractions. However, today online Mastermind sessions are common too.
1.

Warm up. Members engage in small talk and discuss the latest news for 5 to 10 minutes to warm up and connect. Everyone gives some updates about their life — health, career or personal issues.

2.

Hot seat. A member brings up the key problem they'd like to discuss. They have around 30 minutes to explain the issue and help needed.

3.

Brainstorm. Afterwards, everyone shares their thoughts on solving the problem for 5 to 10 minutes per person.

4.

Commitment. The one with the problem makes a decision and commits to do something to resolve the issue.

5.

This cycle continues until each member has spoken.
Write down the advice, so you can rethink everything later, decide, and devise a strategy. Show it to the group later, and they'll know the value of their words. WEEEK can help visualize the plan in the Knowledge Base and bring it to life with a task manager.
Mastermind session principles
Mastermind sessions are different from coaching or mentorship — they imply equal discussion between several people. That's why it's so critical to maintain session rules, since the discussion might escalate or turn into a farce.
For comfortable communication, follow these principles:
Trust. Members should feel safe to share, so it's crucial to keep meetings confidential. You might sign a non-disclosure agreement, and those who break it will be excluded from the group. That way everyone will feel comfortable.
Let others talk. Do not interrupt other members and give them an opportunity to finish their speech. If you are afraid of forgetting your thought, write it down and share it in your turn to speak.
Attend meetings regularly. Plan your week ahead and make time for your sessions. You can come up with a punishment system for truants that keeps everyone on their toes.
Choose a moderator. It is a key member of the group. Moderator can be a group member or an invited third-party. They will keep track of the timing and progress, set the tone for discussion, and resolve possible conflicts and difficult situations.
Between sessions, fix your thoughts and ideas. Edgar Roberts said 'An unwritten thought is an incomplete thought'. We agree! Write down your ideas to discuss with the group later.
Now you're ready for a Mastermind session. You can try this format with friends or enroll in one online. We're sure that the Mastermind principle will bring you many opportunities and insights, whether you're stuck with a business problem or trying to train your dog.