In one of the last issues of our podcast, we talked about how many task management applications exist, and how difficult it is to choose one and work effectively with it. I know this firsthand - it is very difficult for me to use one task management tool for a long time for completely different reasons, so I regularly change them. And so for 8 years of working in digital, I tried if not all, then very, very many.
Let's just dot the i's. Here we will not talk about project management systems, but rather about task management tools - simple applications that help you not get lost in tasks, do not forget about important things and... in general, everything. Teamwork, time tracking and other useful features in the case of task management tool do not play a special role, so when analyzing the following services, I suggest ignoring them.
So, here are the best task management tools that I advise you to use in the coming 2021.
WEEEK (web, Windows, macOS, iOS, Android)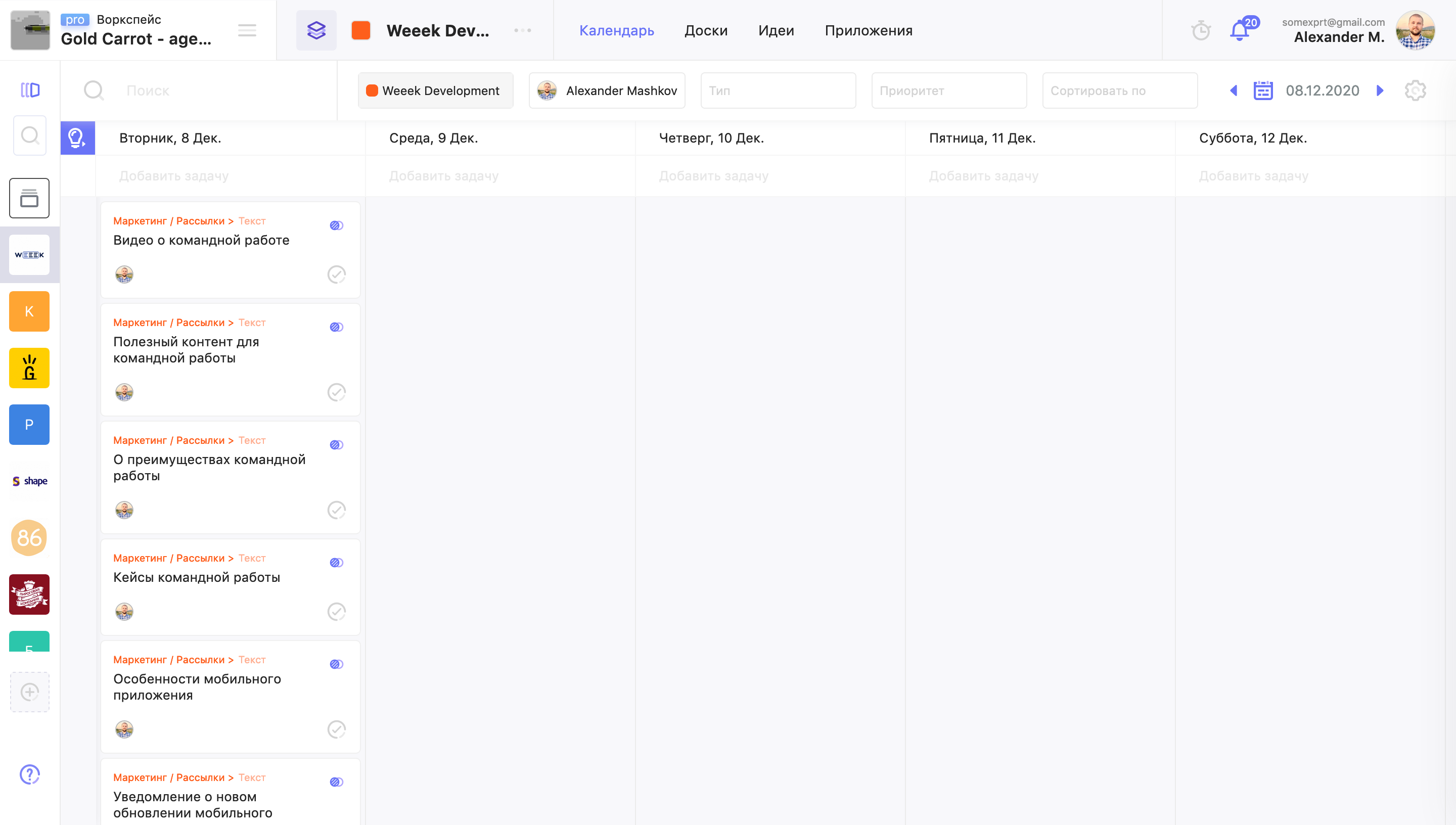 It's funny that it was in search of the perfect task management tool that I ended up in WEEEK. I liked the service so much, I was so pleased with how it can improve my (and not only) life in the future, that I decided to join the team without hesitation.
At the heart of WEEEK is the principle of weekly planning - you draw up plans for the week and consistently move from task to task. You can create workspaces with projects in them. You can create subtasks for tasks up to 6 levels of nesting - these will be full-fledged tasks, and not simple checklists (although they can also be used in this way). WEEEK has a powerful and flexible notification system - you can specify where you want to receive notifications. I, for example, have included notifications about deadlines in my Telegram, and I almost never forget anything.
There are mobile applications for iOS and Android, which are constantly updated, acquiring new features, which, unfortunately, are not enough now.
All features are included in the free version. There is a limit only on the number of projects (up to 7 pieces).
Pros:
clear interface,
no restrictions on features,
convenient mobile applications,
cool notification system.
Cons:
in the web version, you can not yet view tasks in the form of a list (only whiteboards or a calendar),
in mobile applications there are still not all the features.
Cost: free. If you need more than 7 projects, the cost is $2.9 per month when paying for a year.
Todoist (web, Windows, macOS, iOS, Android)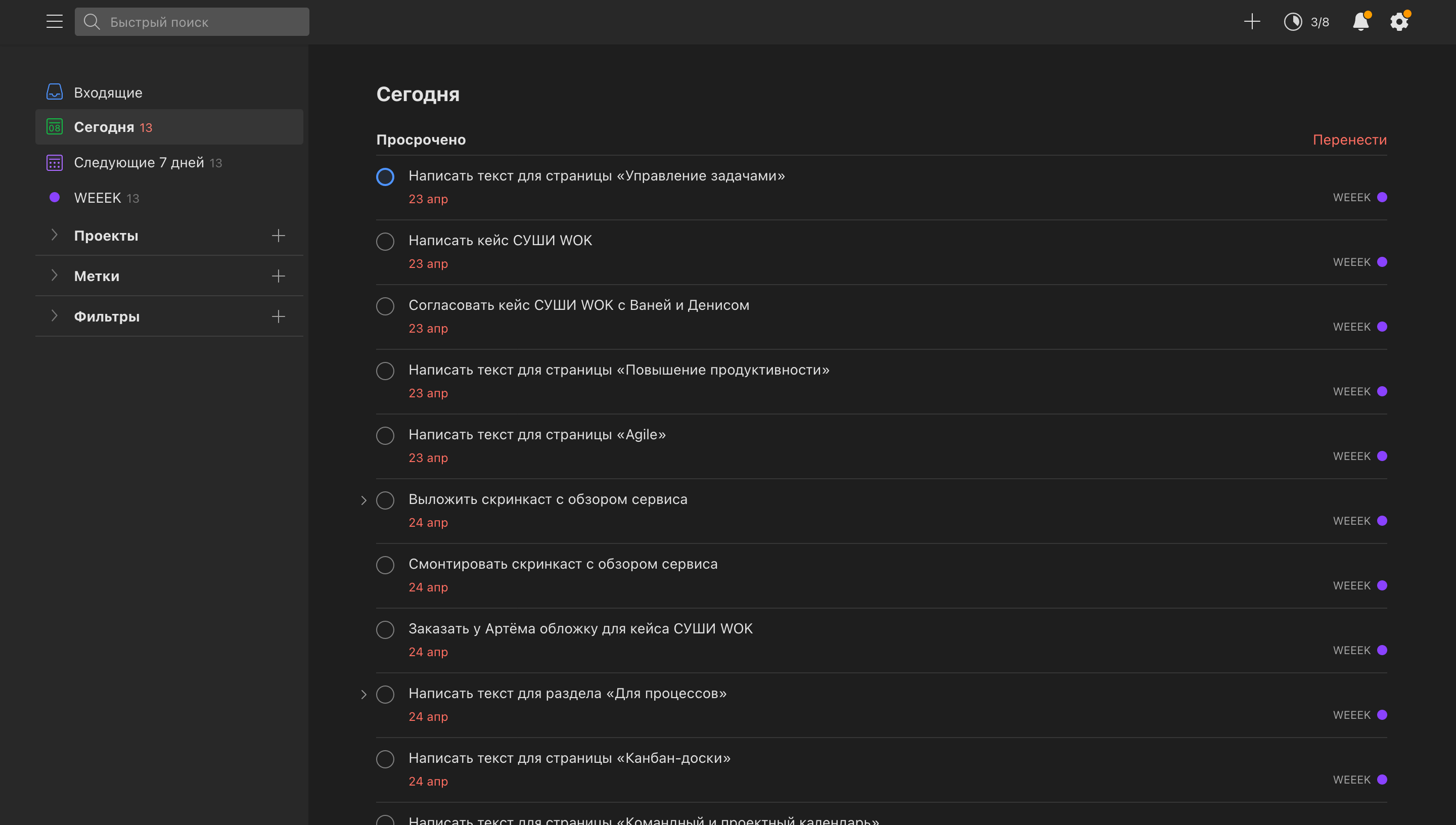 Todoist is a very popular task management tool, simple and functional. It works on all desktop and mobile platforms (and in general, it is not available except on smart refrigerators and kettles).
Tasks can be added quickly thanks to text recognition - for example, you write "pay for electricity on Wednesday" and Todoist sets the corresponding task for the next Wednesday. New tasks can be collected in the inbox, and then spread across projects (both tasks and projects have infinite nesting). With a paid account, you can create filters and tags, as well as receive reminders about tasks (yes, wildly, but the free version of Todoist will not even warn you about the approaching deadline).
I made several visits to Todoist, even once I bought a premium account for a year at a discount, but... nothing happened between us. When the tool opens up almost limitless possibilities, the temptation to do nothing is great.
Pros:
recognition of terms in text of the problem;
infinite (I couldn't reach the limit) nesting of tasks and projects;
simple and intuitive interface;
works everywhere.
Cons:
notifications are only available in the paid version,
because of too many features, you can get lost.
Cost: free of charge. If you need notifications and other important features, you will have to pay $3 per month when paying for a year.
Things (macOS, iOS)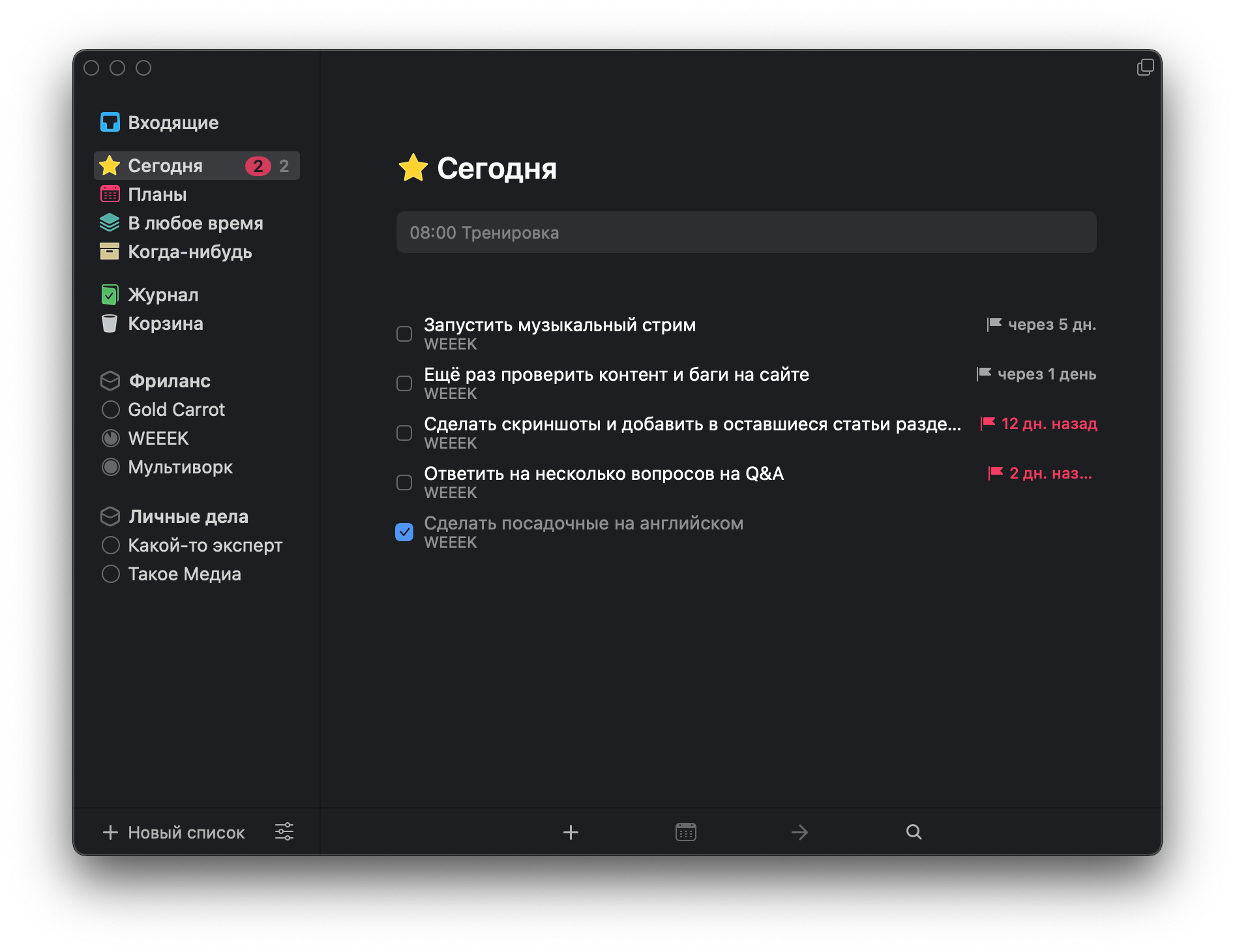 Things is my favorite. Perhaps the fact is that I paid for both the iPad version and the iPhone version (yes, they are sold separately), and now my conscience does not allow me to throw it, but the fact is: I use it the longest. Intermittently, but I use it.
This is the pure embodiment of GTD: you plan tasks for yourself in different projects; you specify deadlines and dates from which work on the task should begin; and then every day you sort out tasks in the "Today" section. Figured out -well done, rest or go do something else useful.
Actually, except for this basic idea, there are no bells and whistles in Things, and this is cool. There you can put tags on tasks, add descriptions and checklists to tasks, and... that's all. Nothing superfluous.
Pros:
simple and pleasant interface,
nothing superfluous,
convenient system with the "Today" section.
Cons:
it is expensive,
sold on each platform separately,
only available on Apple devices.
Cost: Version for iPhone — $9.99, version for iPad – $19.99, version for Mac – $49.99.
Trello (web, Windows, macOS, iOS, Android)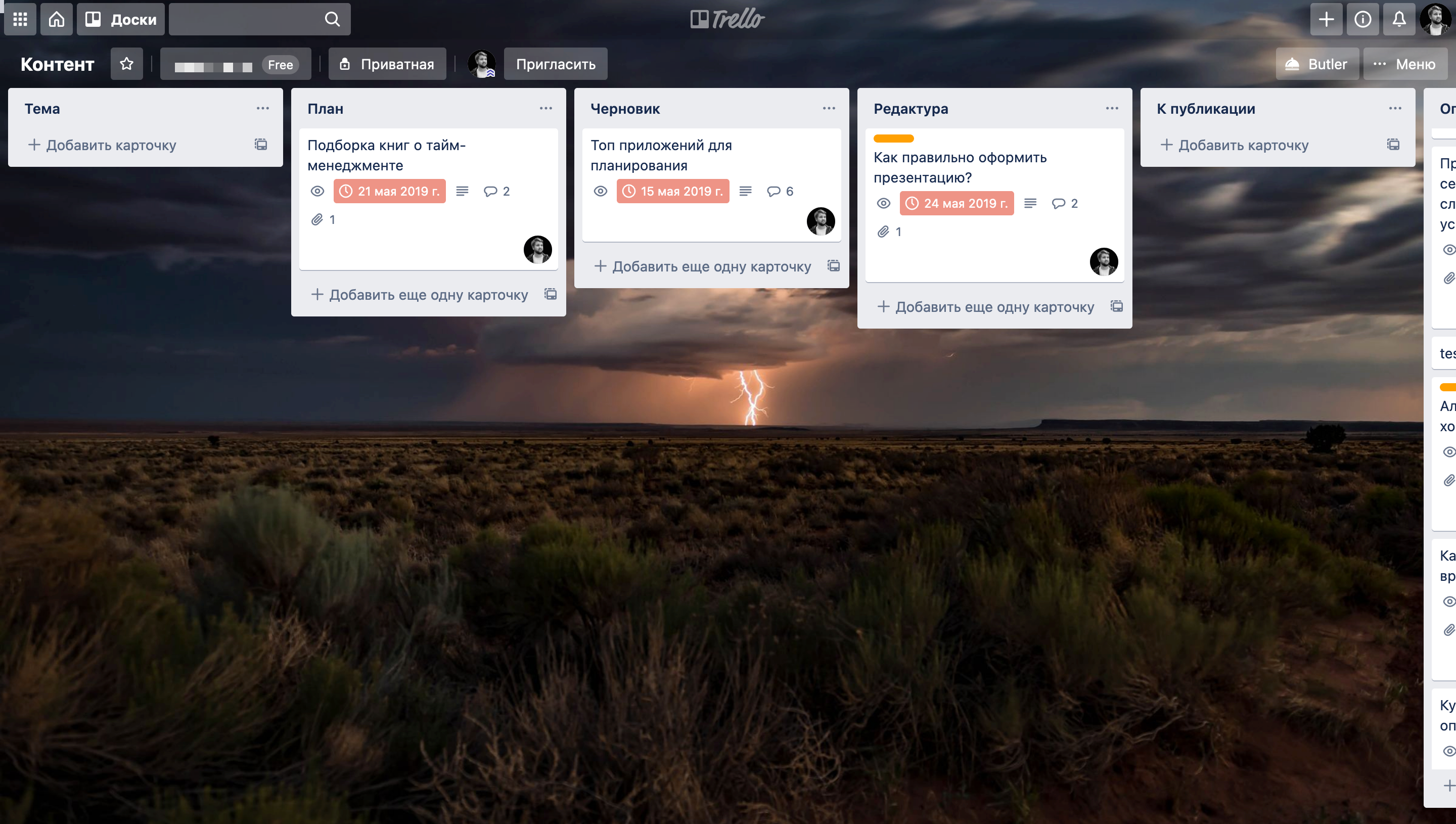 The tool is extremely popular, thanks to the clear idea with kanban boards, which is at the heart of everything. It seems that task cards have their own deadlines, and it seems that they can also be moved between columns, thus tracking the progress of work.
It is noteworthy that in mobile applications, Trello does not deviate from its core concept-you will not see any list of tasks there, and you will have to drag tasks between columns. On a small screen, frankly, this is not very convenient.
I tried using Trello to monitor my personal tasks, but I didn't really succeed. But maybe I'm the exception. I can immediately name a dozen people who use Trello as a task management tool, and they like everything.
Pros:
on the boards, it is convenient to monitor progress,
works on all popular platforms.
Cons:
on the phone, it is not very convenient to move cards between columns,
tasks from different projects are not visible on the same screen.
Cost: free with a limit on the number of add-ons. To remove the restrictions, you will have to pay $9.99 per month when paying for a year.
Microsoft To Do (web, Windows, macOS, iOS, Android)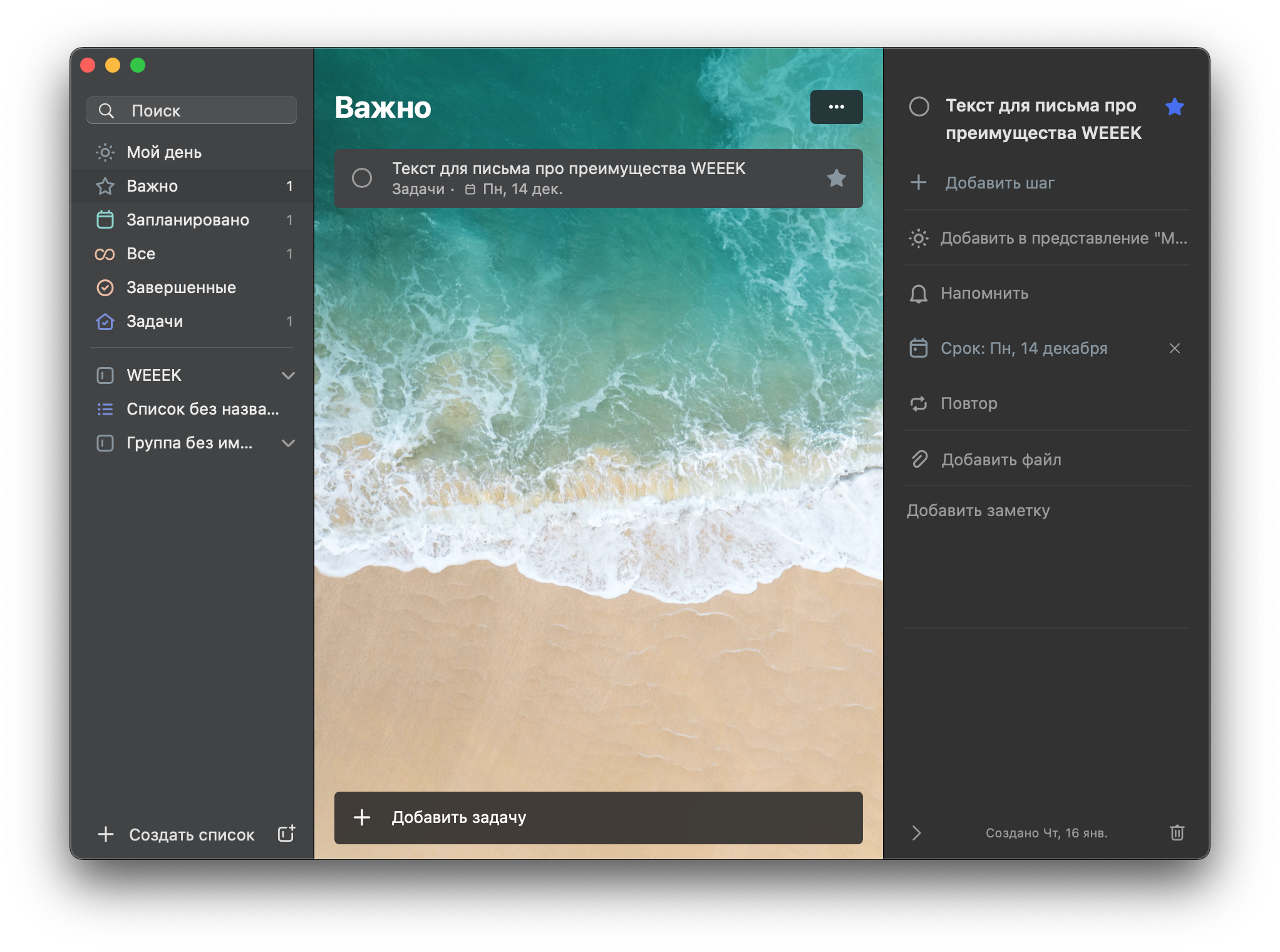 One day, Microsoft bought Wunderlist and killed it. And then I made my "Wunderlist" with blackjack on the dice and... well, you get it. Applications are really as similar to each other as possible - both in interface and capabilities.
In Microsoft To Do, there are projects that can be grouped together; there are tasks and subtasks (not full-fledged, but rather like checklist items). You can make tasks repetitive, as well as attach files and reminders to tasks. In a sense, To Do is similar to Things, with the only difference that you can not specify the start date of work on the task, after which it constantly reminds you of itself in the "Today" section.
I tried using Wunderlist again, but I didn't like the reminder system. In To Do, it is the same - I tried it, and also abandoned it.
Pros:
simple interface,
completely free.
Cons:
Cost: free.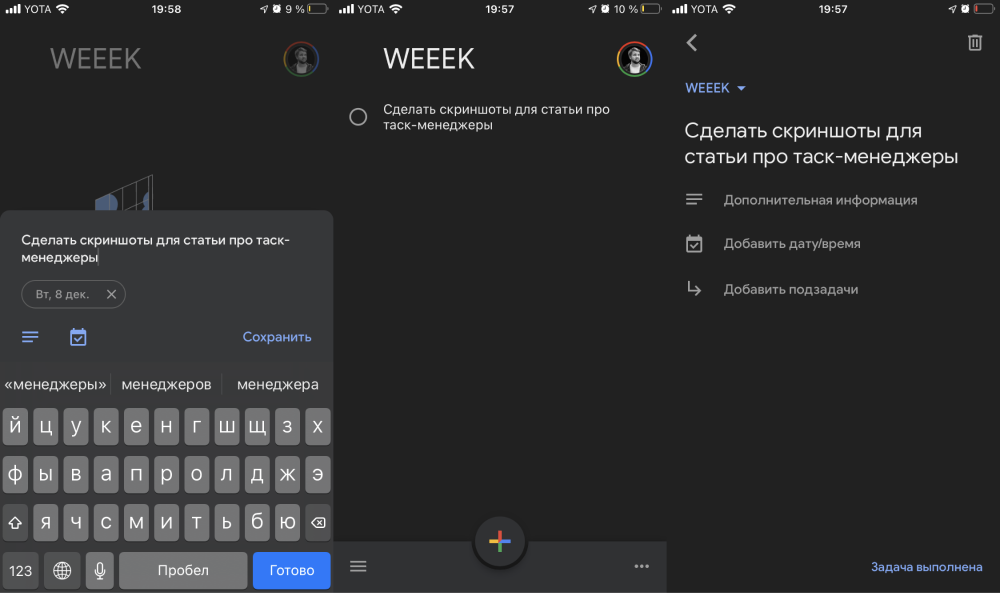 Gmail and Google Calendar have long had their own built-in task list, but it was impossible to view them from the phone for a long time. And then Google called it all Google Tasks and released apps on iOS and Android.
The app is very, very minimalistic. You can add tasks from your email or calendar, or directly in the app. You can organize your tasks using deadlines, lists, and subtasks - a standard set.
This is not the best task management tool, but it is definitely a very convenient option if you are very stuck in the Google ecosystem.
Pros:
Cons:
Cost: free.
Habitica (web, iOS, Android)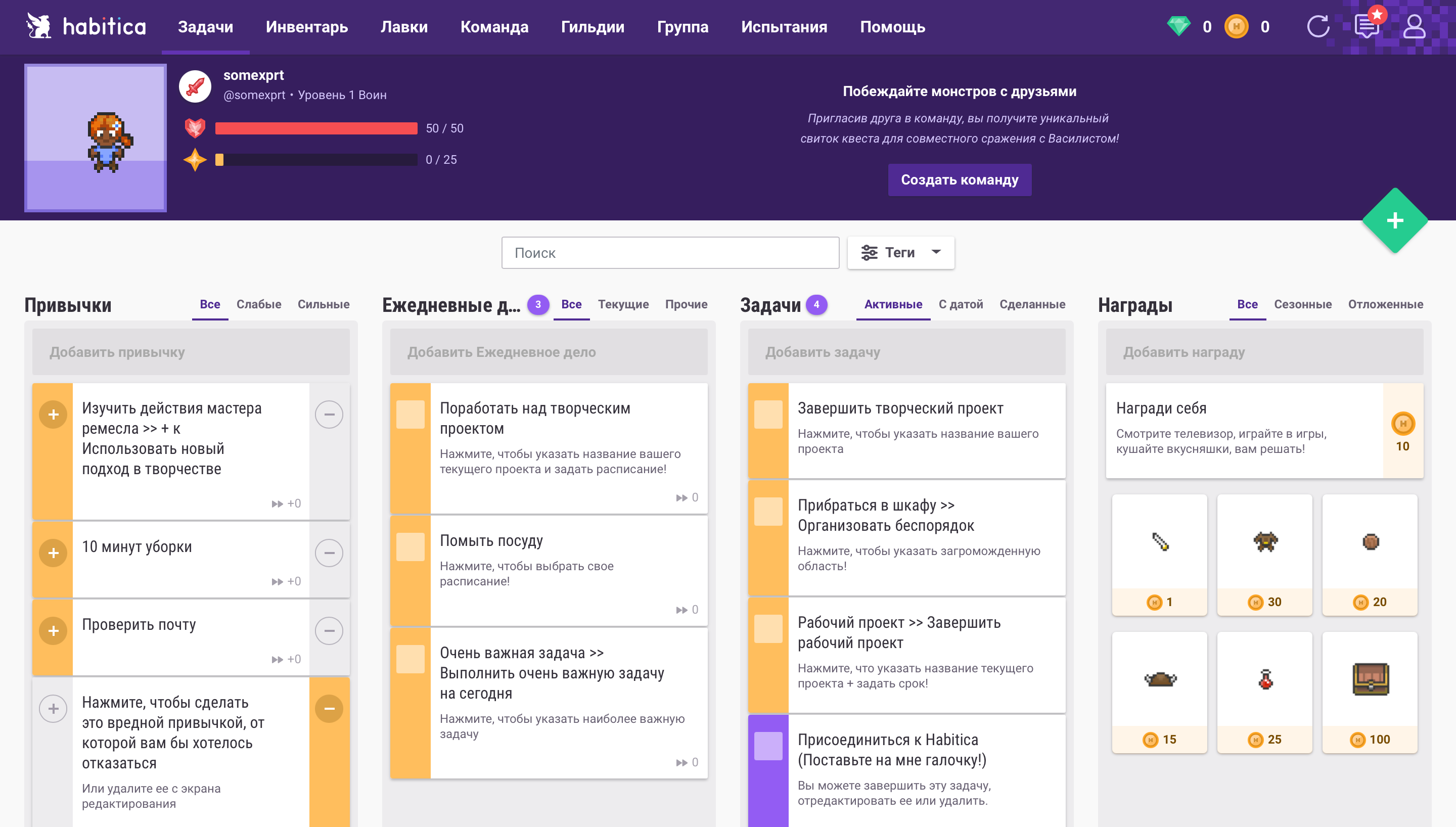 Habitica, which used to be called HabitRPG, uses game design principles to motivate you to do tasks on time. It works simply: you create a character that gains experience for completing tasks (your actual tasks) and damage for not completing or delaying them.
I love video games. I love task management tools. It would seem that Habitica is the app of my dreams, yes? No. First of all, I think that mixing games and work is not very smart. Secondly, as a task management tool, it does not work very well. Although, if you have problems with motivation, the option is very good.
Pros:
motivates to do tasks on time,
quenches the "gamer's thirst" at work,
hats, swords, magic... well, it's fun!
Cons:
the game part can distract from work,
as the task book application does not work very well.
Cost: Free.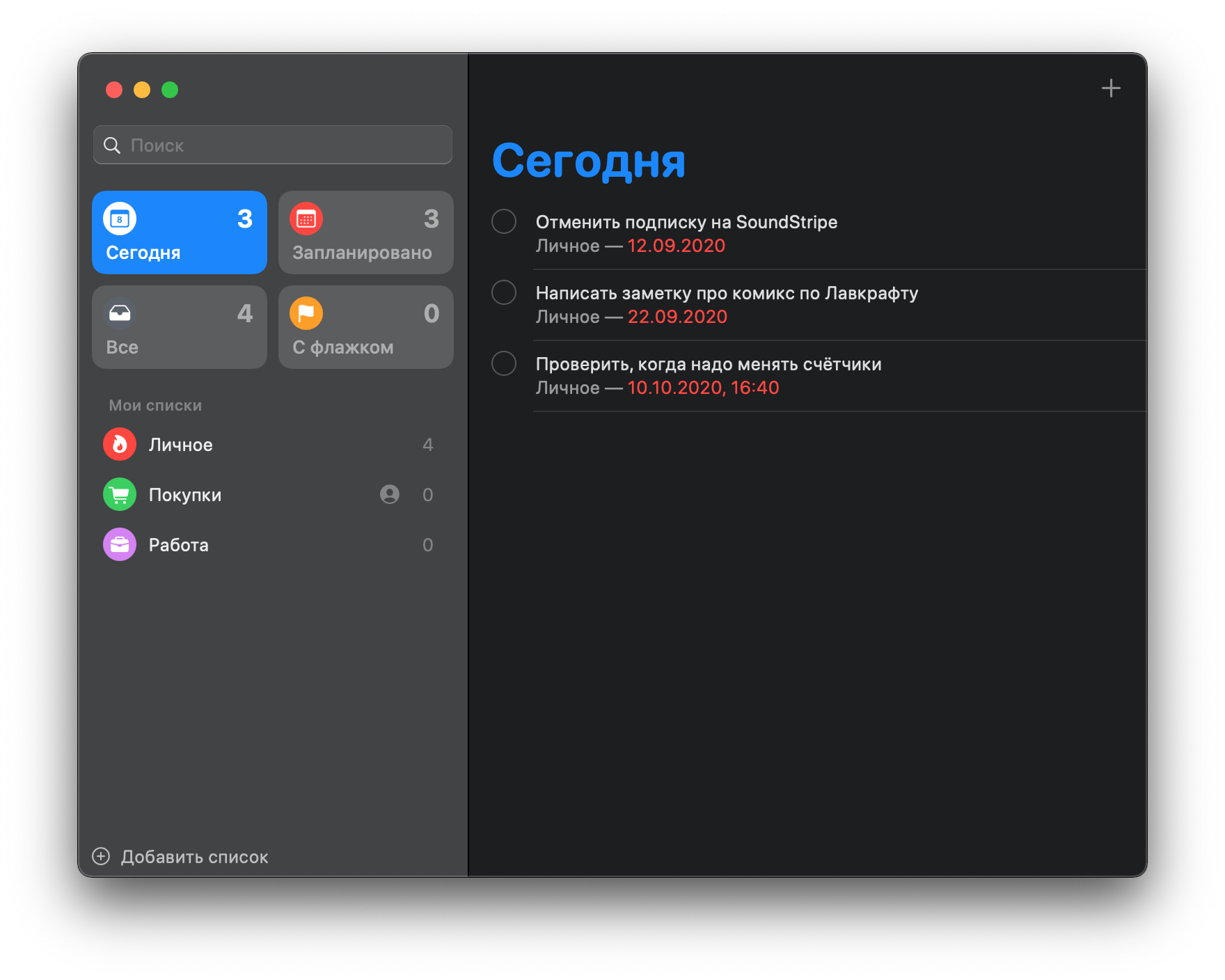 Well, there was already a task management tool from Microsoft, there was a task management tool from Google, it's time for Apple. In the latest updates to its operating systems, Apple has dramatically transformed the native Reminders app. If earlier it was a simple list of reminders that could only be arranged in folders, now it is a cool powerful task management.
Task reminders can be triggered by time, location, or, for example, sending a message to someone. You can add descriptions, priorities, and images to tasks.
I use "Reminders" for household family tasks - when I need to buy something, go somewhere, repair something, and so on. If you need something simple and you're a big Apple fan, Reminders is cool.
Pros:
simple interface,
part of the Apple ecosystem,
reminders are triggered not only by time, but also by location and messages.
Cons:
not very clear interface,
you need at least an iPhone.
Cost: free.
In the article, I focused on task management (not all of them, but the most notable ones, in my opinion), but keep in mind that other offers can also cope with the task of keeping track of the to-do list: project management systems, note-takers, time trackers, and even simple tables. Search, try, and I will try to help you with this in this and the following articles.