Kanban boards are one of the most popular ways to manage tasks and projects. And Trello is one of the most popular kanban tools. But popular does not mean the best (popularity is a very changeable thing in general). In this article, I've collected 7 alternatives to Trello that will help you and your team (if you have one) work more productively.
Briefly about Trello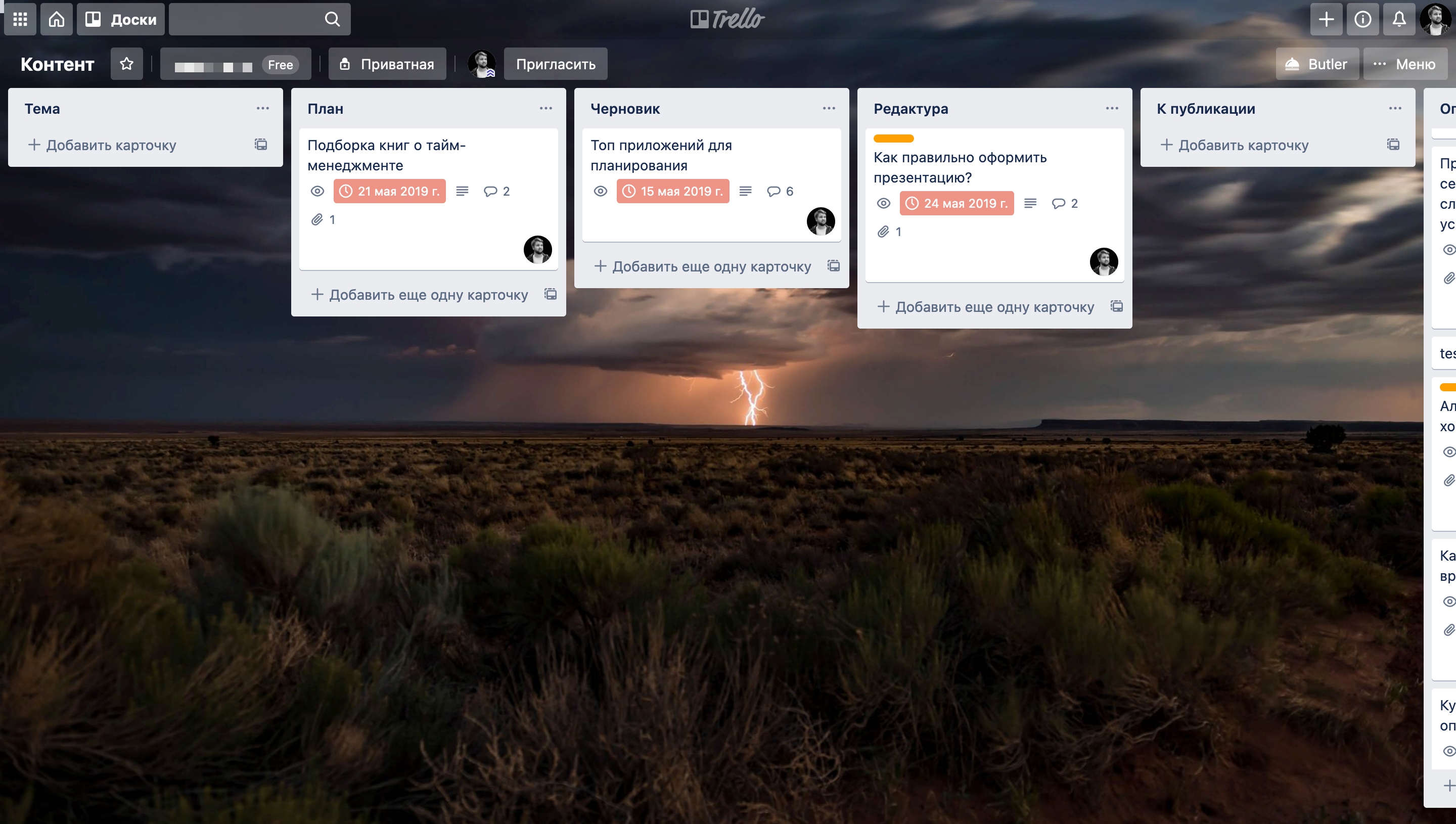 The key feature of Trello is its simplicity. You can get used to it very quickly, it is not littered with a bunch of bells and whistles (they are available as optional — sometimes very important-additions). Within the same board, even working as a team is quite convenient. But... that's all.
If you go beyond a single board, project management in Trello turns into a nightmare. Here are 2 reasons why you should find a Trello replacement:
In Trello, it is not possible to evaluate the loading of the command. The project manager can't keep track of the workload of the team members, because Trello doesn't have any special features for this - you can't even watch multiple boards at the same time. And switching between several boards, it is impossible to quickly assess who is working on what, and whether it is somehow worth redistributing tasks.
Trello is not designed for managing complex projects. In the basic version, there is no calendar or priority system. These and many other functions necessary for project management are included in the so-called "bonuses" (add-ons). In the free version of Trello, you can activate only one "bonus", so if you suddenly want to work with the calendar and attach documents from Google Drive, you will have to fork out.
Suitable for: freelancers and small teams.
Cost: You can use it for free with a limit on the number of add-ons. To remove the restrictions, you will have to pay $9.99 per user per month when paying for a year.
Best Trello Alternatives
WEEEK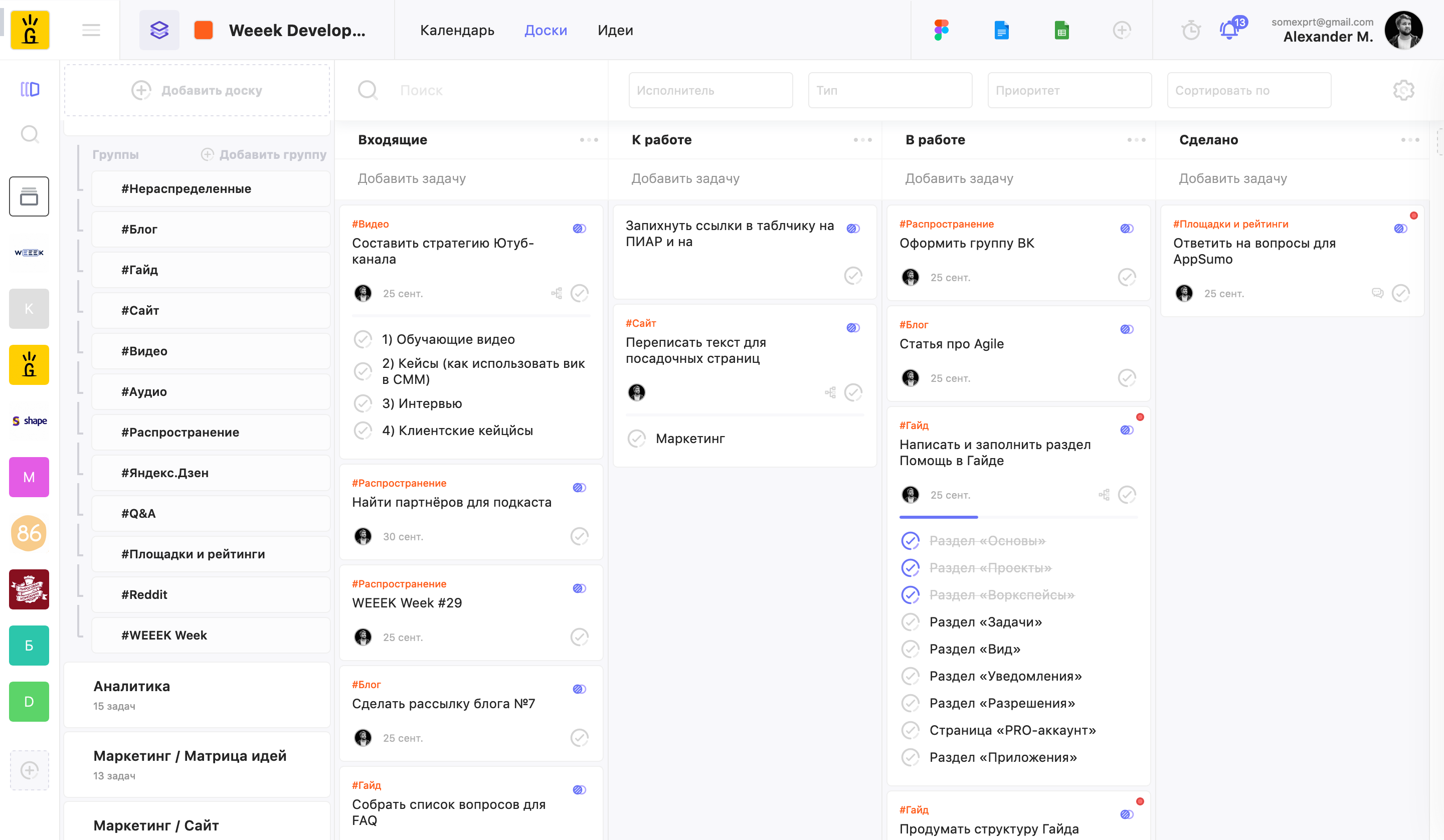 WEEEK is more than a Kanban tool. It is a flexible and simple project and task management system based on the principle of weekly planning. In addition to the boards, which are not inferior in functionality to Trello boards, WEEEK has a calendar mode. You can view tasks from all projects in one place.
Thanks to a more flexible structure (workspaces → projects → boards), WEEEK allows you to work on truly large and complex projects. Multi-level tasks and a system of priorities also help. The columns on the boards can be automated to reduce the number of routine actions (for example, automatically assign a task to another performer). Especially for Scrum teams, there is a grouping of tasks, which makes it easier to work on sprints.
All add-ons and integrations are included in the free version. There is a limit only on the number of projects in one workspace and the number of team members.
Suitable for: teams of any size that need a convenient and intuitive tool.
Cost: free of charge up to 7 projects in the workspace and 5 people in the team. To remove the restrictions, you will need $2.9 per month (for one) or $6.7 per user per month (for a team).
Wrike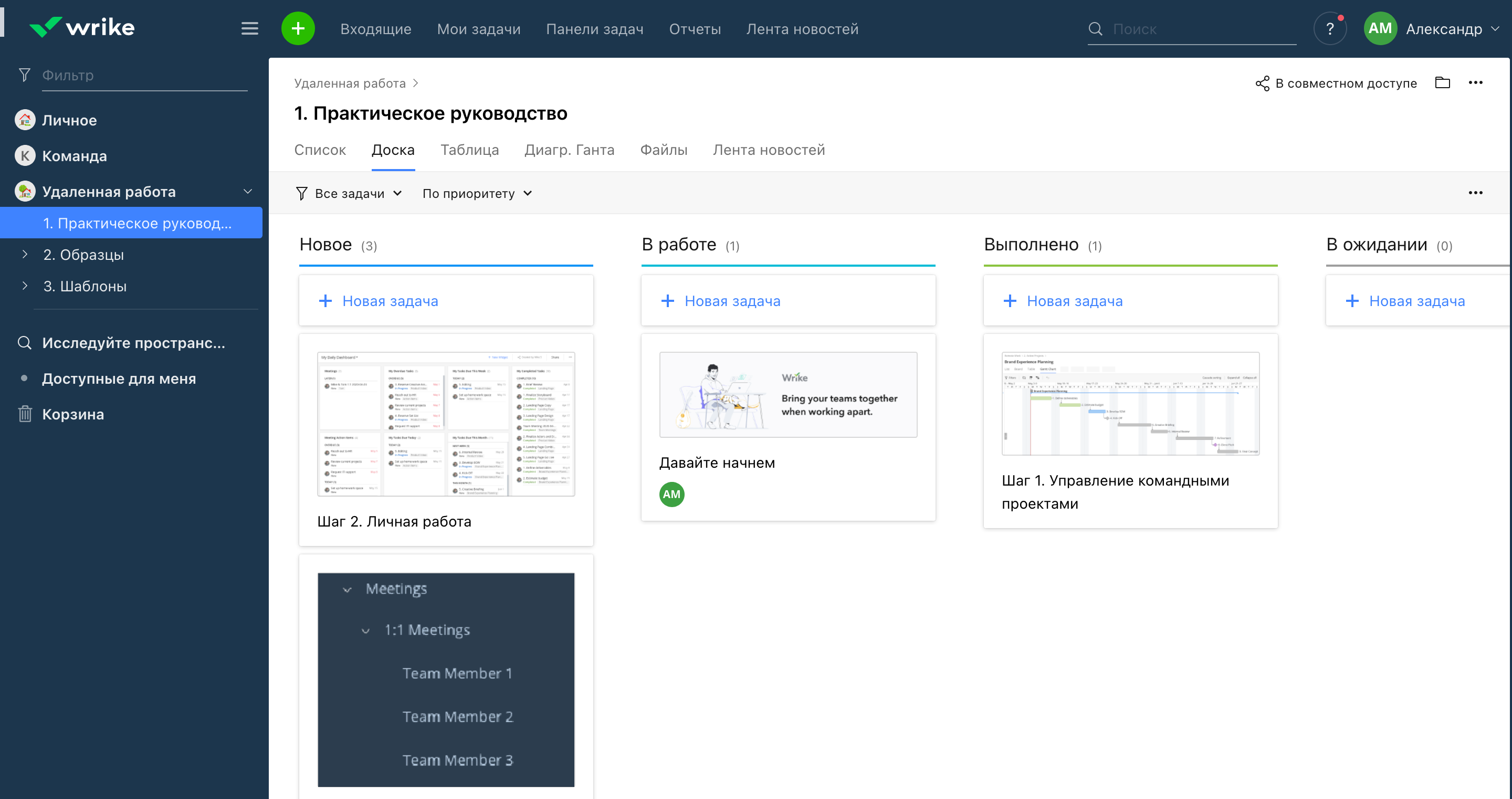 Wrike has a lot of enterprise-level features (just like Jira), but even in the free version, it's not a bad replacement for Trello. There's a bunch of integrations, a priority system, subtasks, and different task view modes (list, boards, etc.)
Wrike goes far, far beyond a simple kanban tool. This is a large and comprehensive solution, where many important features are hidden behind a paid subscription. For example, the built-in time tracker, reports, calendar mode (yes, in the free version here, as in Trello, you can not see the download for different projects in one place). And there is a rather confusing interface, which not everyone will immediately understand.
Suitable for: large teams that need a comprehensive solution for managing tasks and processes.
Cost: Free - for teams of up to 5 people. Professional version ($9.80 per month per user) - for teams of up to 15 people. Business option ($24.80 per month per user) - for teams of up to 200 people.
Asana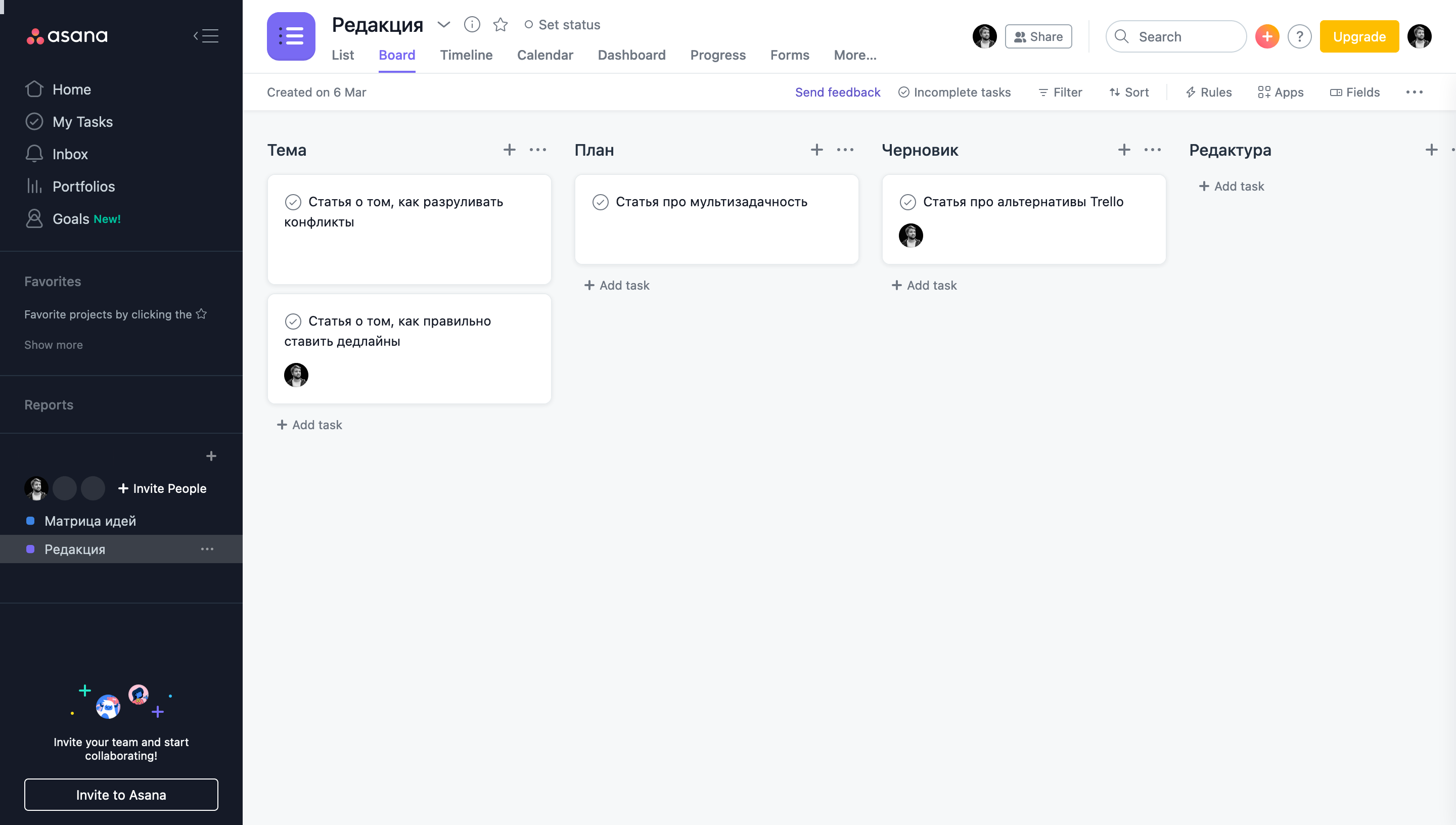 Asana is probably the second most popular project management system on this list after Trello. If you need a more functional tool than a simple Kanban, Asana is a good choice.
First, Asana has a very simple and intuitive interface. Second, you will be able to view the tasks both in the board mode, as well as in the list, timeline (for a fee) and calendar. And, third, there you can create subtasks, share files (including from cloud services) and screw a ton of add-ons.
There are two disadvantages:
the limited features of the free version,
the cost of the paid version.
Suitable for: teams of any size who need a place to work together, and who like good interfaces.
Cost: Free of charge - up to 15 people (with limited opportunities). Premium version (for small teams) - $9.99 per month per user. Business version (for additional features) - $19.99 per month per user.
ClickUp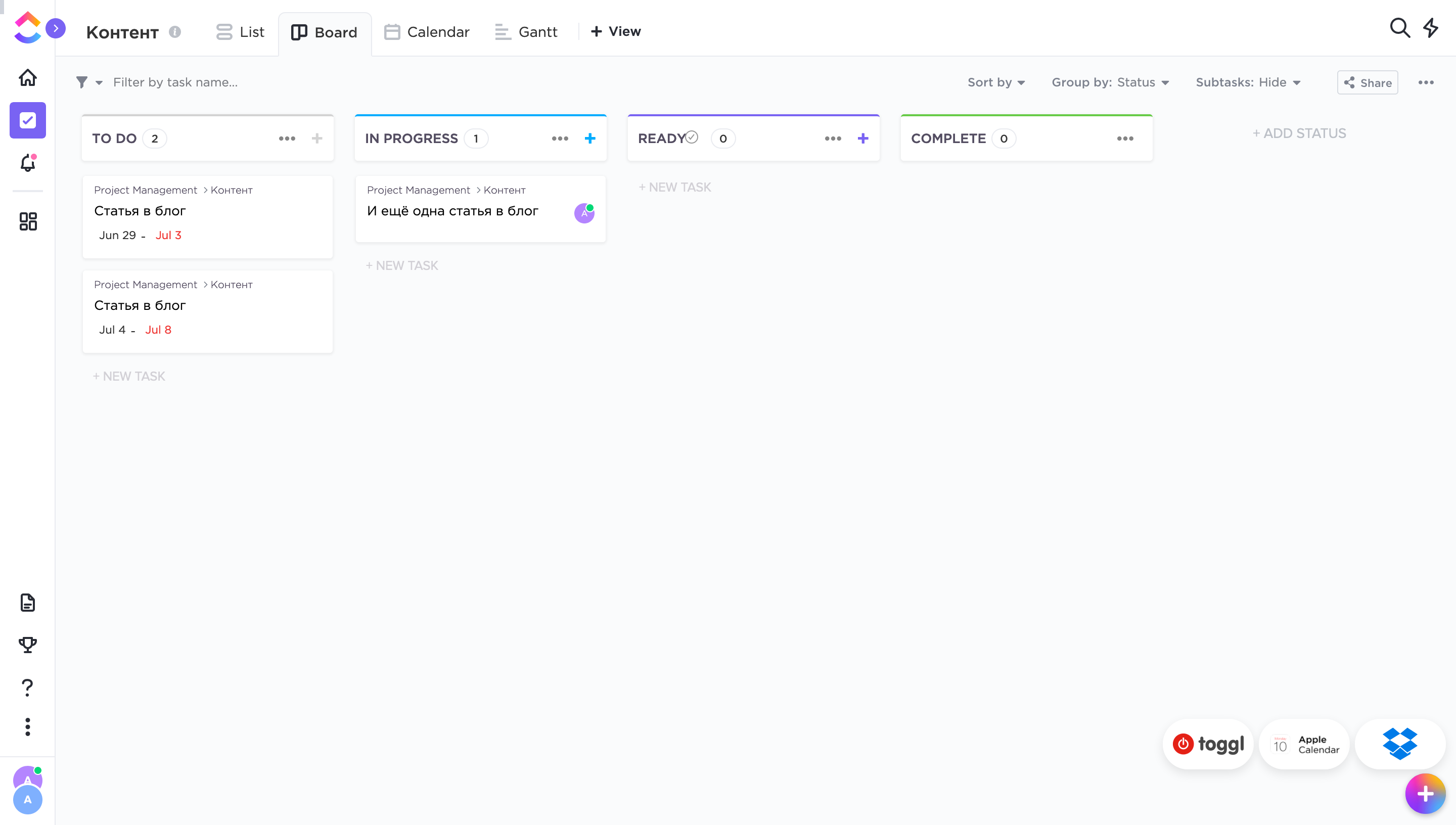 ClickUp is the most functional replacement for Trello. In addition to the board mode, there seems to be everything that can come to mind: a sea of integrations, a time tracker, notes, intelligence maps, spreadsheets, and various task viewing modes (Gantt chart, list, calendar), and the ability to view tasks in one place, and... Well, in general, there is a lot there.
But this versatility has a downside. The thing is, ClickUp is like Facebook-in terms of the interface, it's like a spaceship control panel. If you take it up, it will take a long time to get used to it.
And one more important point. With all this variety of features, in the free version of ClickUp, some functions are limited. For example, you can create only 5 workspaces, and only 100MB is allocated for files.
Suitable for: teams that need an all-in-one tool.
Cost: There is a free version (no limit on the number of people). Unlimited-the plan that removes most of the restrictions costs $9 per user per month. Business plan - $19 per user per month.
YouGile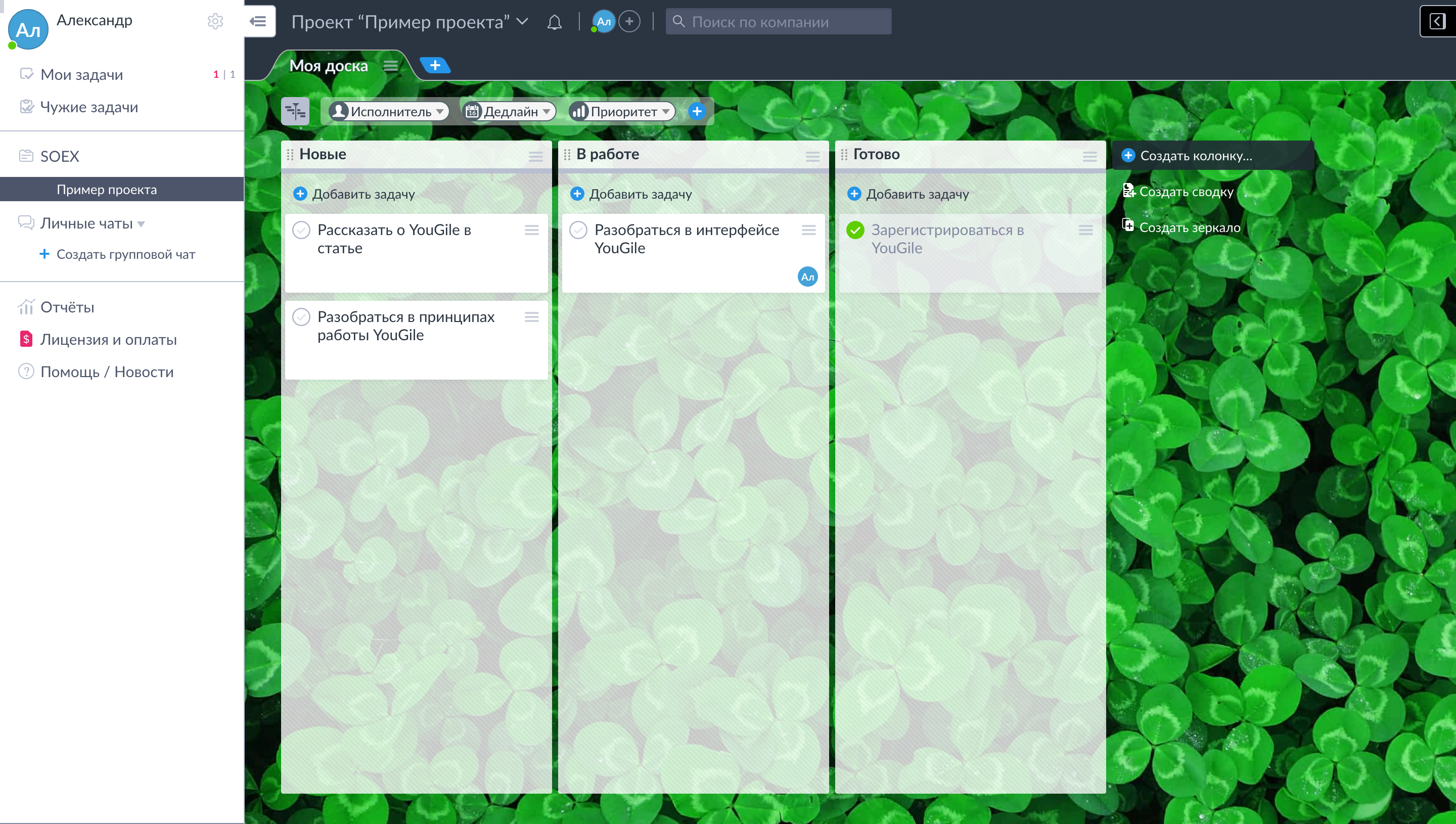 YouGile, like WEEEK, is a Russian service. But unlike WEEEK, it is focused exclusively on working on the principles of Agile.
An unambiguous plus of YouGile - a simple and intuitive interface, boards and nothing superfluous. Tasks can be viewed not only on the boards, but also on the Gantt chart. Tasks have a priority system and built-in chats (instead of comments) - the latter is especially convenient.
There is a mode for viewing other people's tasks, but it is not very convenient - it is not clear on what day which specialist has what load. Another unpleasant point - subtasks are just a checklist, that is, you will not be able to build a multi-stage work on the task.
Up to 10 people in a team can use YouGile for free, without any restrictions.
Suitable for: teams of any size who want to work with a flexible methodology.
Cost: Up to 10 users-free of charge. From the 11th user and onwards, for each of them, $4 per month when paying for a year.
Kaiten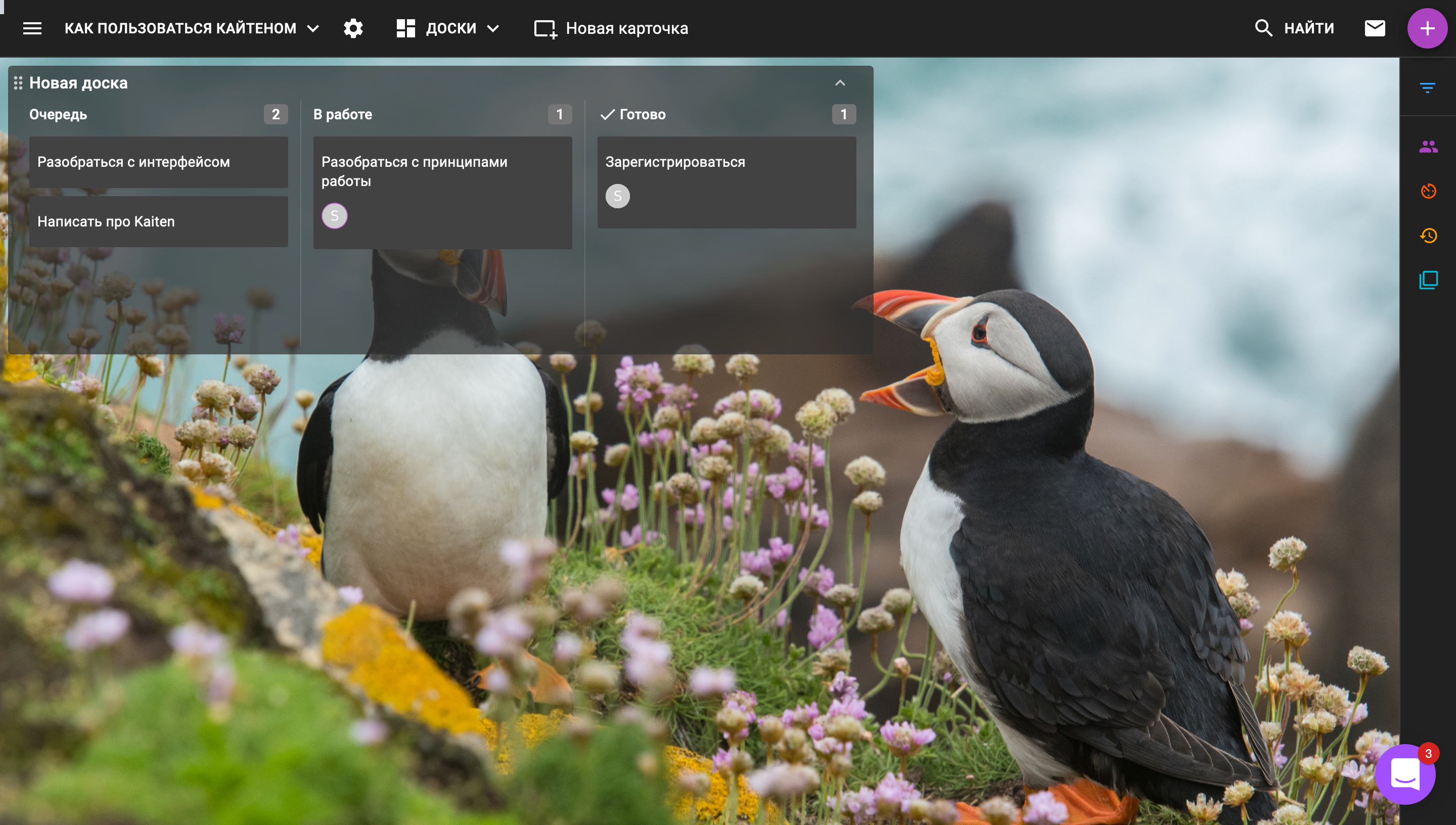 Kaiten is another Russian project management service and a rather interesting alternative to Trello.
In the basic version, Kaiten can be used for normal project and task management via boards. In the paid versions, there are additions, for example, for Kanban and Scrum.
You can view tasks not only through the boards, but also through the table (so it is convenient to see the loading of certain employees in the desired time period) and the Gantt chart.
Suitable for: teams that want to dive deeper into Kanban and Scrum.
Cost: Free version (without add-ons). Standart version (includes additions for Kanban and Scrum) – $9 per user per month. PRO version (includes all additions) - $11 per user per month.
MeisterTask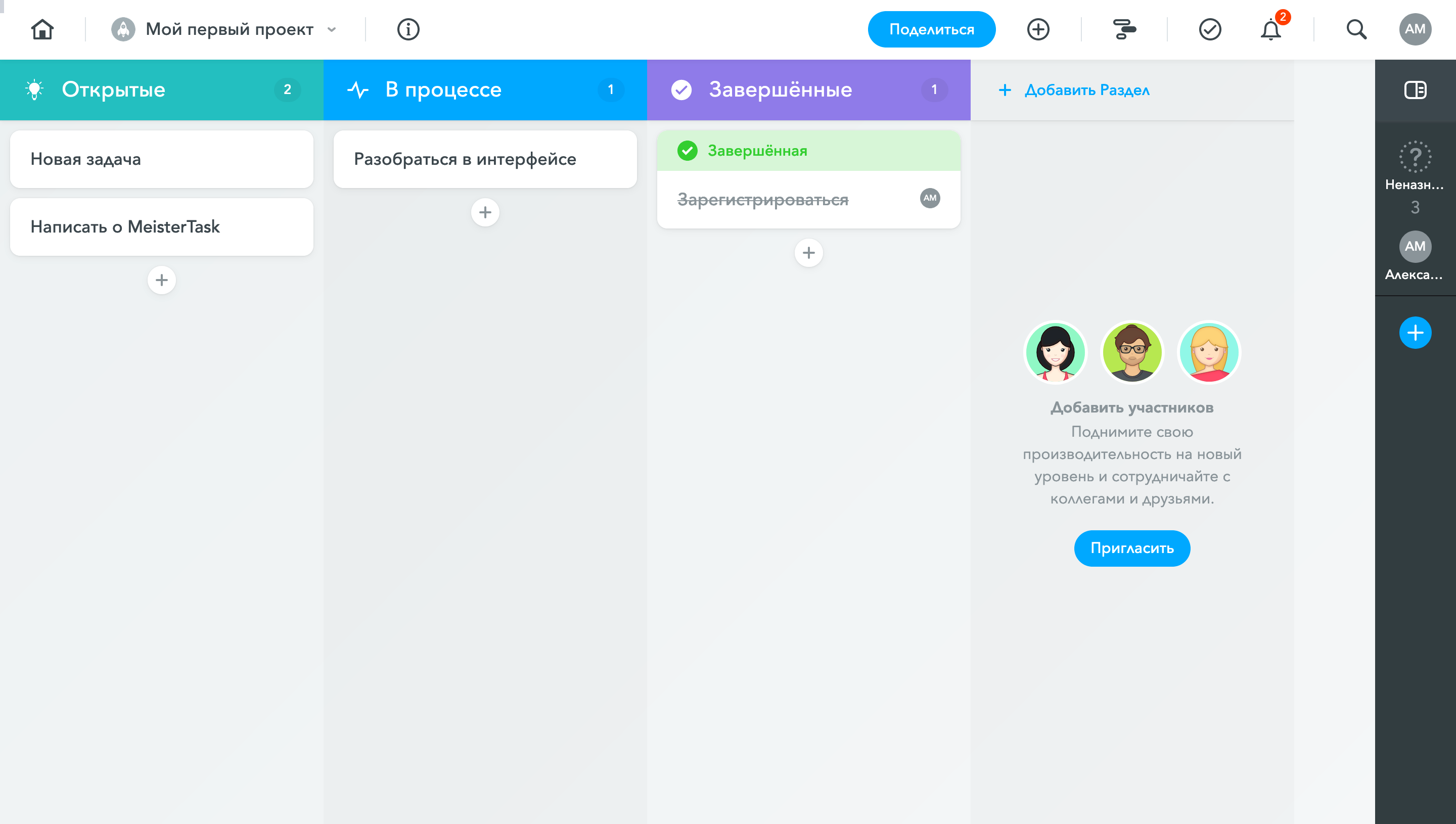 All of the above project management systems are functionally more powerful than Trello. But I decided to dilute this list with something simpler. MeisterTask is a very popular alternative to Trello, even if it's not very fancy.
The interface of MeisterTask is a little different from Trello (everything is large, colorful and like a deliberate toy), but it is just as simple, without any problems. In addition to the main feature - working with boards-there is a Gantt chart and column automation. But there is no calendar, no priority system, no way to view all the tasks from all the boards.
In the free version, you can create 3 projects, automation, Gantt chart and other features do not work.
Suitable: for small teams that are tired of Trello and want to try something new.
Cost: The Pro version (removes most restrictions) costs $8.25 per user per month. The business version (access to all features) costs $20.75 per user per month.
Trello is a good tool, but not a perfect one. Why settle for the limited features of Trello (even in the paid version), if you can get all this and even more for free in another service? That's what I mean.
Sign up for WEEEK and start managing your projects in full force!