7 best text editors
If you haven't come up with a name for those who like to maniacally try various new applications, you should definitely come up with one. I am one of them.
It started as soon as I came to IT. Before that, in general, I didn't bother much with applications and used what I was used to. With the change of the working sphere, habits have also changed. I have tried many text editors because I love to write. As a teenager, he wrote stories, and now - articles, notes and scripts. In a word, I tested a lot, and I have something to tell about this.
When I was preparing to write this material about text editors, I thought about the format for a long time.
- Make a detailed comparison? There are plenty of them on the web.
- Consistently talk about the "journey" between services? It will not work, because I often used them in parallel.
As a result, I decided to make such a free story about the seven best text editors and share with you my impressions of using each.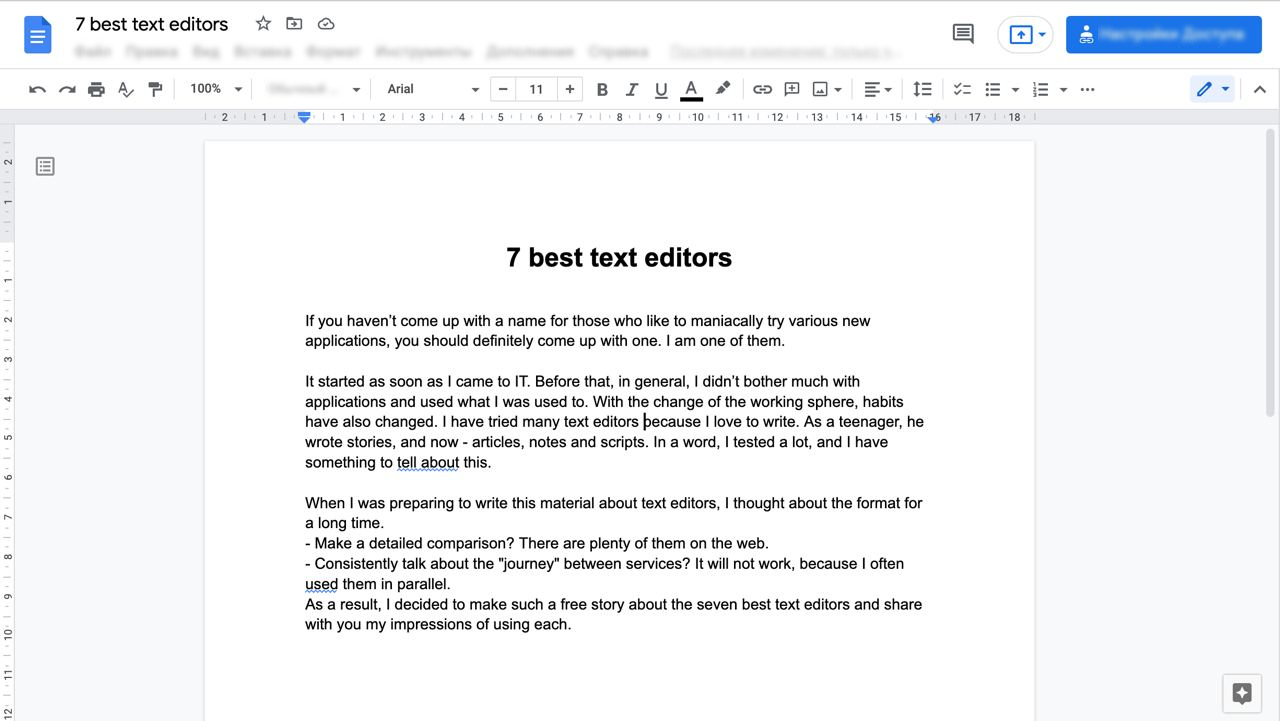 My friends, it's worth mentioning the texts, everything immediately implies working in Google Docs. This is logical: everyone (well, almost) has a Google account, and in the years before the appearance of the "office" from Google, everyone was used to working in Word. And Google Docs is definitely a cool tool. This is a large and functional text editor, just like Word, but online. It is fast, easy to learn, and most importantly, you can work there simultaneously with other users. And this is the main killer feature of Google Docs. So far, no text editor I've worked with has been able to come close to the simplicity, speed, and convenience of collaborating on the same material.
The service works within the framework of Google Drive, on which all documents are stored. Therefore order in Google Drive will automatically mean order in Google Docs. Remarkably, Google docs practically do not take up space on Google Drive. That is, if you store only Google docs in the cloud, the standard 15 GB that Google gives for free will be enough for a lifetime.
I started using Google Docs almost from the very beginning of my work in IT and I still use it. It's the perfect tool for collaborating on text. But there are better options for working alone.
Availability: web version, iOS, Android.
Cost: free.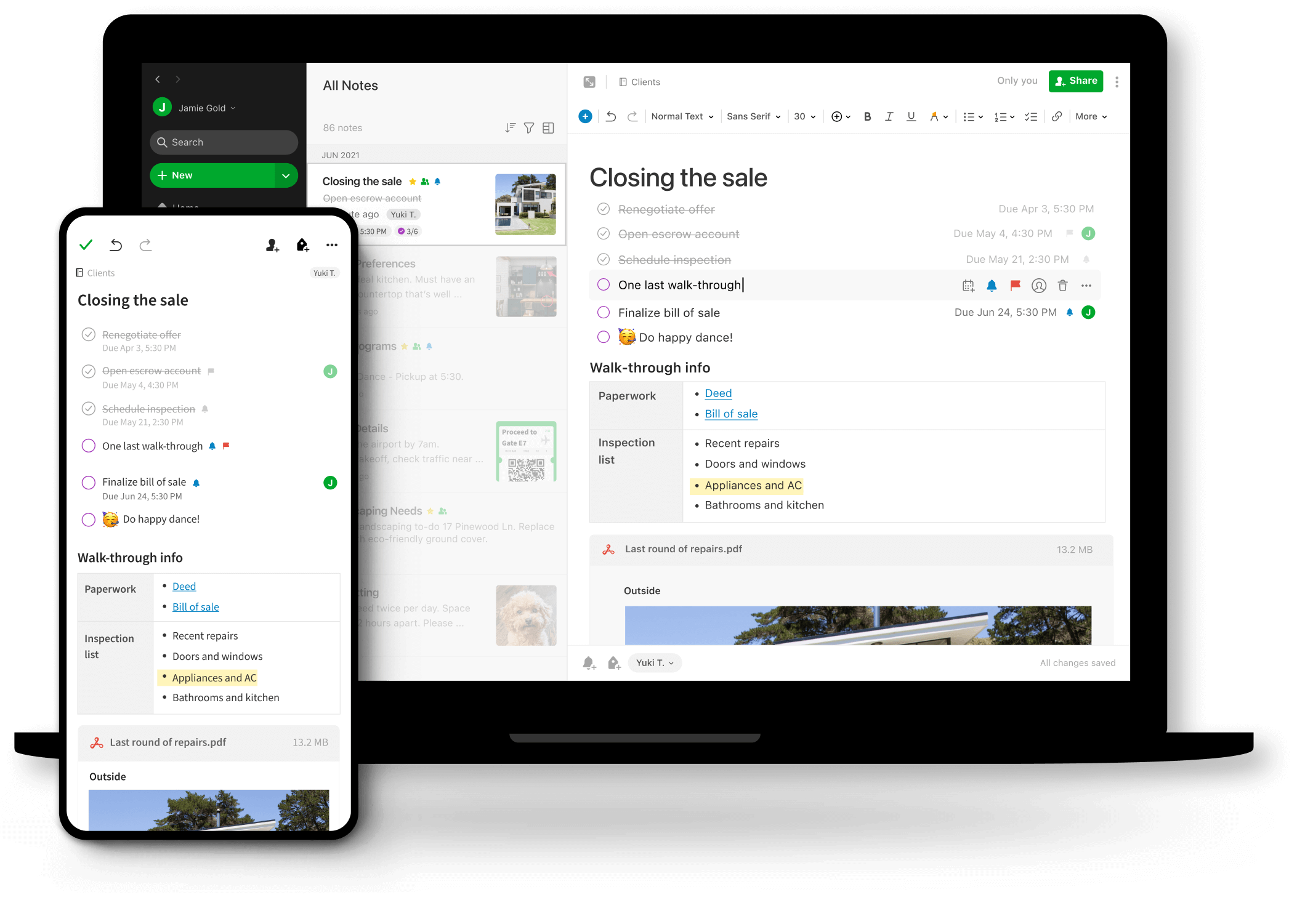 Now all my notes, drafts and finished texts are in chaos, which I gradually put in order. A few years ago, I really burned with the idea of ​​systematizing everything. This also applies to texts. And that's when I tried Evernote.
Evernote is positioned as the ultimate notebook. To organize notes, there is a powerful tagging system with which you can even build a knowledge base. The set of tools for working with text is standard: formatting, attaching files and that's it. You can work on notes together, but this is much more inconvenient than in Google Docs - the information is not updated instantly, you have to wait forever for the changes to load. Note text cannot be exported to any popular format - only to Evernote's proprietary format (apparently to be imported later). This limits the subsequent work with text, because formatting may break when copying text from the Evernote editor.
Evernote has other cool features that are not directly related to the creation of texts. For example, a web clipper that helps you save content from the Internet into notes.
Evernote has always been a shareware service with a subscription. That is, it is quite possible to use it for free, but now without a subscription there are not many important features.
I couldn't fully work on the texts there, so I used the service exclusively for taking notes. And then I found smarter options for notes.
Availability: web version, Windows, Android, iOS, iPadOS, macOS.
Cost: Free to €13.99 per month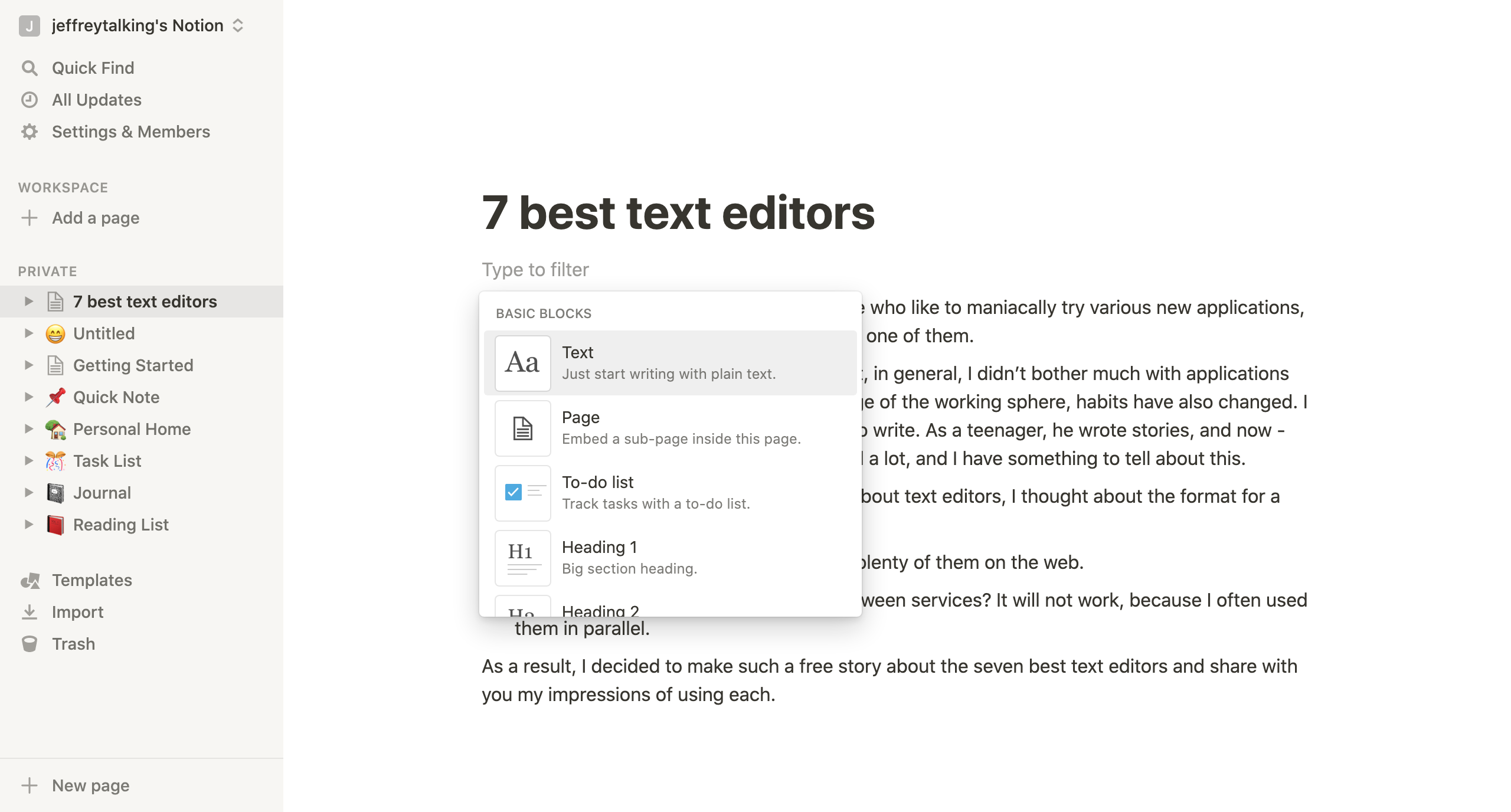 This is an application from the "all in one" category - and a text editor, and an online office, and a task manager, and CRM, and everything your heart desires.
I did not use it for long, because as an editor this service is not very good. Too overloaded with features: and a lot of different blocks that can be inserted into the text (from embed integrations to links to files of other formats); and covers with descriptions of documents; and many other things. It seems that you sat down to write the text, but it seems that you are already typesetting, as if you are writing on your blog right away. This is confusing and distracts from the actual writing process.
You can also collaborate on documents here, but it's still not as convenient as in Google Docs. Ready documents can be exported to PDF, HTML and Markdown.
Availability: web version, Windows, Android, iOS, iPadOS, macOS.
Cost: shareware, $5 per month.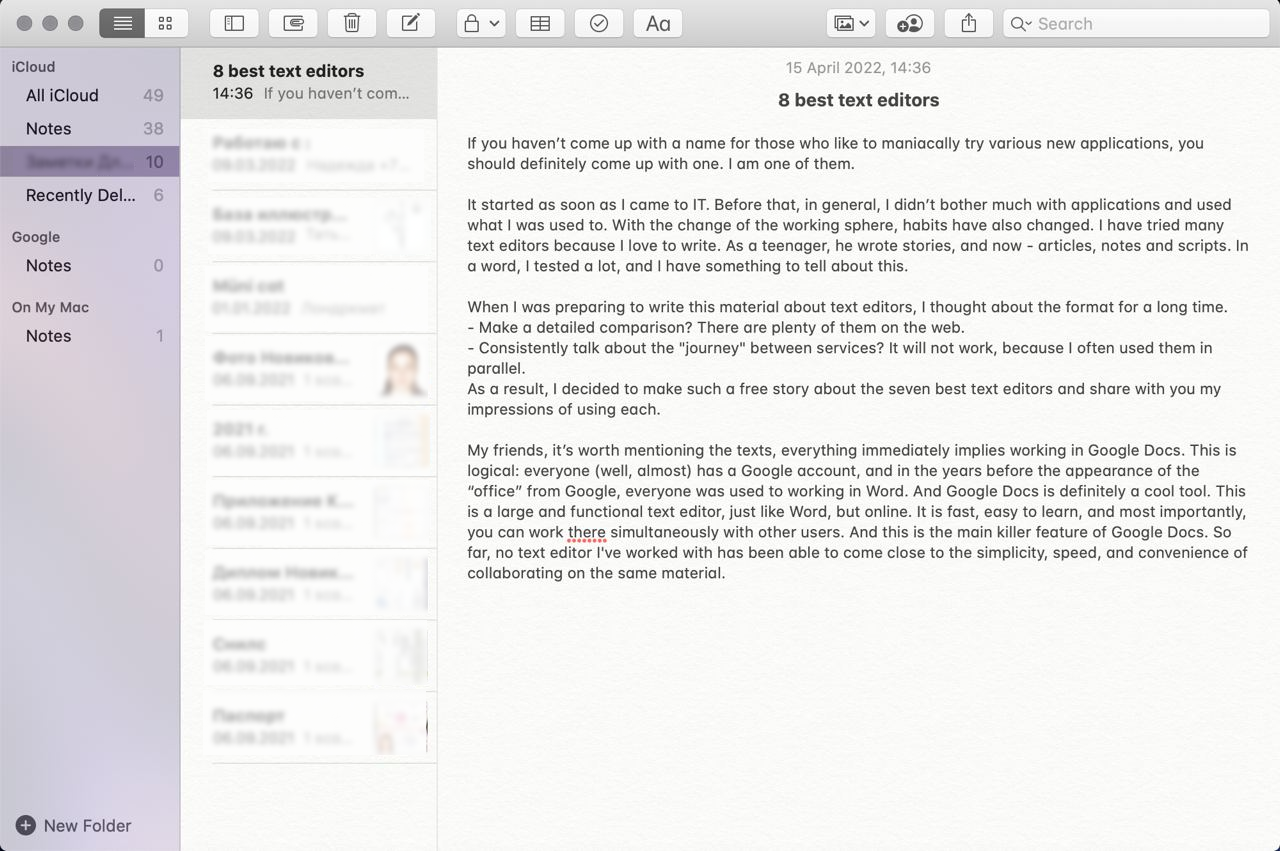 If you ask the owner of an iPhone or Mac where he writes notes, I'm sure he will name a standard application from Apple. I myself still use Notes all the time. True, not in order to fully write something there (I tried this, as with Evernote - it didn't work), but as a kind of intermediate point between the application where I write and the rest: browsers, instant messengers, etc.
Notes is a very cool app. It works fast, the interface is not overloaded, you can easily format text (in the latest updates it became possible to insert tables) and attach images. But, perhaps precisely because this is a note-taking app, there is always a mess here that makes it difficult to concentrate on writing text. Thoughts to write down - completely. But to write something big, alas, it does not work. You need a separate application for this.
Availability: Web, iOS, iPadOS, macOS.
Cost: free.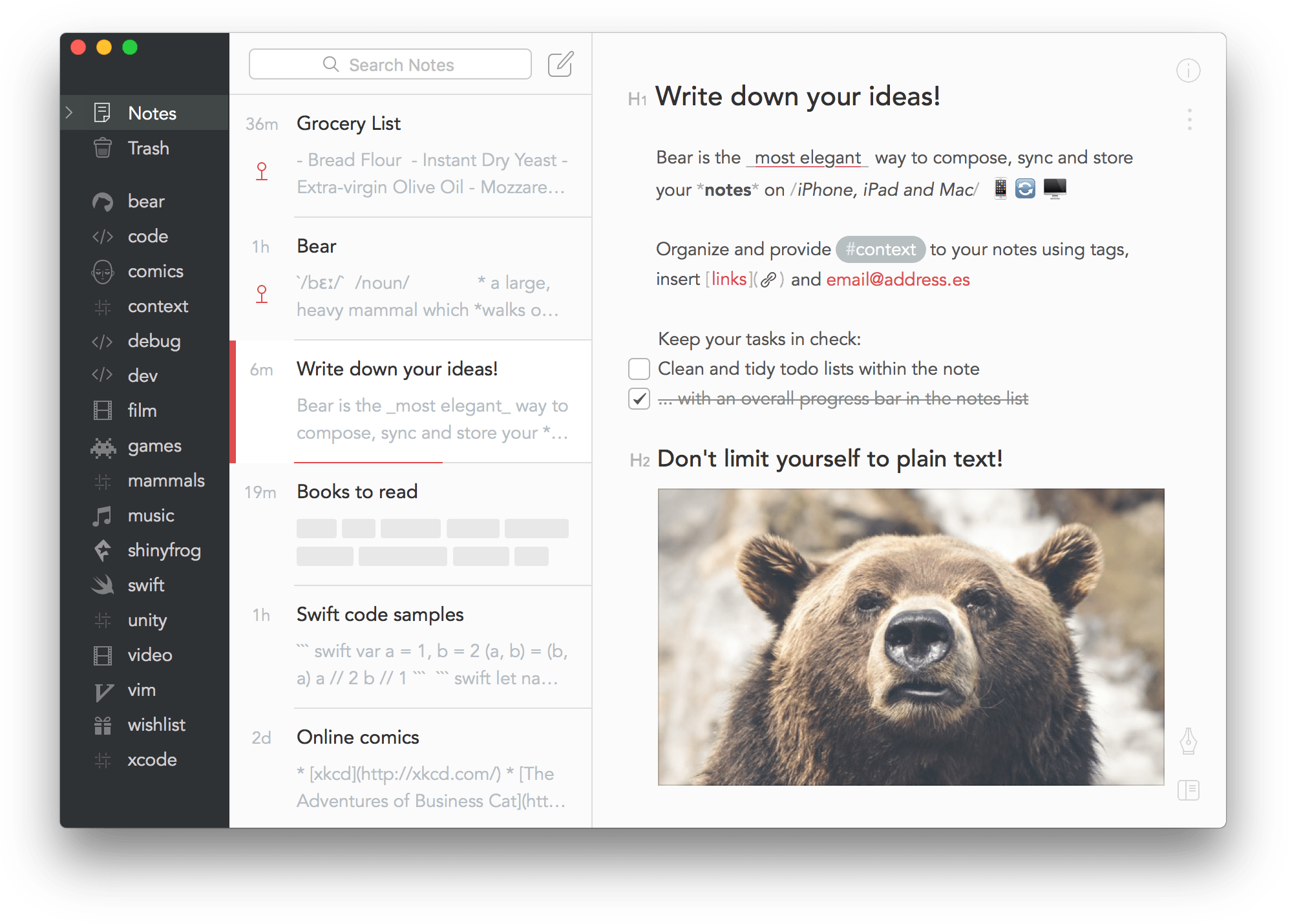 In the Apple ecosystem, the Bear markdown is being diligently promoted. Like, look, the best application for notes.
About Markdown
Markdown is a text markup language. Like HTML. Just simpler, shorter and clearer.
Let's say, to make a paragraph text, you don't need to enclose it in tags, but it's enough to beat it off with an empty line. Well, or, if you want to highlight a part of the text in bold, it is enough to enclose it in "asterisks" (*here is part of the text*).
I love Markdown and don't understand how I used to write in something other than Markdown.
I used Bear for a bit, but quickly gave up for three reasons:
1. With regard to Bear, the same statement is true as for Notes: the notes application is not convenient for writing - willy-nilly, a dump of disparate information is formed there. Even though Bear has more ways to organize it than Notes, it's a tagging system that's more flexible than Evernote's.
2. Behind a paid subscription, mandatory features such as synchronization between devices are hidden (yes, if you don't pay money, you won't be able to work in the application on all your devices) or export (in the free version you can only export to Markdown - in the paid version you can also PDF, HTML , DOCX, JPG and RTF).
3. The interface and the editor itself persistently use the Avenir font, which cannot be changed for anything. And it's just awful, you can't write with it for a long time (yes, I'm sorry, I'm very picky about fonts).
Availability: iOS, iPadOS, macOS.
Cost: from free to 1,49$ per month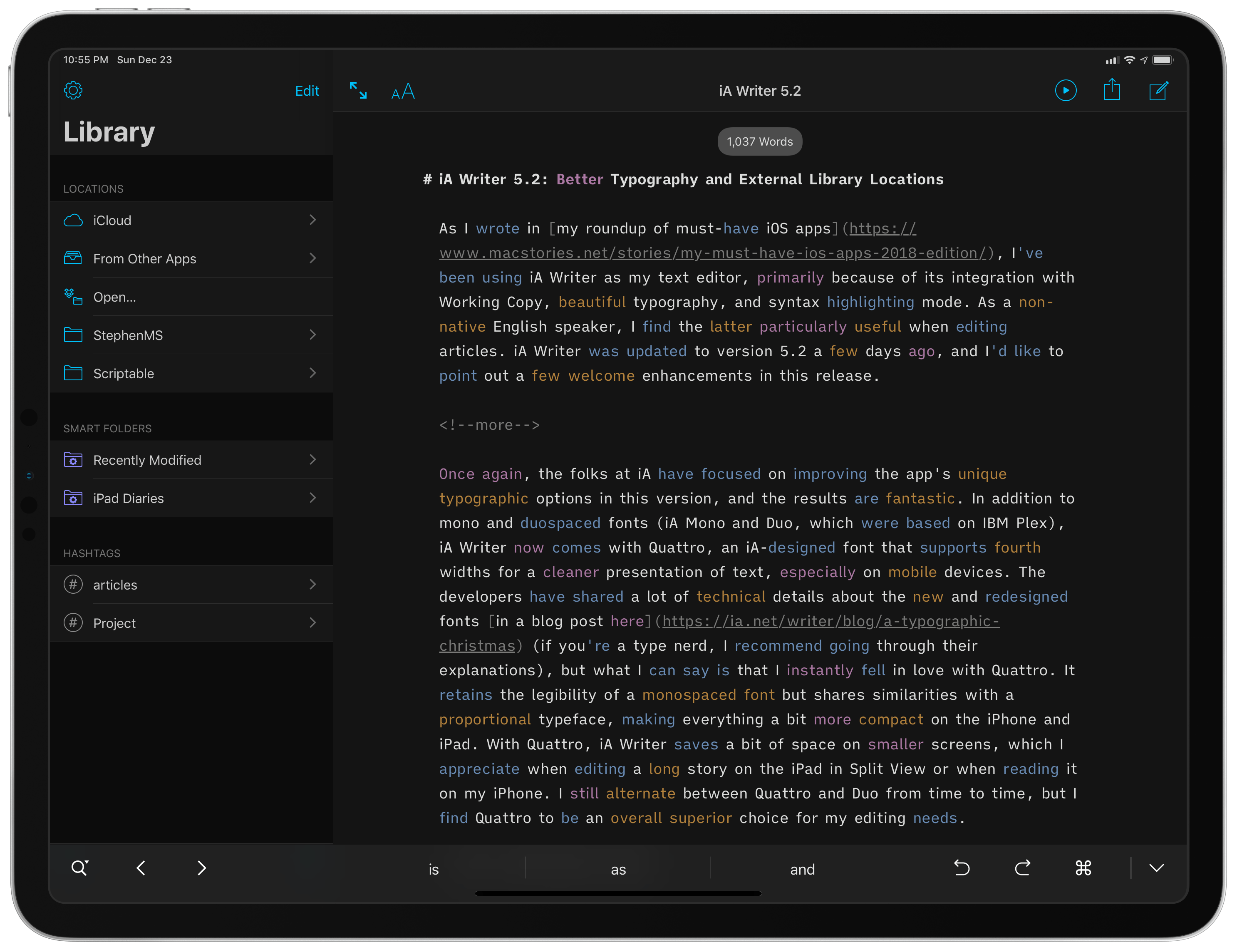 And so I finally move on to two full-fledged applications for texts and only texts. Yes, there were Google Docs, but for me they stand apart on the sidelines - it is difficult to compete with them because of the chic opportunities for teamwork. But for work in one there are things more comfortable.
iA Writer is one of the best writing apps. Like Bear, this is a complete markdown editor with nothing extra. You open it, expand it to full screen and that's it - you are alone with the text and your thoughts. When nothing distracts you from writing the text (neither formatting, nor the interface, nor any additional features) - this is very cool. Immerse yourself in a state of flow and just write.
iA Writer has tags to help you quickly navigate through your content. Documents can be exported to Markdown, DOCX, PDF and HTML, and (this seems to be a unique feature of iA Writer and Ulysses) can be sent directly to WordPress, Medium, Ghost, Micro.blog and Micropub. I have a personal blog on Ghost, so this feature is especially important. Here you can also view statistics on the document: the number of characters, reading time, and so on.
But for some reason, I still don't use iA Writer, although I wrote only there for a long time. Firstly, I don't like the interface (yes, I understand that in an application where you write and nothing else, it doesn't matter, but I want it to be beautiful). Secondly, you can't insert pictures into the text (and when I'm preparing an article and want to immediately upload it to Ghost, I want to deal with the pictures right away). And thirdly, this is a completely paid and very expensive application, especially on macOS.
Availability: Windows, Android, iOS, iPadOS, macOS.
Cost: 34$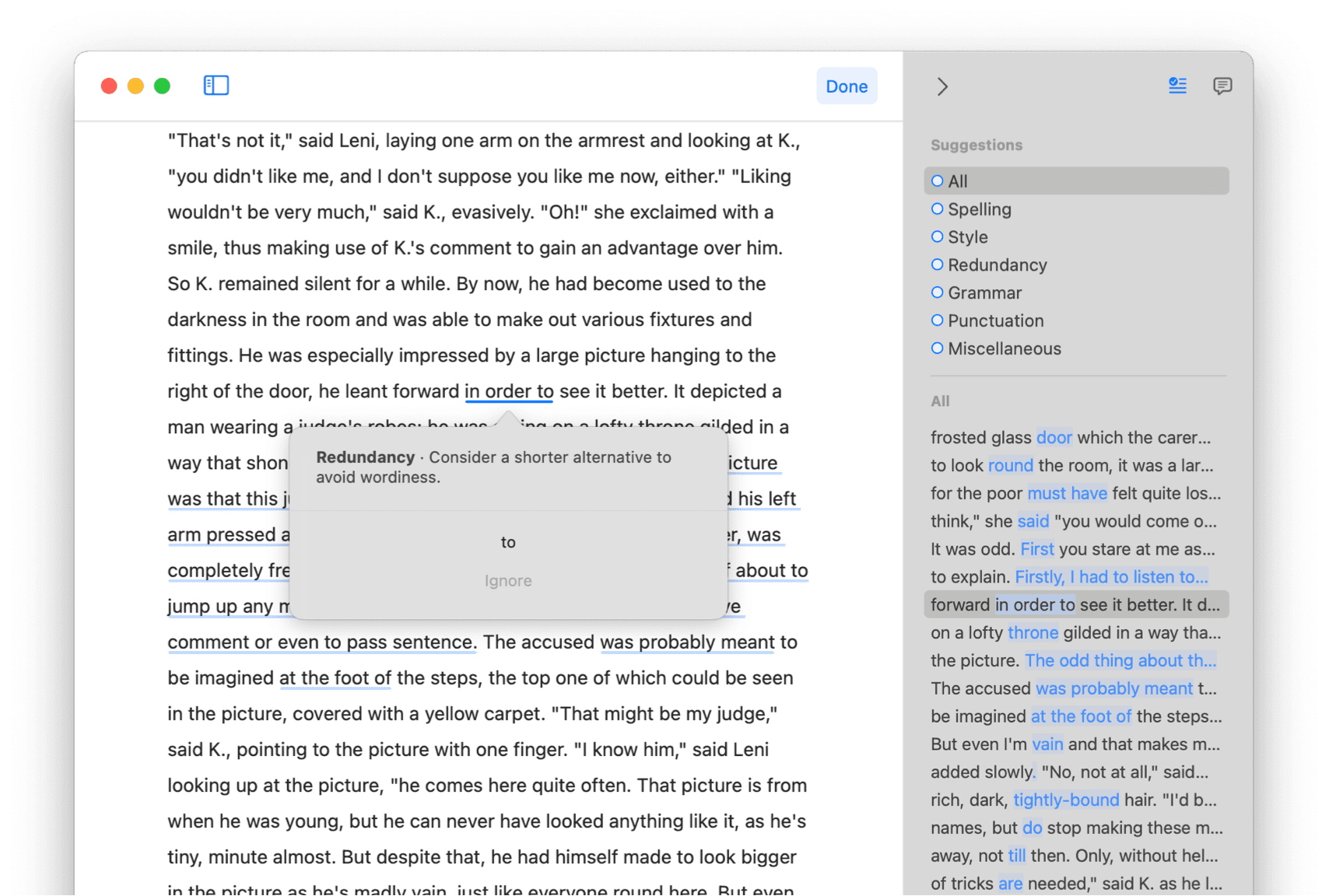 I learned about Ulysses from Ludwig Bystronovsky, art director of the Art. Lebedev Studio. At one of his speeches, I saw an icon with a butterfly on his application panel and became interested.
Ulysses is a markdown editor much like iA Writer, but more detailed. By expanding the application to full screen, you also find yourself alone with the text. There are tags and export to all possible formats: text (plain, formatted, MD, TextBundle, TextPack), HTML, ePub, PDF, DOCX. It is also possible to publish the text immediately in Ghost, Medium and WordPress. Moreover, in comparison with the same feature in iA Writer, there are more settings here: for example, when I export a note directly to Ghost, I can set the cover, tags, lead paragraph, and even the URI (in iA Writer, you just immediately you go to Ghost, where you do all the same in the admin panel; and from the phone it's not very convenient). When you format text, formatted elements are highlighted in different colors. You can customize the colors and generally assemble your own color scheme, as well as select any font for the editor. Pictures can be added to text. By default, they are displayed as thumbnails, but this is configurable - you can hide them altogether.
I met Ulysses 2-3 years ago, and in the last 1.5 years I have been writing only in it (including this article). At the moment, it has proved to be almost the perfect tool for me to write. Practically, because several possibilities are still missing:
For some reason, there is no markdown support for tables;
I would like to export to Google Docs in order to easily share the text with colleagues (I understand that this is something from the realm of fantasy - this is nowhere to be found, and you can preview it in HTML, copy the text from there and simply paste it into Google Doc - but that's all I want to make my life even easier.
Another caveat - Ulysses is paid, it costs $ 4 per month.
Availability: iOS, iPadOS, macOS.
Cost: $4 per month.