Long tasks
We know that many tasks are not done in one day, but over a long period of time. But when a task has a deadline, its card on the calendar view is displayed only on day X, and this is not always convenient — you can easily forget about the task until it is too late. Specifically to solve the problem, we added long tasks to WEEEK. Such tasks are displayed above the columns of the calendar view in the form of a kind of timeline. They are always in sight, and you will not forget about them just like that.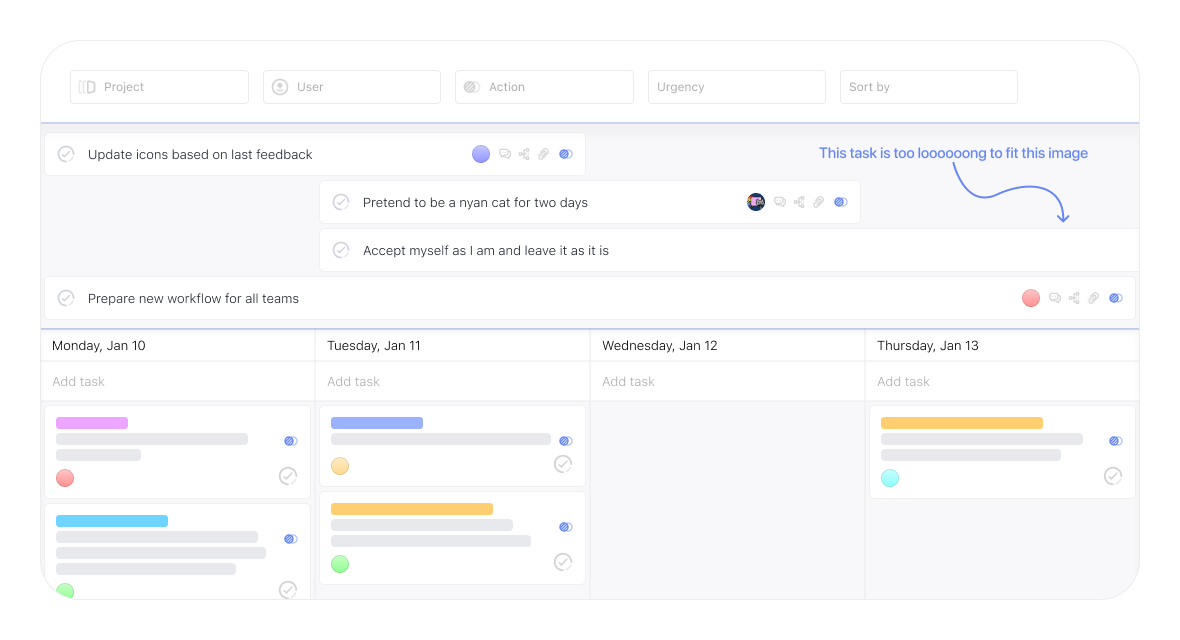 To make the task long, click "Date" and in the calendar that opens, select the date when work on the task should start, and the date when work on the task should end. Immediately after that, the task will become long and its card will move to the timeline above the calendar columns.
Attention: this feature is only available in workspaces with PRO status.
Bugfixes
And in pursuit of long tasks, we fixed a lot of bugs and added a few inconspicuous features that will make the process of using the service more convenient.
Previously, the text about adding the first board in the project was displayed even if the board is already there. Now there is no such thing.
Now tasks in the calendar and whiteboards are created instantly.
Previously, when clicking outside the task description field, the formatting elements at the bottom of the block were hidden, changing the height of the description block. We fixed it.
All modal windows of the service can now be hidden by pressing ESC.
When creating a knowledge base page in the newly created workspace, the position of the text field was drawn with an incorrect indentation on the left. Now everything is OK with the indent.
Previously, after creating a new page, the ability to expand the list of child pages of the knowledge base was mistakenly blocked. Now it is not blocked.
When opening a task in a separate window by clicking on a link, in some cases the task was not displayed. Fixed it.
Previously, when deleting a knowledge base page that a user was on (or its child page), the navigation in the left menu was not updated. Now updated.
The "No Project" project filter now returns tasks correctly.
When creating a task, you can now select the "No project" status.
If you go to the main page from a task that has already been deleted, the task page is now displayed correctly.
In the calendar mode, when there are long tasks, the scroll in the columns no longer disappears.
That's all, in the coming weeks we will release new cool features, which we will tell you about separately. In the meantime, keep using WEEEK and stay productive. And about all the bugs, write to us at email or in telegram chat.