In this article, you'll find answers about how to work with productivity and why you should improve it at all.
Every day on social media, we are bombarded with successful success and conversations about other people's achievements. Everyone is talking about individual performance – when you build your career, get your personal life in order, and still look great. Sure, you can't just magically fix everything, but everyone can make things work. Read our 8 simple tips to improve personal efficiency!
What is personal effectiveness and why to improve it
Personal effectiveness is how quickly and efficiently you handle tasks. It applies not only to work, but also to school, sports, personal life, and in general to everything you undertake. Personal effectiveness helps people achieve maximum results in minimum time and with minimum resources. To be an effective employee at work and a happy person in ordinary life, you need to develop this ability and pump your brain.
Techniques to increase personal efficiency
Change the lifestyle
It all starts with the most common advice. The way of life is the basis of productivity. It is made up of rest, nutrition, activity, and bad habits.
Get enough sleep. Falling asleep at 3 am and waking up at 2 pm is not quality sleep. Try to go to bed no later than 11 p.m. and sleep 7-8 hours a day.
It's the same with food. If you eat chocolate all day, your nervous and immune system will go into overdrive. Try to have a balanced diet and give your body enough vitamins.
If possible, cut down on bad habits or give them up. These are, of course, alcohol and smoking. They kill neural connections in the brain and pollute the body, thus affect one's performance.
Add physical activity. Walk for at least 30 minutes or an hour a day. Working out once or twice a week is already a "ten out of ten".
Set achievable goals
To achieve this, you need to set specific, measurable goals. Use the SMART method, a simple and workable approach to goal-setting.
SMART stands for Specific, Measurable, Attainable, Relevant and Timebound.
A methodology is needed for setting clear goals with a clear reason, which have to be achieved by a specific date and with a specific effort.
For example, "to lose weight by summer" – is a poorly expressed goal. A good SMART goal is to lose 5 kilos (S), to reach a healthy weight of 61 kilos at 160 centimeters (M) by training three times a week and cutting down your diet by 250 calories a day (A), in order to feel healthy and beautiful (R), in 3 months, until the end of June (T).
Use our Knowledge Base for convenience. Write down all your thoughts there and formulate goals that will help you conquer the world!
By the way we have a text about SMART-methodology. It's in Russian, but you can translate it.
Use Planning
Planning also plays an important role in personal effectiveness.
To determine the importance of tasks, use the Eisenhower matrix: divide tasks into important, urgent, unimportant and non-urgent.
That way you'll pick the most important ones, and you won't lose anything or get confused. Planning will also help keep you motivated and give you the feeling of satisfaction that you did well and accomplished your plans.
WEEEK Task Manager will help you plan tasks. And if you have trouble concentrating, use a pomodoro timer or turn on meditation to control your mood.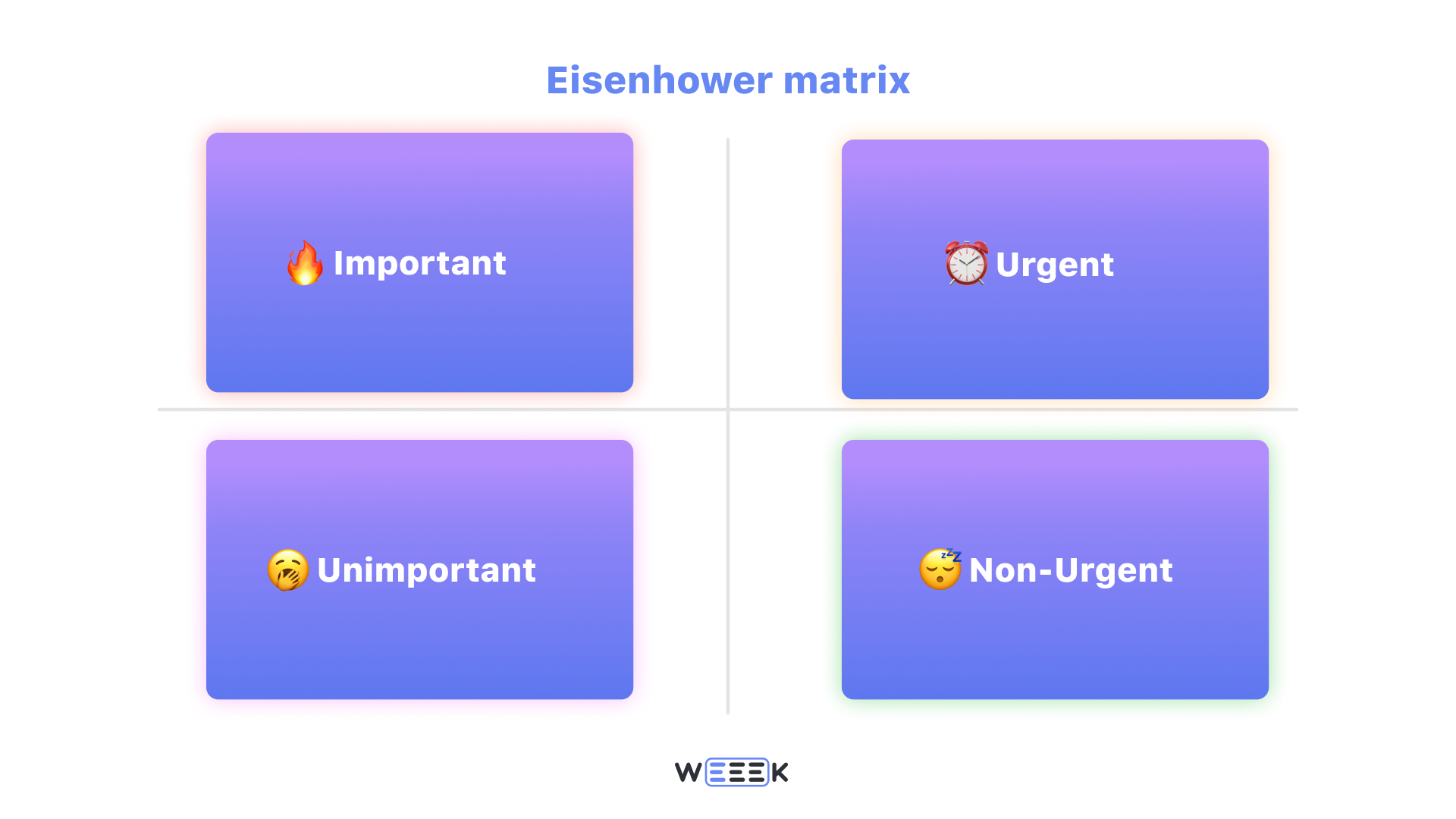 Eisenhower matrix Template
Maintain Work-Life Balance
If you work 24/7 with no rest or other activities, your days will become less productive. You'll just burn out and won't be able to do anything at all!
Take care of yourself. Define rules for yourself that will get you back on track. For example one day a week I don't use the computer or the phone, and I take care of myself, do household chores, and socializing with friends. It helps to remember to live without work and study.
You can make a habit of doing yoga every day or reading 30 pages of your favorite book –anything that gives you pleasure will do!
Develop emotional intelligence
Emotional intelligence is also a useful trait to develop. Stress at work, doubts, and worries – all lead to depression and apathy. Learn to recognize and manage your emotions. If you're having a hard time managing your emotions on your own, try meditation.
Doing a digital detox
Track how much time a day you spend on your smartphone and computer. Smart devices can report themselves as often as you tell them to. To focus on tasks, turn on «Do Not Disturb» mode so you don't get distracted by messages. Also, spend at least one day a week away from your computer.
Digital detox is about putting your phone away, not opening social media, and not responding to messages. It's about controlling yourself when your hand reaches out to flip through the reels. It's about spending time away from screens: walking, playing board games, go out to the theater, being among people.
For example, I control my time on the social media – I can't spend more than an hour a day on them. When an hour passes, access to social media closes. It really helps to stay in the real world, but at the same time, keep track of favorite bloggers or friends.
Practice proper multitasking
Learn proper multitasking. Sure, there are times when you can do several things at once, but will they get done well?
Multitasking is about switching from task to task repeatedly and quickly.
So learn to focus on one task first and then move on to another. That way, you won't overload your brain, but you'll still be in multitasking mode. By the way, when you're doing some mechanical tasks, you can listen to podcasts. «Потом доделаю» had an episode about this. We recommend listening to it.
Dive into the new experiences
New books, movies, and acquaintances will give you a volume of experience. Go to exhibitions, theaters, and networking sites, get a new hobby, go out more often, explore new routes, and travel. All these things will nourish your brain and broaden your horizons.