In Profile Settings, you can change your password, authorization method, link or unlink a phone number and fill in your personal data - this way you will help the rest of the team to identify you.
How to get to Settings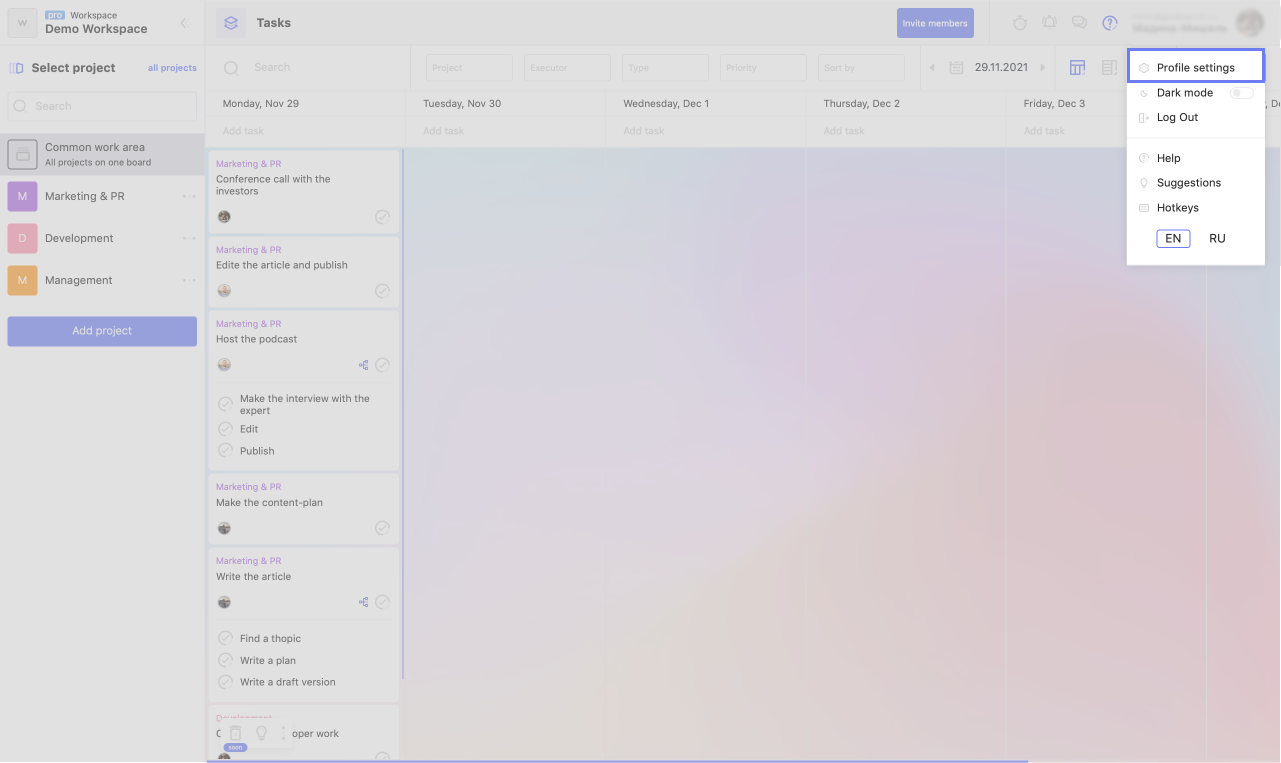 To go to Settings:
1. Click on your photo in the upper right corner.
2. Click on "Settings".
There are 4 tabs in Settings:
Profile. You can set or change your photo, change the time zone, first name, last name, title and information about yourself.
Security. You can change your password, link your Google and Facebook accounts, and delete your account.
Appearance. You can customize the time display, choose an accent color and background, turn on/off the dark theme.
Notifications. You can choose in which format which notifications you want to receive.
Profile settings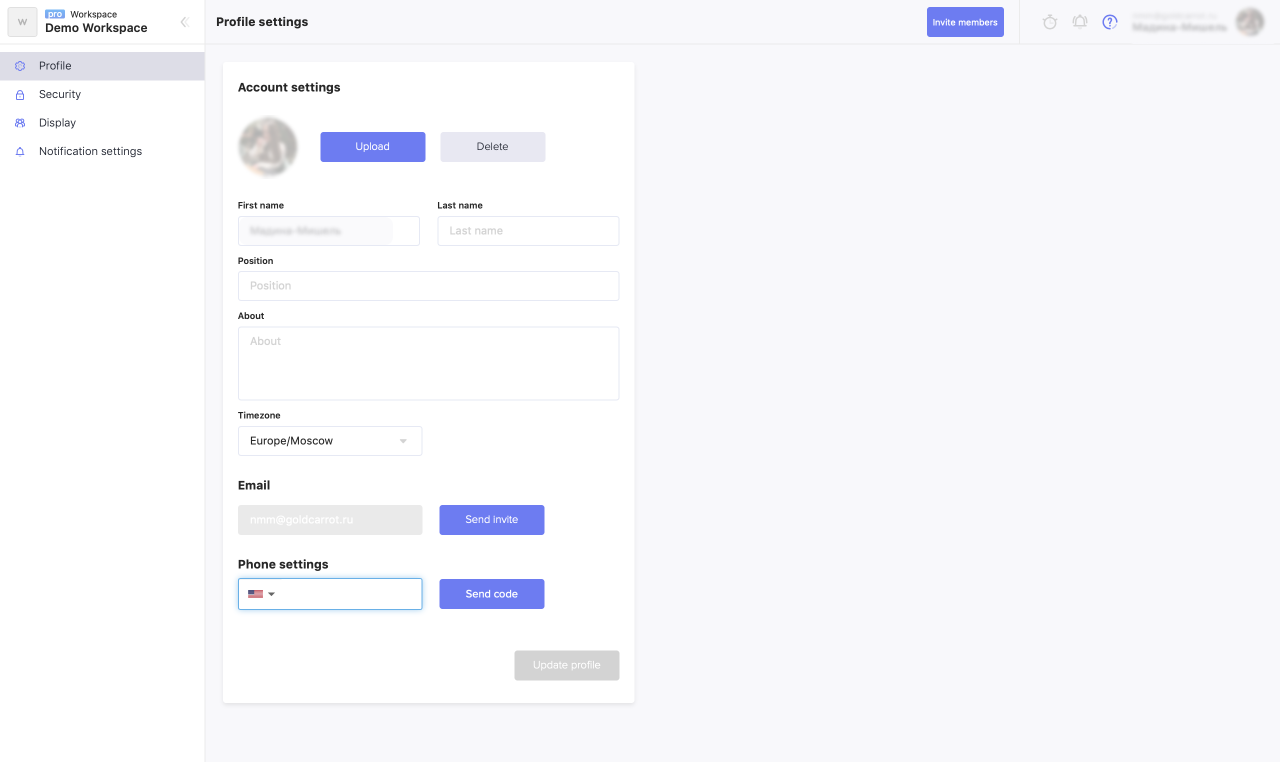 In this section you can:
1. Add a profile photo. This will help the team easily identify you if you work in a team workspace. For photos, images in PNG and JPEG formats up to 5 MB are suitable. If the photo is not uploaded, your initials will be shown instead.
2. Indicate first and last name.
3. Indicate the position.
4. Add brief information about your status.
5. Select a time zone for time synchronization.
6. Confirm email to receive email notifications from WEEEK.
7. Add a phone number to receive SMS notifications from WEEEK
Security Settings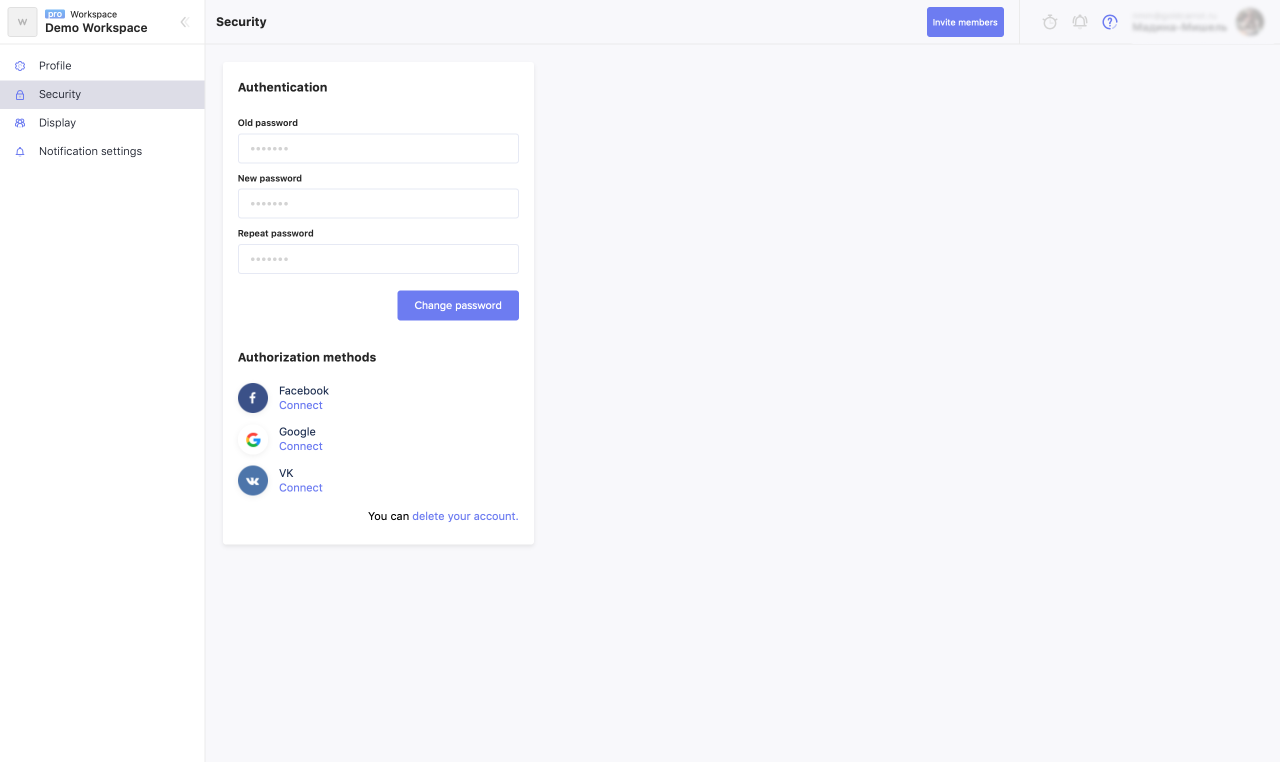 Here you can change your account password, add additional authorization methods via social networks and delete your account.
Change Password
To change your password, enter:
1. current password;
2. new password;
3. Repeat the new password.
Click the Change Password button. If you have forgotten your password, please use the reset password.
Authorization via social networks
In order not to enter your username and password every time you log in, you can link your Google or Facebook account. For this:
1. Click "Link" at the desired social network;
2. Allow access to data on the side of the social network.
You can unlink your account and link another one at any time.
Account deleting
If you no longer want to use WEEEK, you can delete your account. For this
click on the "Security" tab in the Settings link "delete your account";
in the window that opens, indicate to whom to transfer your tasks, confirm your desire to delete the account and specify the password: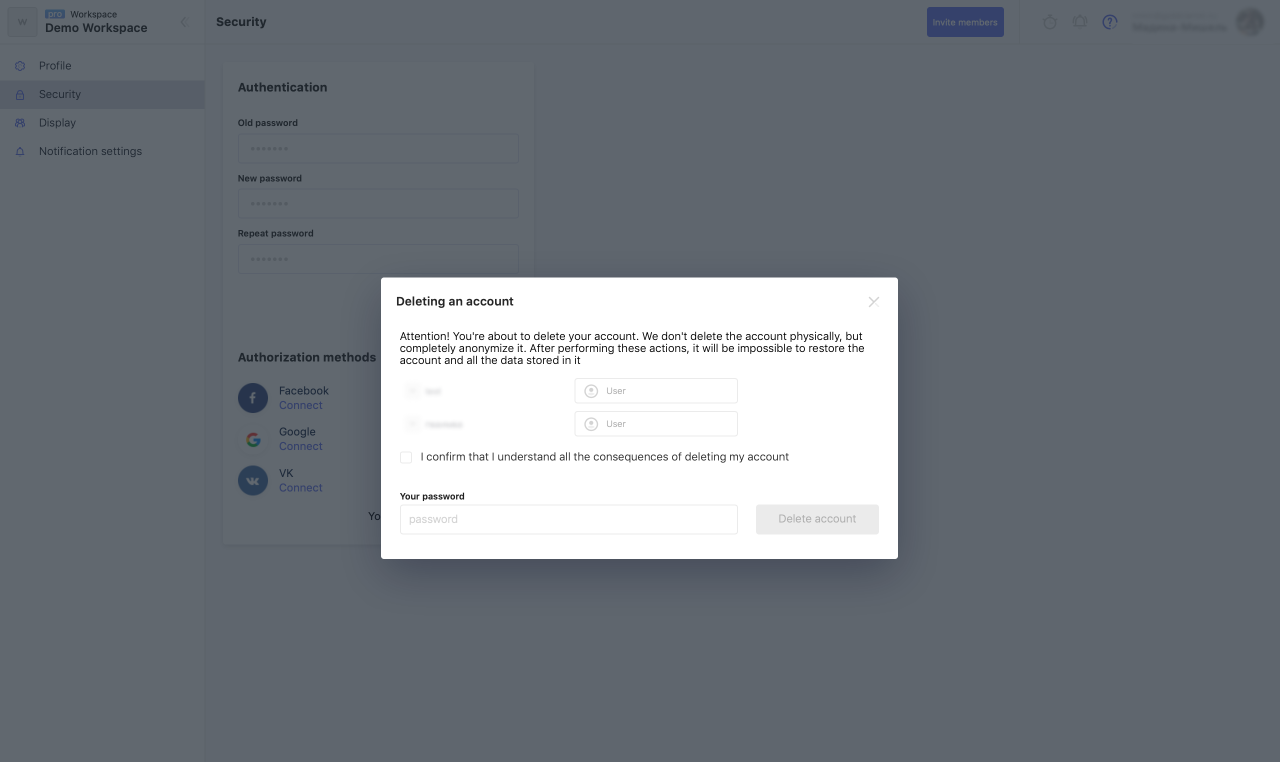 Keep in mind that after deleting an account, it will be impossible to restore it and all the data saved in it.
Appearance settings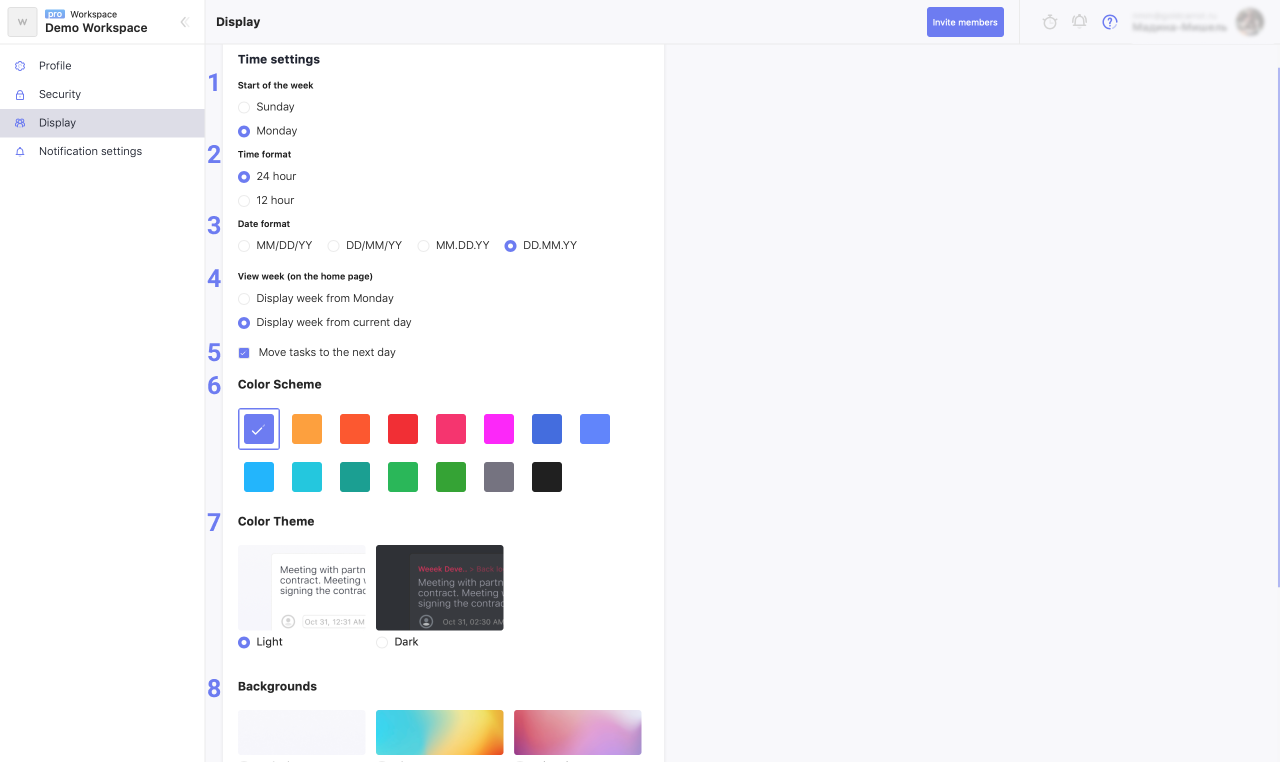 Here you can choose:
1. the starting day of your week;
2. time format;
3. date format;
4. the starting day viewing the week in the calendar;
5. Whether to transfer tasks to sl. day;
6. accent color;
7. dark or light theme;
8. background for the area with tasks.
Notification settings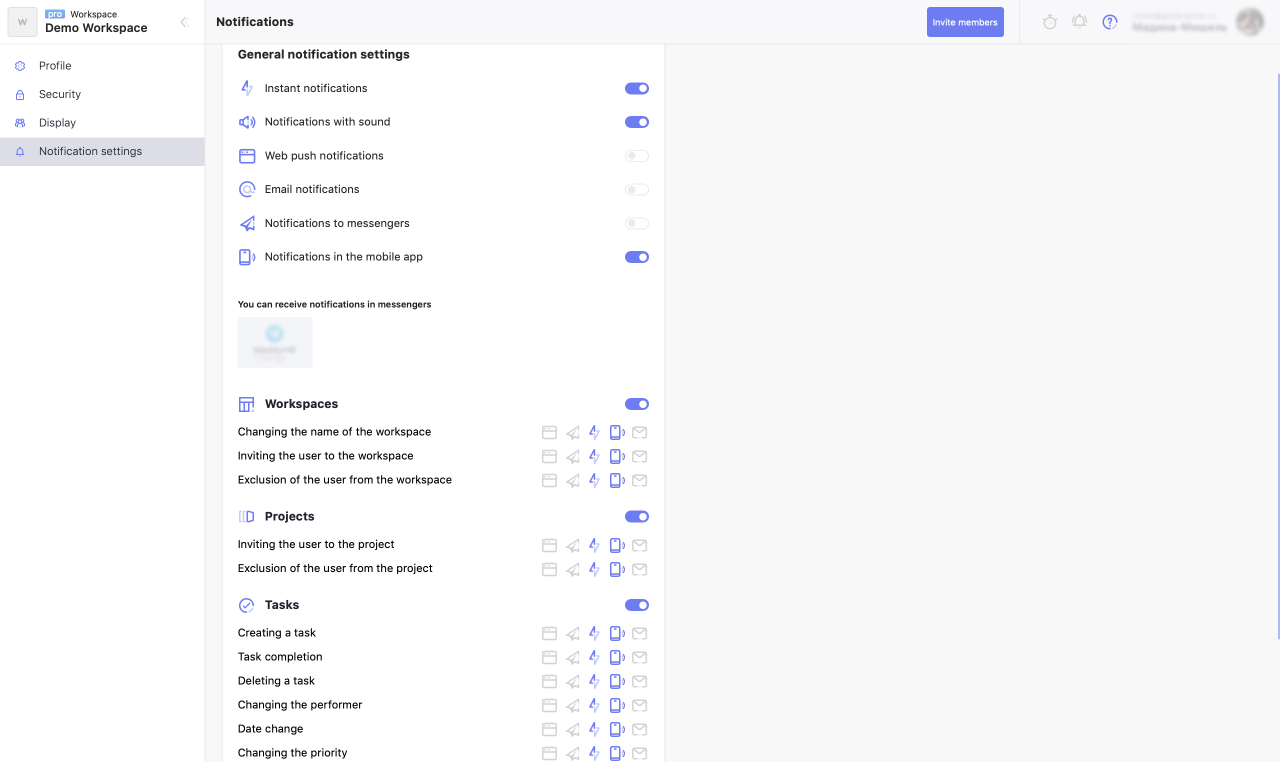 Here you can choose in what form and in what situations you want to receive notifications.
Learn more about how to set up notifications.