Like articles on any topic related to management methods, in particular Agile, most articles on Kanban do not leave a beginner a chance to understand. If you read information from several sources, you will most likely earn yourself a break in the template, because this whole story about the "Kanban method" will refuse to add up to a single picture.
I figured it out for you, and in this article I will answer the main questions about Kanban: what it is, where it came from, how it is used in the work, and so on.
What is the idea of Kanban?
Kanban is part of the agile philosophy and a method for improving workflows by visualizing and actively working on unfinished tasks.
Kanban is exactly that way to optimize the workflow, and not a set of such ways, supported by theory. Although, Kanban has its own values and principles.
One of the key ideas of the Kanban method:
Less unfinished tasks — the higher the efficiency of the team.
How does it work?
To visualize the work, Kanban uses a special board (an integral part of any agile method) and a set of cards or stickers.
The board can be real (magnetic, cork, wooden) and virtual (there are many services that allow you to work with boards - WEEEK, Trello, and so on).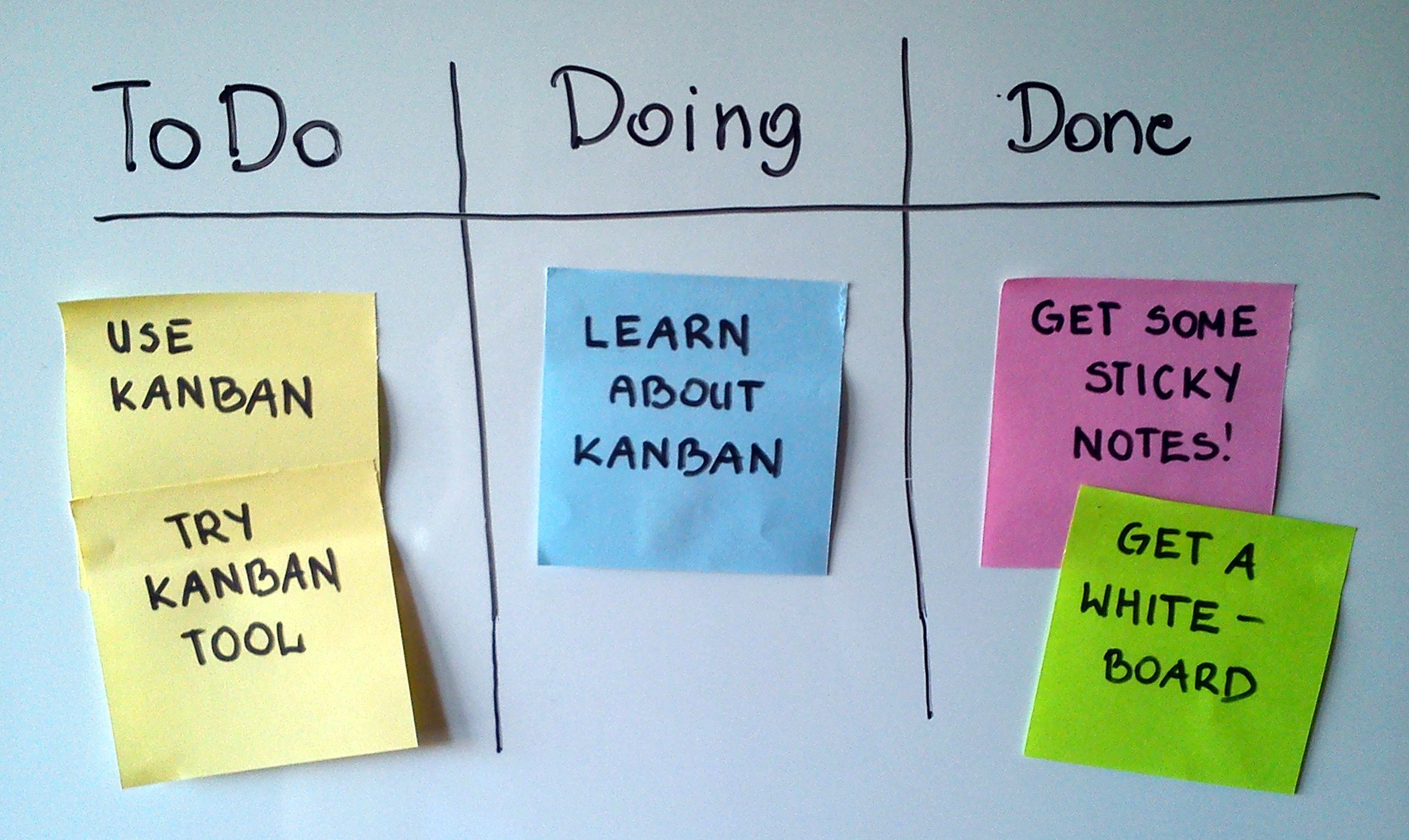 The space on the board is divided into columns (or columns - whatever you want), reflecting the stages of the workflow - the stages that the task goes through on the way to completion. The simplest option (used in Scrum):
Needs to be done,
In progress,
Finished
But you can describe literally any workflow: from the preparation of articles in a magazine to the production of main pipes or household appliances.
There can be as many columns as you want, but it is important to follow their sequence. This is the only way to maintain the flow of tasks - the main value of Kanban.
Tasks are written on cards or stickers and attached to the first column. In the course of the work, the stickers are moved between the columns until the work is completed. If there is a problem at some stage of the workflow, the team immediately sees it and can fix it. This is called flow control.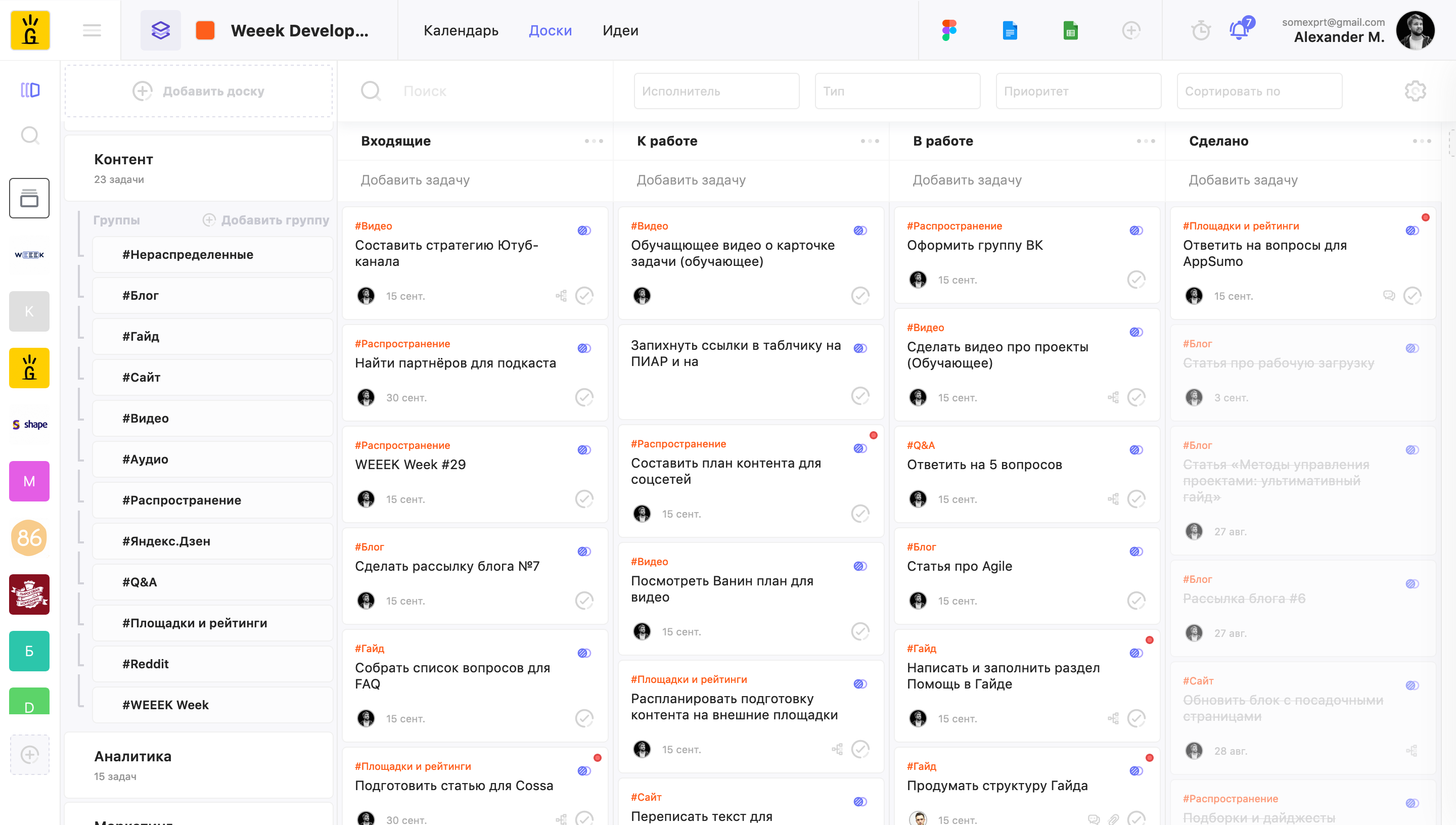 The Kanban board can be used to work on multiple projects or directions. For example, I have a board in WEEEK for controlling the production of all content, where tasks are divided into groups by type of content.
So, who came up with it?
Like much of what is now referred to as Agile, Kanban was invented in Toyota. There, cards were used to pass information between stages, how many details were required. Due to this, it was possible to maintain lean production and not produce surplus.
Agile, Scrum, Kanban... what's the difference?
As I mentioned in the previous article, Agile is an approach to management, formed, among other things, on the basis of Scrum – a flexible software development framework. Scrum is a method with strict rules that you can not deviate from. Kanban in this whole picture of the world is just a tool that allows you to optimize your work. Moreover, it can be used both separately and within frameworks, such as Scrum. Even relying on existing use cases is not necessary. You understand the principles of the tool and use it.
What are the principles and values of Kanban?
The method has nine basic values:
cooperation,
balance,
transparency,
customer focus,
leadership,
flow,
consent,
respect,
understanding.
And then there are three basic principles:
Use what you have now.
Develop and improve the workflow.
Encourage leadership development.
All this plays a role if you use Kanban in its original form. But this, as I said, is not necessary at all.
What should I do after implementing Kanban?
If the implementation of Kanban was successful, but you think that there is still something to strive for, you can gradually transfer it to Scrum. Conversely, when using Scrum, individual Kanban practices can improve processes.
What else do you need to know?
Kanban is not suitable for working with a large team. It is designed for small and highly specialized teams. If you have 25 people in your team who design, code, test, and sell, Kanban is unlikely to help you optimize your work and improve your performance.
Kanban is not suitable for long-term planning. If a task crawls around the board for a long time and gets stuck at certain stages, this is contrary to the principles of Kanban.
Now you know what Kanban is, and how this method can be used in your work. But knowing is one thing, and putting it into practice is quite another. Well, at least implementing Kanban is much easier than Scrum and Agile.